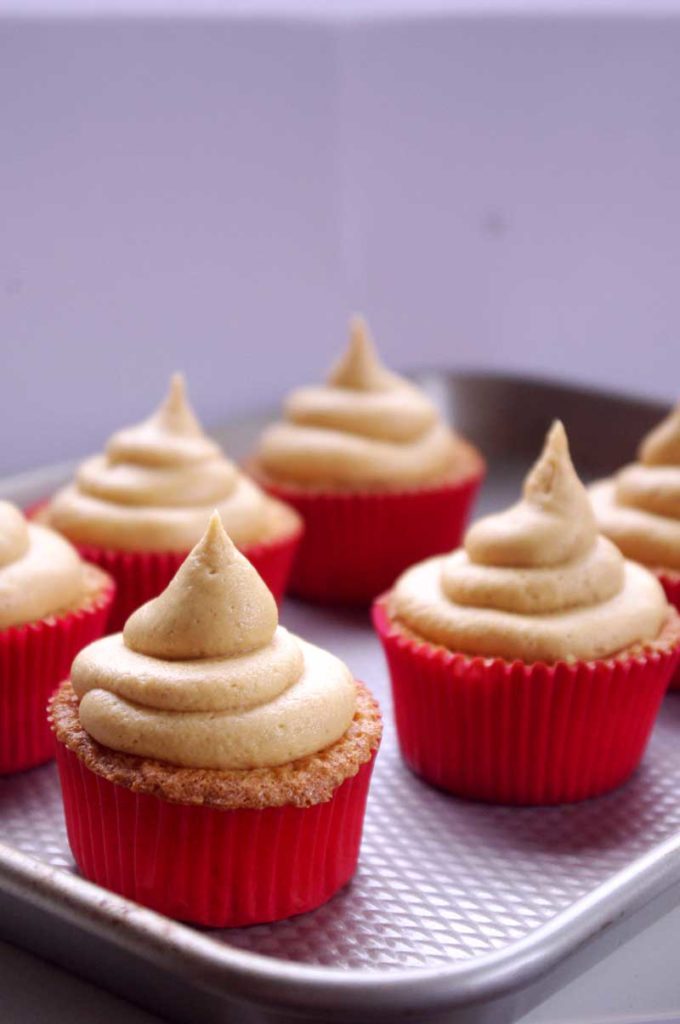 These Ritz Cracker Cupcakes were actually an invention of Audrey's, which she first posted way back in 2014 (ah, simpler times). Now I, Molly, am taking a stab at them. One of the things that sucks about living hundreds of miles away from your sister is that when she makes delicious treats, you can only look at them and salivate. If you want to try them, you have to actually make them for yourself.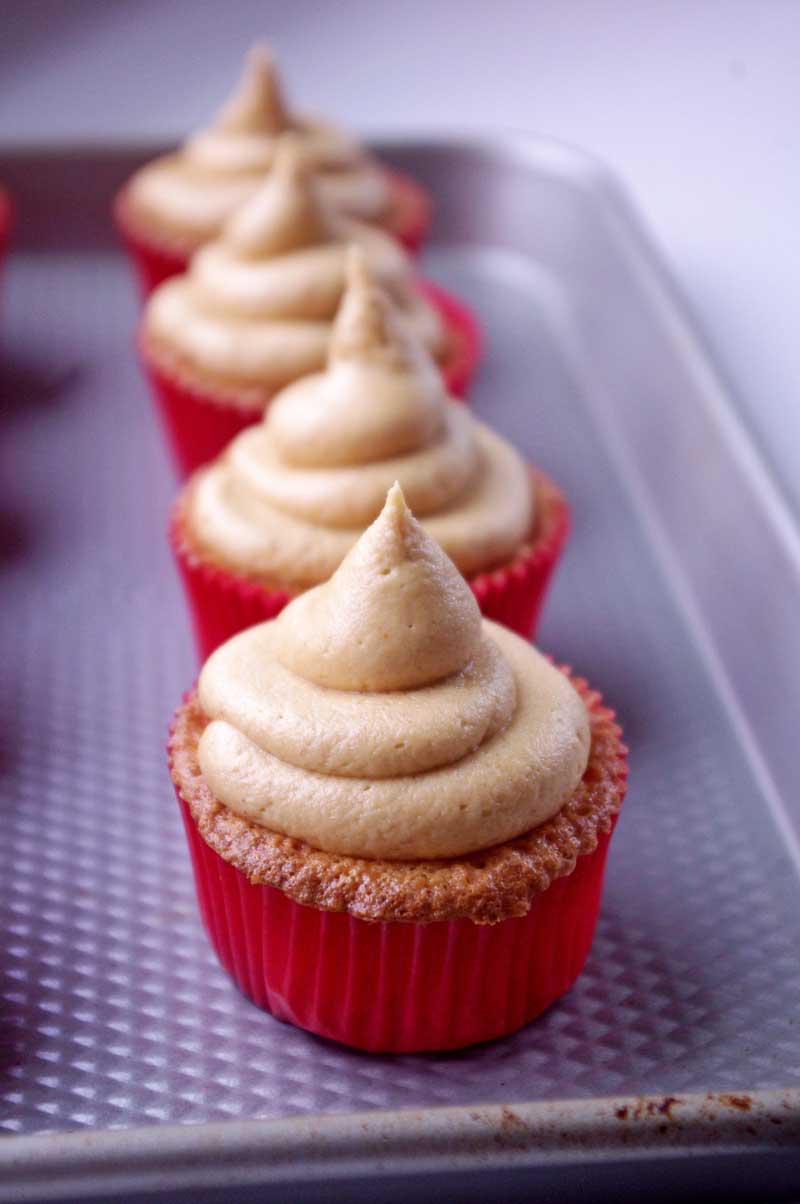 When we were all younger (Audrey and I, plus our brother), one of our favorite snacks was to spread Nutella and peanut butter (sometimes together – Reese's realness – and sometimes individually) on Ritz crackers. Salty + nutty + sweet = YES.
These Ritz Cracker Cupcakes are inspired by that snack. Ritz crackers are baked into the cupcake, then it's filled with straight up Nutella and frosted with our favorite peanut butter frosting. Yuuuuum.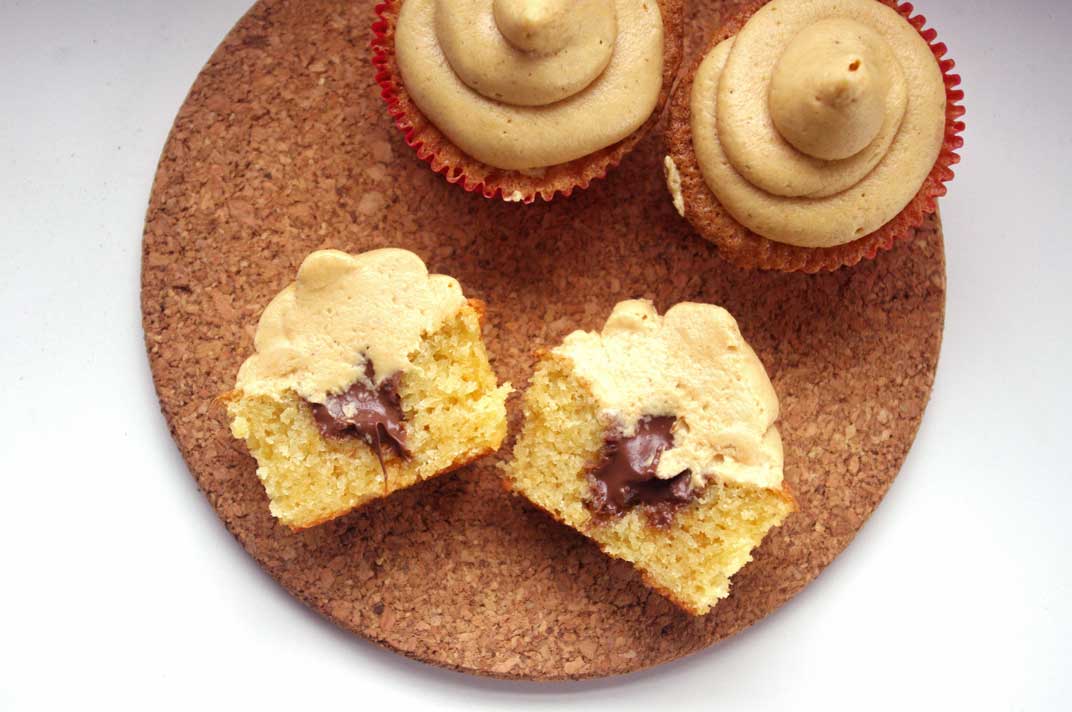 So what makes these cupcakes unique is that you're actually replacing a portion of the flour with actual Ritz cracker crumbs. Woah, I know. You dump a couple sleeves of Ritz crackers into a gallon-sized plastic bag and roll them with a rolling pin until they resemble graham cracker crumbs. Then you toss them into the bowl of dry ingredients and pretend it's flour.
If you're wondering, yes, this has an effect on the composition of the cupcake. This isn't a dense pound cake-like cupcake. This is an extremely tender, melt-in-your-mouth cupcake. Kind of like if a Ritz cracker took cupcake form.
Oh wait… 😉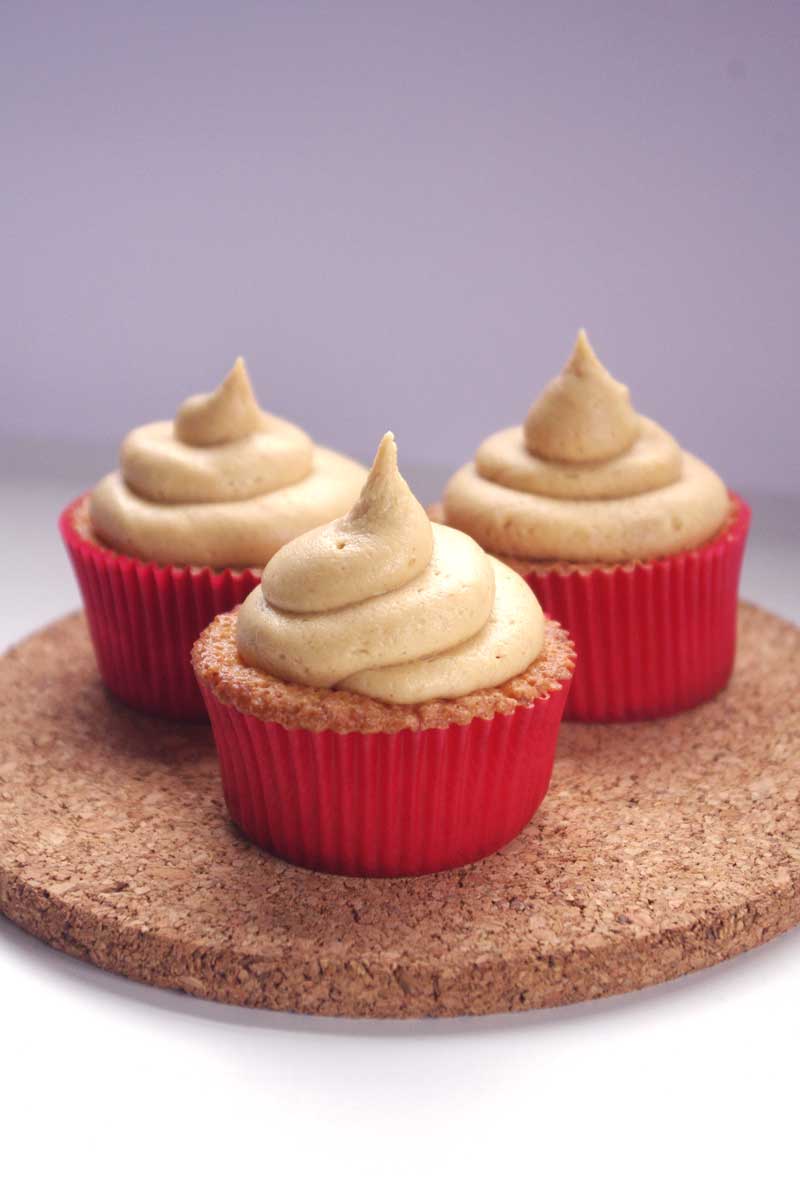 When the cupcakes are cool, you are going to poke holes in them. You can do this however you want. Because the crumb of these Ritz Cracker Cupcakes is so moist and likes to stick to things, I opted to use the blunt end of a piece of silverware rather than my usual implement of choice: my (freshly washed) pointer finger. There are also like, actual tools for doing this. If you want to be #professional about it.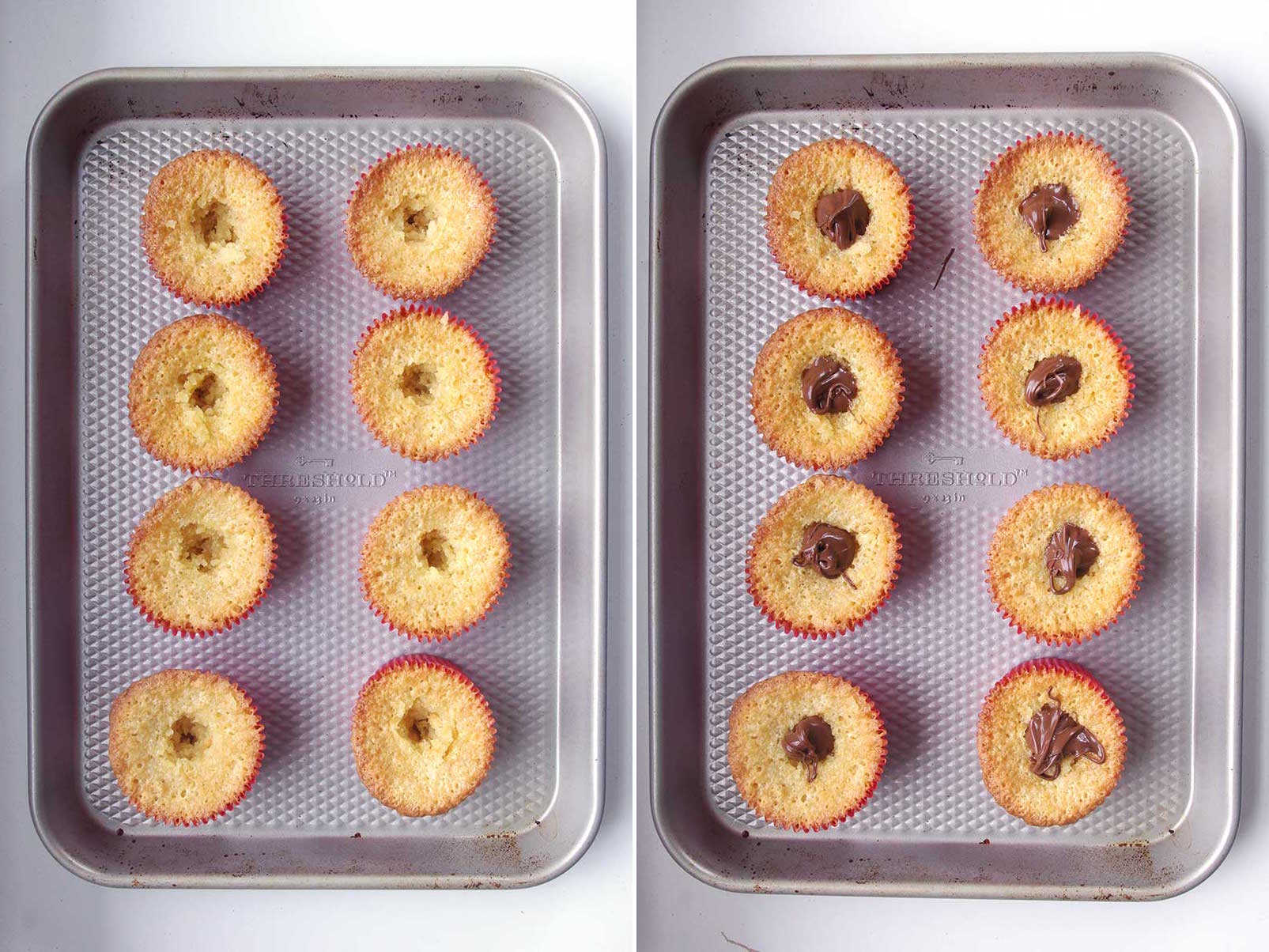 However you get the job done, your next step is to fill those holes with as much Nutella as your heart desires. But probably not too much or it will ooze over the surface of the cupcake and get in the way of the amazingly peanut buttery peanut butter frosting. We don't want that.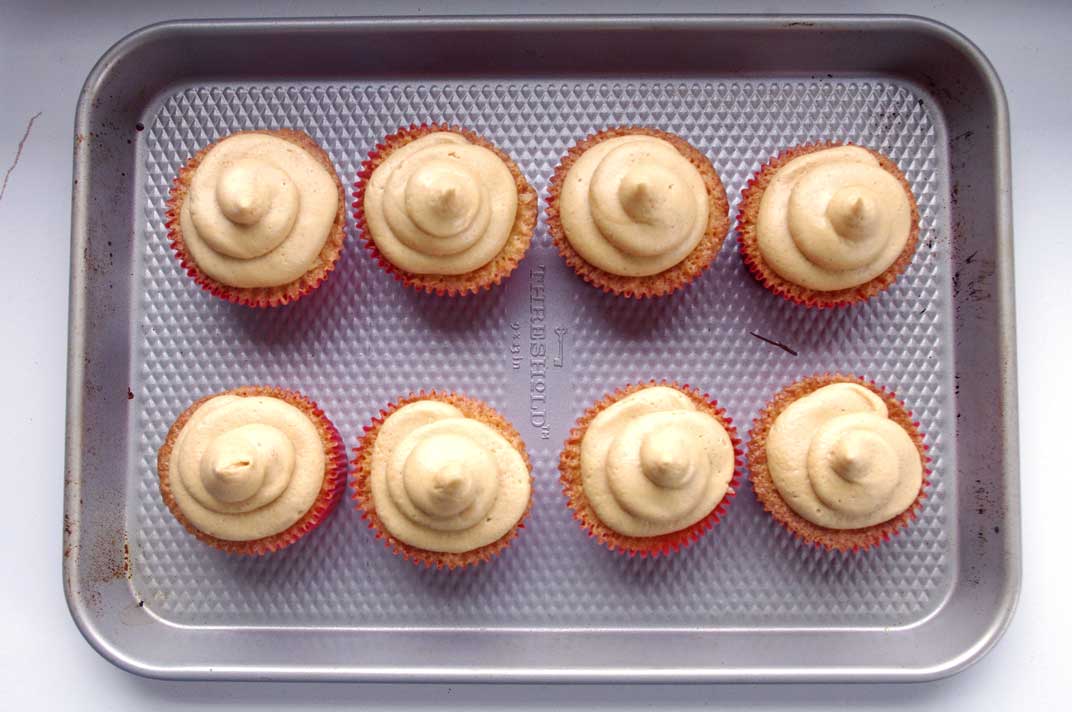 Each bite of these Ritz Cracker Cupcakes fills your mouth with salty/sweet/nutty goodness. You might tell yourself you're only going to eat half, but you'll have eaten the whole thing before you can even stop yourself. Don't beat yourself up over it. I'm pretty sure we're biologically powerless over the salty/sweet/nutty combo.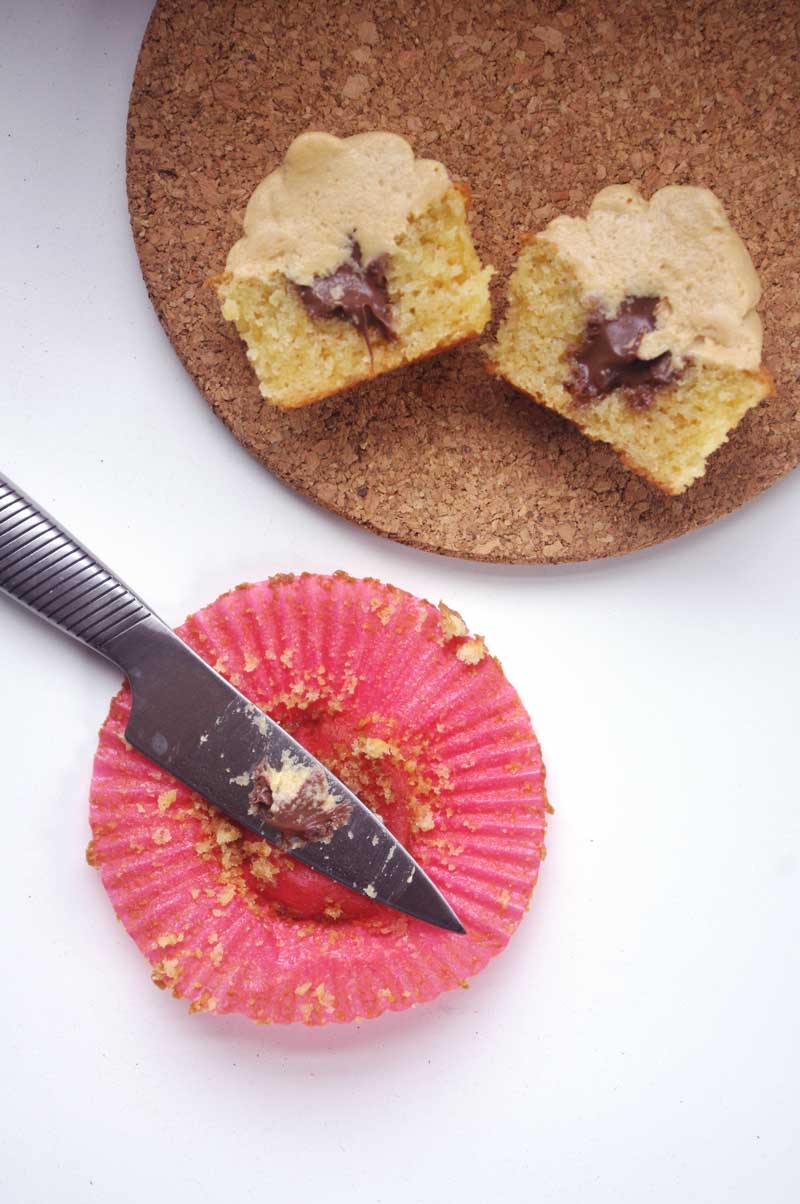 One person who ate one of these Ritz Cracker Cupcakes finished it and immediately told me I should get a booth to sell them at the Minnesota State Fair and make millions like Sweet Martha's Cookies. Given that the Minnesota State Fair is infamous for its wild and decadent food options, I take that as high praise indeed.
Brb, going to go work on my Ritz Cracker Cupcakes business plan for the 2018 fair.
Ritz Peanut Butter Nutella Cupcakes
2017-06-18 12:03:13
For the Ritz Cupcakes
2 cups Ritz cracker crumbs (about 2 full sleeves or 4 half sleeves)
1/2 cup cake flour
2 tsp baking powder
1/4 tsp salt
1 cup unsalted butter – softened at room temperature
1 cup granulated sugar
1 1/2 tsp vanilla extract
3 egg yolks, whisked with a fork at room temperature
1 cup whole milk
3 egg whites, room temperature
1/2 cup granulated sugar
For the Peanut Butter Frosting
1 cup creamy peanut butter
8 Tbsp (1 stick) butter, at room temperature
2 cup confectioners' sugar, sifted
3 to 4 Tbsp milk
2 tsp pure vanilla extract
For the Nutella Filling
1 jar of Nutella
For the cupcakes
Preheat oven to 325 degrees (F).
Make Ritz cracker crumbs by placing Ritz crackers into a plastic bag and crushing them with a rolling pin. You can also use a food processor, but why create extra things to clean?
In a mixing bowl, sift together the cake flour, baking powder, and salt. Add in Ritz cracker crumbs. Toss well and set aside.
Separate the 3 eggs. Put yolks in one small bowl and whites in another. Whisk the yolks with a fork and set aside.
Put the egg whites into the bowl of a stand mixer fitted with a paddle attachment. Mix on medium-high speed until the egg whites become frothy. Slowly add in the extra 1/2 cup sugar. Keep beating until egg whites form soft peaks, sort of a marshmallow fluff consistency. Transfer egg whites to another bowl and set aside. Wash and dry the stand mixer bowl and paddle.
In the newly dry bowl of your stand mixer, combine butter and sugar and mix together for about 2-3 minutes on medium speed until light and fluffy.
Add in the vanilla extract and mix until combined. Next, add in the egg yolk mixture in three additions making sure to mix well after each addition.
On low speed, add the dry ingredients while alternating with adding the whole milk (starting and ending with the dry ingredients).
Pour the egg white mixture over the batter and gently fold them together until well combined but not overly mixed.
Divide the batter evenly into cupcake liners. Batter will require two cupcake pans or two batches with one.
Bake for about 22-24 minutes or until a toothpick comes out clean.
Cool cupcakes in the cake pans for 20 minutes, then transfer to a wire cooling rack until completely cool.
For the frosting
Place the peanut butter and butter in a large mixing bowl and blend with an electric mixer on low speed until fluffy, about 30 seconds.
Stop the machine. Add the confectioners sugar, 3 tablespoons milk, and the vanilla. Blend with the mixer on low speed until the sugar is well combined, about 1 minute.
Increase the speed to medium and beat until the frosting lightens and is fluffy, about 1 more minute. Add one additional tablespoon of milk if the frosting seems too stiff.
Assembly
Using your finger or the end of a spoon, press a hole about halfway down into the center of each cupcake. Fill that hole with pure Nutella. You can use a piping bag, a spoon, or whatever method seems the most easy and effective to you.
Frost the tops of the cupcakes with the peanut butter frosting. You can use a piping bag, a frosting knife, or just sort of dollop it on with a spoon. Whatever floats your boat! It will taste just as delicious no matter how the frosting is transferred to the cupcake ☺
The Batter Thickens http://www.thebatterthickens.com/