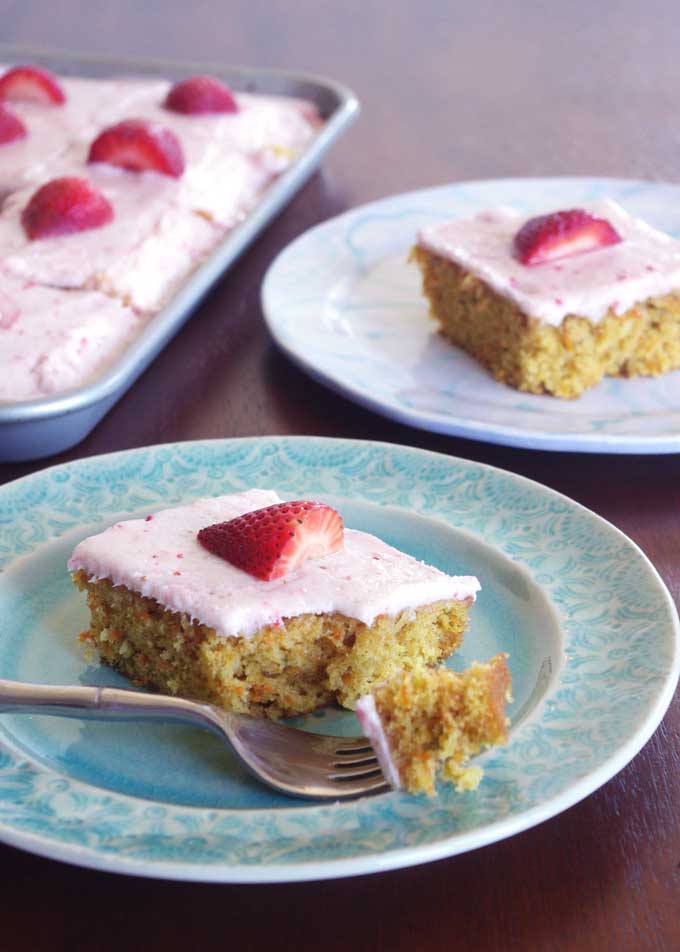 When I heard that there was going to be a Hawaiian themed dessert competition at my work, this Coconut Carrot Cake recipe by Half Baked Harvest immediately came to mind. When she published it this past March, I was enamored. Partly by her beautiful photos (seriously, I think she takes some of the most luscious photos in the blogging world), and partly by the heavenly combination of carrot cake + coconut + strawberry + mascarpone.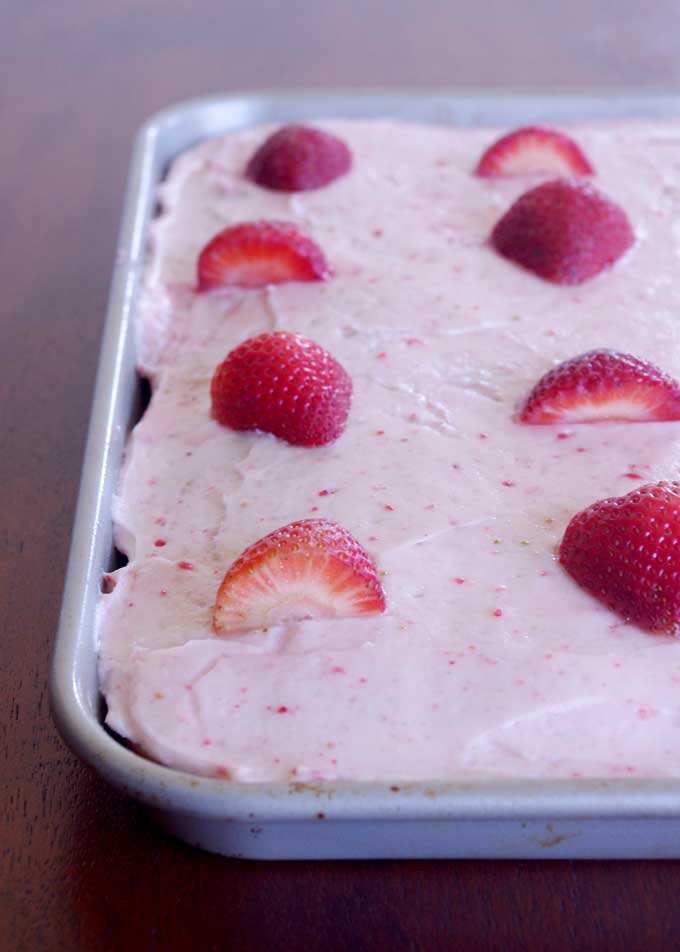 I loved the idea of the bright flavors of strawberry and coconut adding a summery twist to carrot cake, often pigeonholed as a fall and winter dessert. I don't love pineapple, so steering away from those standard Hawaiian waters for something more unusual (like Coconut Carrot Sheet Cake) was appealing.
If you've been reading along here for a while, you may remember that I had a carrot cake phase a couple of years ago. In a matter of months, I made these carrot cake cookies, this carrot cake with maple frosting, and Audrey made me these carrot cake pancakes from Joy the Baker's first cookbook. We've also made two kinds of carrot cake ice cream.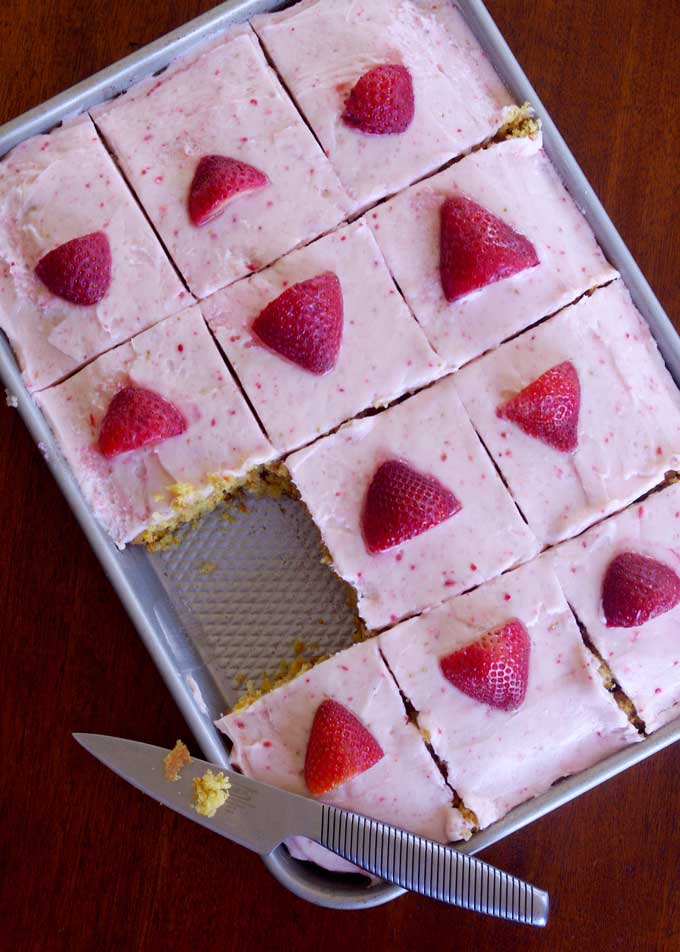 The point, if you're looking for one, is that we're big fans of carrot cake here on The Batter Thickens. But this Coconut Carrot Sheet Cake…may be the best of them all.
Here's why:
Super moist, tender cake crumb
Subtle cinnamon flavor
Coconut adding that tropical twist + extra sweetness
Strawberry frosting that achieves the perfect balance between sweet and tart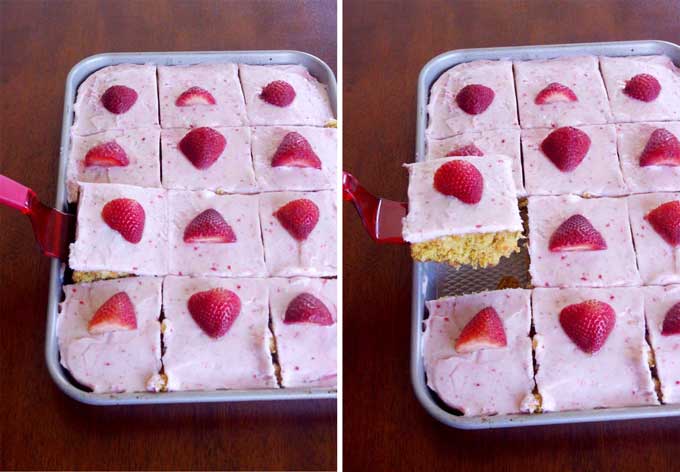 My favorite thing about this Coconut Carrot Sheet Cake is hands down the Strawberry Mascarpone Frosting.
If you're wondering about mascarpone, it's a sweet spreadable cheese that's basically a fancy version of cream cheese. Its role in this strawberry mascarpone frosting recipe is to add a little extra tartness to the counterbalance the sweetness of the frosting.
Full disclosure: I had to Google how to pronounce mascarpone, and the way I had been saying it was very much not correct.
As Hermione might say, t's mas-car-pone-AY, not mars-cap-OWN.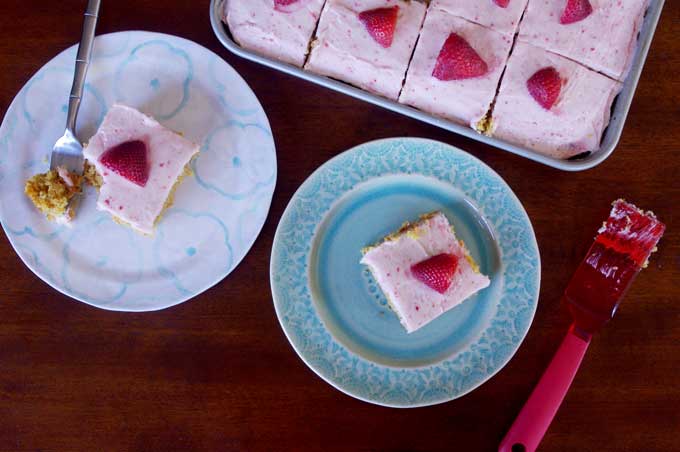 The other crucial ingredient to the deliciousness of this frosting is freeze-dried strawberries. You pulverize them into strawberry dust (take a whiff when you do this and you'll see why they work so well to bring WOAH strawberry favor to this recipe) and mix the dust into the butter, mascarpone, vanilla, and powdered sugar mixture.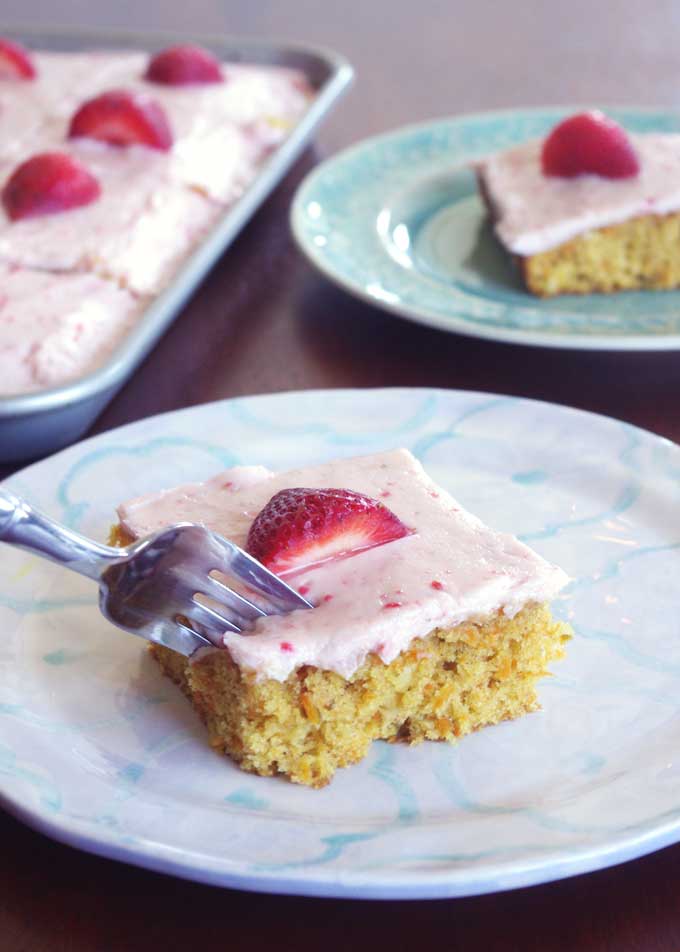 Freeze-dried strawberries have a few different benefits in this recipe.
They add an intense strawberry flavor without adding any of the extra liquid you would get from using pureed fresh or frozen strawberries, which would ruin the integrity of the frosting.
The strawberry flavor you get from freeze-dried strawberries is also a bit more tart than fresh strawberries, which works out great for our purposes of creating a delightfully sweet/tart frosting for our Coconut Carrot Cake.
They act as a natural food coloring, turning this strawberry mascarpone frosting a lovely millennial pink.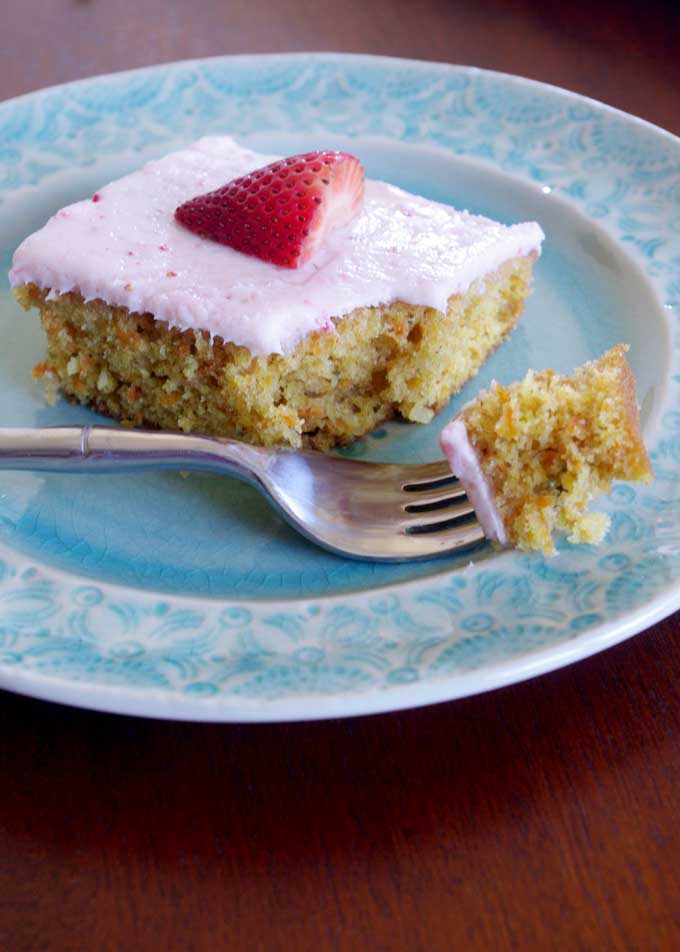 I can't wait to try pairing this frosting with other baked goods. I'm thinking vanilla cupcakes with peanut butter filling (because OF COURSE) and this strawberry mascarpone frosting on top. Leave a comment with any ideas you have!
I decided to make my Coconut Carrot Sheet Cake as a sheet cake to make it easier for people to take small sample-sized pieces at the massive dessert buffet that was our dessert contest. But if you decide to make it a standard three-layer round cake, I think you're on the right track. If you follow Half Baked Harvest's instructions, you'll be adding fresh strawberries between every layer and that is nothing but good.
I love this carrot cake. And I think you will too.
Print Coconut Carrot Sheet Cake with Strawberry Mascarpone Frosting
Yield:

17
---
Ingredients
Coconut Carrot Cake
3 cups all-purpose flour
1 1/2 teaspoons baking powder
1 1/2 teaspoons baking soda
1 teaspoon cinnamon
1 teaspoon salt
1 1/2 cups canola oil
3/4 cup buttermilk
3 eggs
1 1/2 cups granulated sugar
1/2 cup light brown sugar
2 teaspoons vanilla extract
1 pound carrots, grated
1 1/2 cups sweetened shredded coconut
Strawberry Mascarpone Frosting
8 ounces mascarpone or cream cheese, softened
2 sticks salted butter, softened
2-3 cups powdered sugar
2 teaspoons vanilla extract
1 cup freeze dried strawberries, ground until a fine powder
1 cup fresh chopped strawberries
---
Instructions
For the cake
Preheat oven to 350 degrees F.
In a large bowl, whisk the flour, baking powder, baking soda, cinnamon, and salt together until well combined.
In another large bowl, add canola oil, buttermilk, eggs, sugar, brown sugar, and vanilla. Beat using a stand mixer or hand mixer until the mixture is smooth. Add the carrots and coconut and beat until combined.
With the mixer on low, slowly add in the dry ingredients to the wet ingredients and mix until there are no more clumps of flour. Be careful not to over mix.
Pour the batter into a greased 17×12 sheet pan. Bake for 22-25 minutes, until the surface of the cake is just set and does not wiggle when you jiggle the pan. Remove from the oven and allow o cool completely before frosting.
For the frosting
Place mascarpone and butter into the bowl of a stand mixer. Beat for two minutes or until the mixture is light and fluffy.
Add in two cups of the powdered sugar along with the vanilla, then beat for another 2-4 minutes until the powdered sugar is combined and the frosting is fluffy.
Add in strawberry powder and beat until fully incorporated.
In small amounts, add up to one additional cup of powdered sugar until frosting reaches desired consistency.
Frost sheet cake, and decorate with fresh strawberries to your heart's content.