Using cottage cheese, part-skim ricotta, and whole wheat noodles, this Healthier Creamy Pesto Lasagna recipe is comfort food you can feel good about eating and serving to your family. Prepped in 15 minutes and on the table in less than an hour.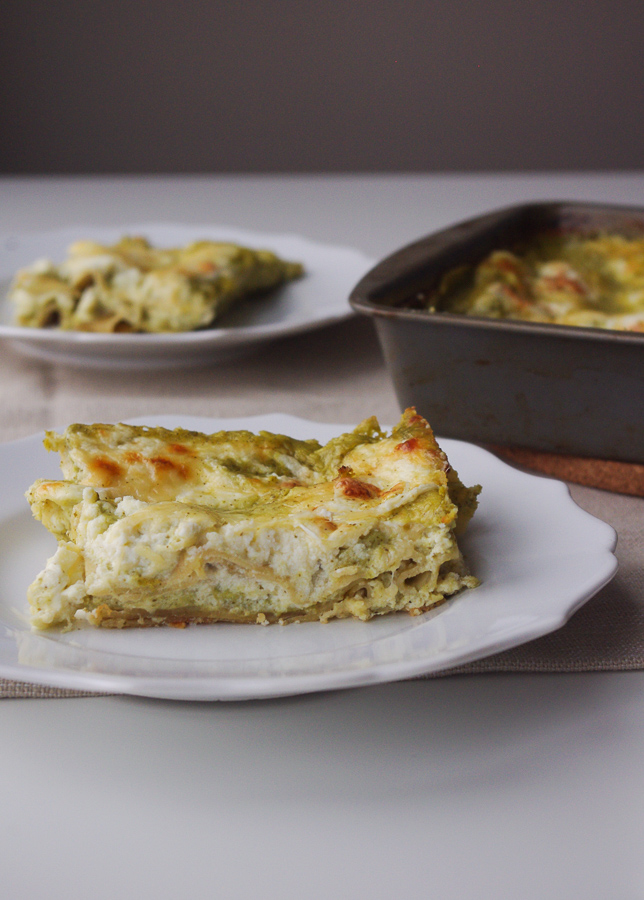 So who's trying to eat a little bit healthier this month? 🙋🏻
I'm a firm believer that eating healthfully doesn't have to mean you're not eating delicious, satisfying, comforting food. In fact, making an intention to eat more healthfully can often help to refocus you on the flavors and foods that truly bring your taste buds joy, without the cheap thrills of added sugar.
Take this creamy pesto lasagna for example. You may have noticed that it's covered in CHEEEESE. Cheese on cheese on cheese. There's actually four different kinds of cheese involved in this recipe: ricotta, mozzarella, parmesan, and cottage cheese. (More on that in a minute.)
Diet culture tells you cheese is an enemy (one of many). But we're not worried about the whole quatro fromaggio factor because we're also working with a low-fat, whole wheat situation that takes the guilt right out of this creamy pesto lasagna. Also because cheese is delicious and does in fact have nutritional value thankyouverymuch.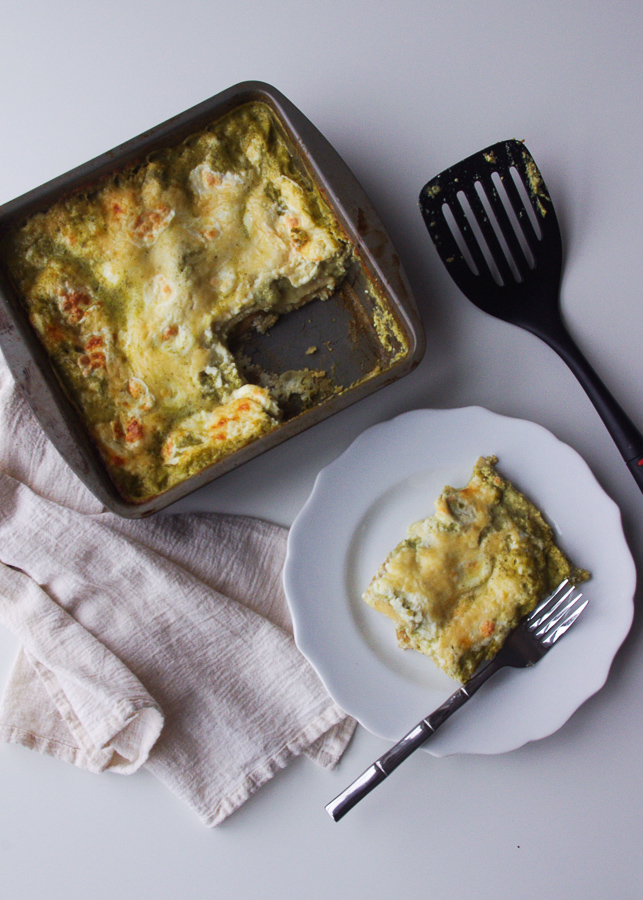 Cottage cheese is controversial. I get that. But even if you don't like eating cottage cheese plain, you don't need to worry about what it's doing in this recipe or why I'm trying to ruin good lasagna with cottage cheese. Here's why: You're going to puree it with your favorite pesto (whatever you usually buy from the grocery store, let's keep this simple) until all those little controversial curds are pulverized into decadent, creamy goodness. But like, creamy goodness that's packed with protein, low in fat, and actually pretty good for you.
What could be controversial about that?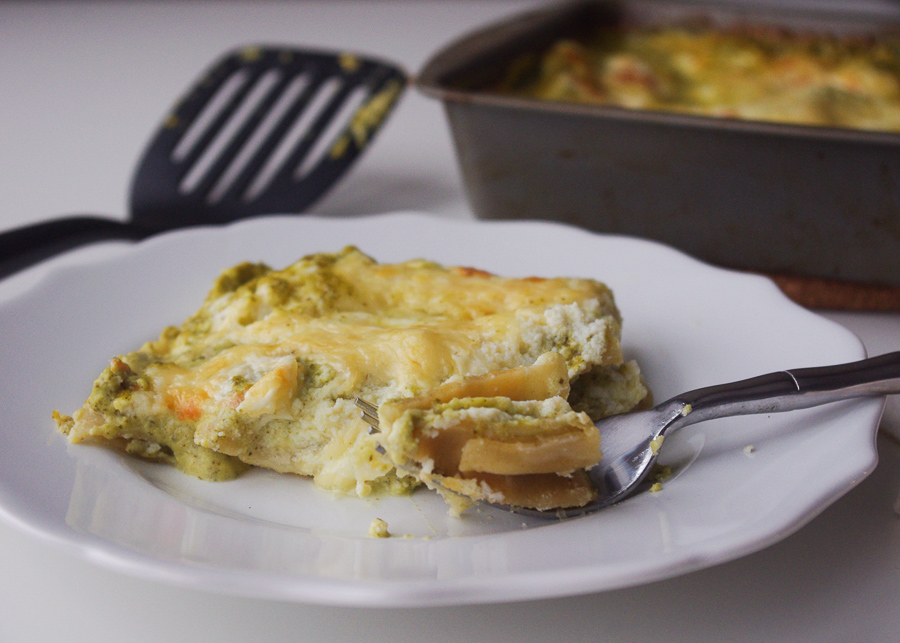 The other great thing about this creamy pesto lasagna is how easy it is to pull together. Let's walk through the process.
Step one: Ricotta on the bottom.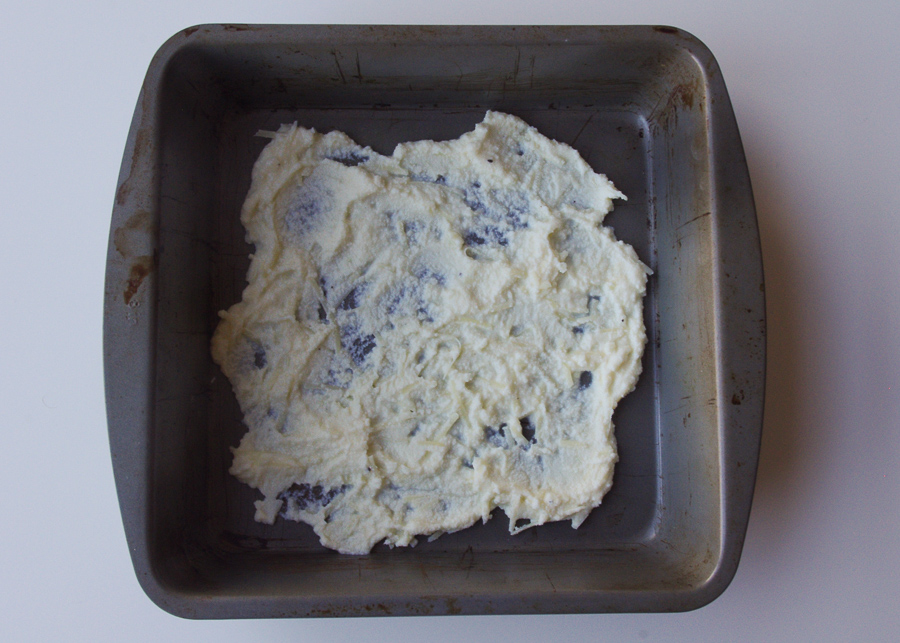 Step two: Noodle up.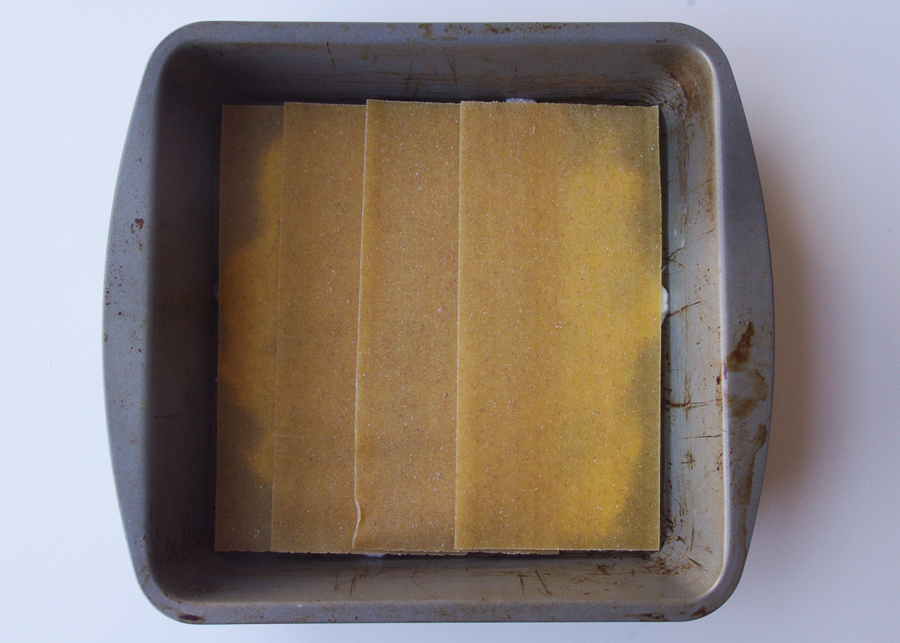 Step three: Smother the noods with creamy pesto.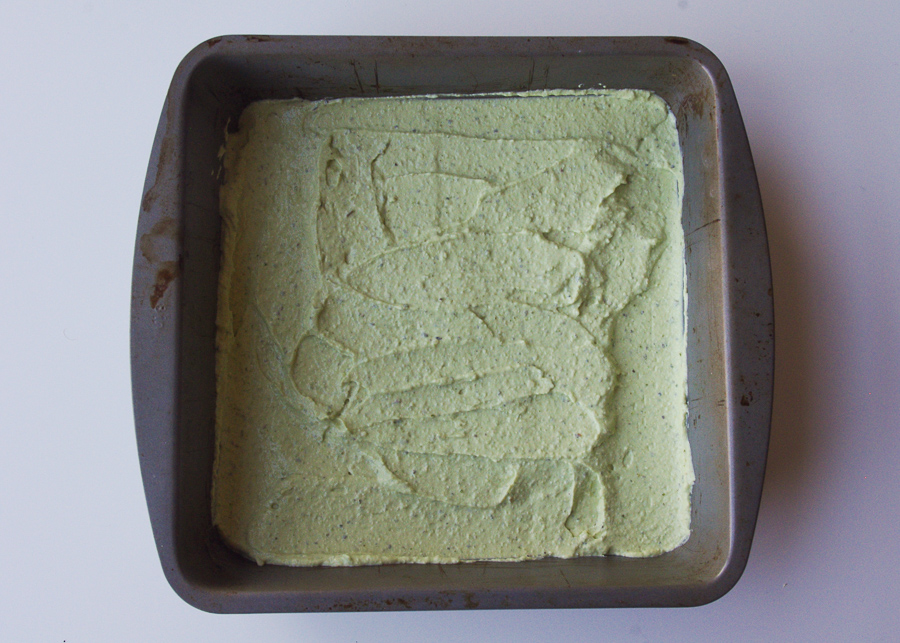 …then ricotta…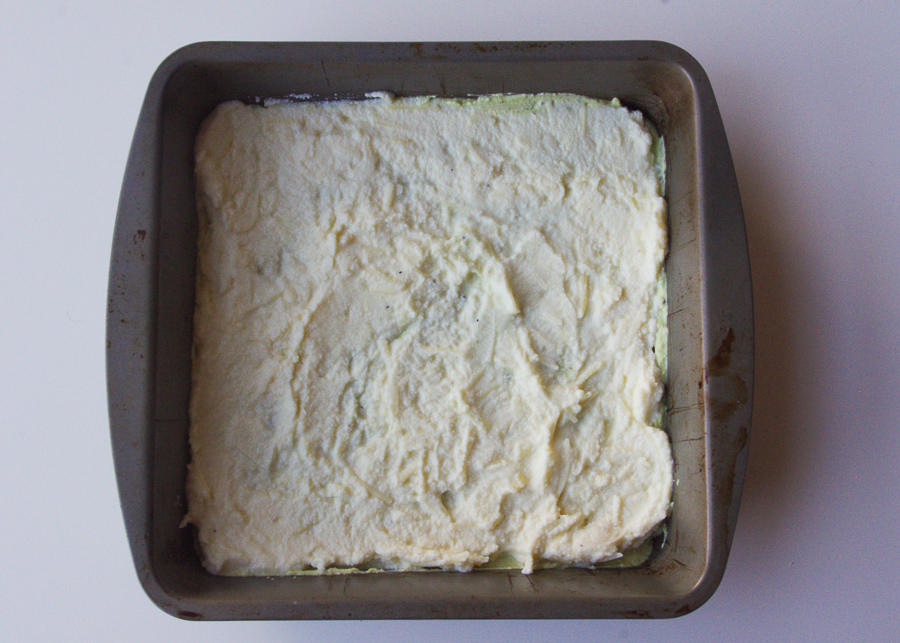 Step four: Repeat steps two and three, then top with fresh mozzarella and parmesan. Liberally.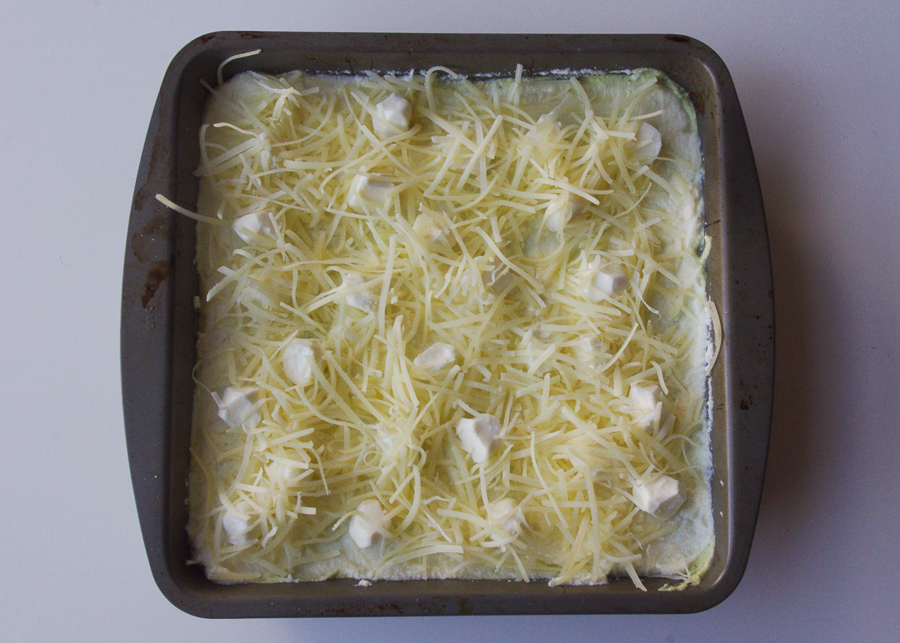 Step five: BAAAAKE!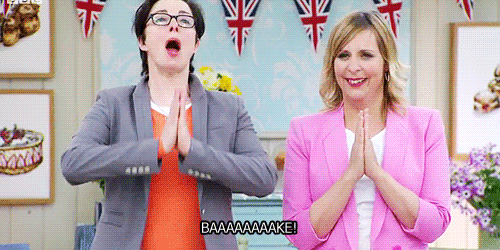 Anddddd behold! Beautiful, crackling, golden, molten creamy pesto lasagna.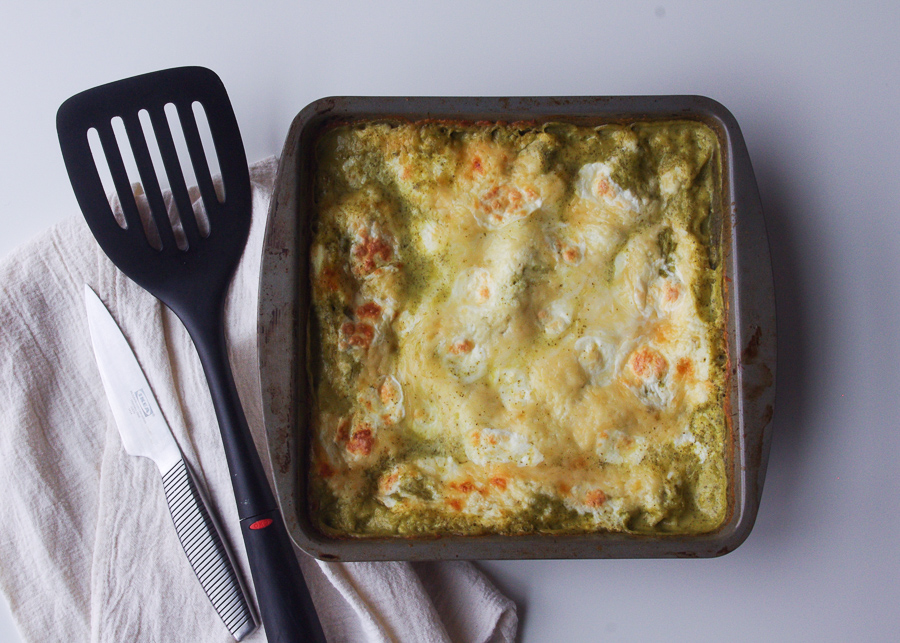 Oh. Man. I'm telling you, eating this lasagna is going to make you second-guess whether you're actually cheating on your resolution to eat healthier in 2018. Because it doesn't taste healthy. Like at all. It tastes rich and gooey and pesto-y and creamy and UGH.
This is precisely what I mean when I say that eating more healthfully does not mean you have to eat bland, unsatisfying rabbit food.
Eating more healthfully in 2018 can also mean eating creamy pesto lasagna by the heaping forkful and feeling pretty freaking good about it.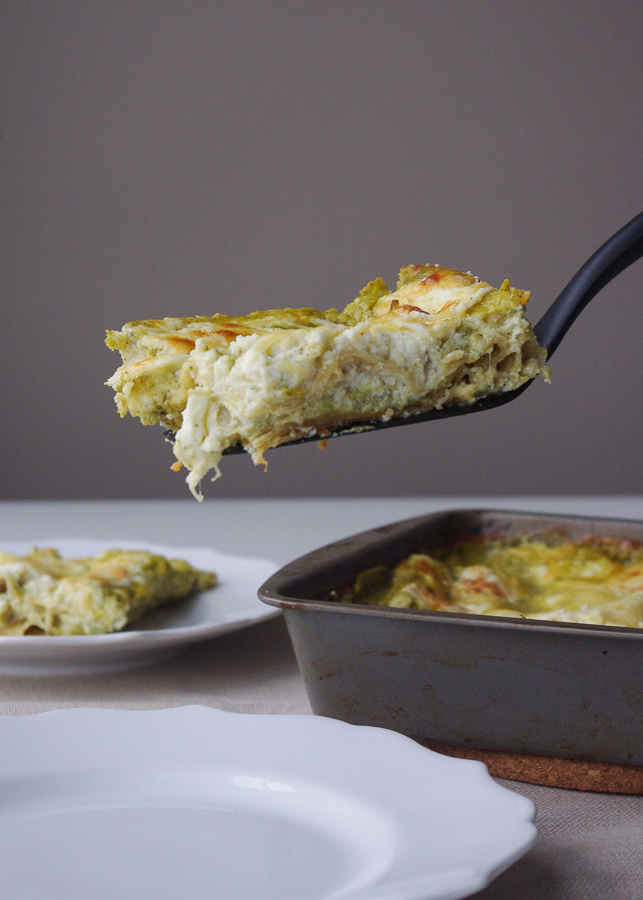 But maybe you're looking at this recipe and thinking about how you can make this creamy pesto lasagna even healthier? I like where your head's going.
You could add:
Spinach
Roasted broccoli
Garlic roasted tofu
Chicken
All would be excellent ideas. If you try any of them, report back!
And for next month, when we're easing up on our commitments to Eat Healthier? Let's make Basil Dark Chocolate Scones.
Print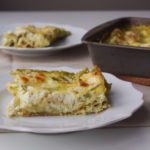 Healthier Creamy Pesto Lasagna
Author:

Prep Time:

15

Cook Time:

40

Total Time:

55 minutes
---
Description
Cottage cheese and whole wheat noodles make this Creamy Pesto Lasagna downright healthy.
---
Ingredients
8 whole wheat oven-ready lasagna noodles
1 cup cottage cheese (1% milk fat)
1/2 cup pesto
A few leaves fresh basil
1 tsp minced garlic
15 oz part-skim ricotta cheese
1 egg
1/3 cup water
Fresh ground pepper
Sea salt
3 oz fresh mozzarella (I used pearls)
2 cups grated parmesan cheese
---
Instructions
Preheat the oven to 425 degrees.
In a food processor, combine the cottage cheese, pesto, fresh basil, and minced garlic. Puree until smooth. Taste test and adjust ratios of pesto, basil, and garlic to taste.
In a small bowl, stir the ricotta, egg, water, and half the parmesan until well combined. Add sea salt and ground pepper to taste.
Grease an 8×8 baking pan with olive oil.
Smear about 1/4 cup of the ricotta mixture on the bottom and layer four whole wheat lasagna noodles on top, overlapping to fit.
Spread half the pesto mixture on the noodles, followed by half the ricotta mixture.
Layer four more noodles on top, followed by the remaining pesto and remaining ricotta.
Sprinkle the top of the lasagna with the fresh mozzarella and remaining parmesan.
Cover with aluminum foil and bake for 35 minutes. Remove foil and set the oven to low broil. Bake for another 5-10 minutes, until the top of the lasagna is just starting to brown. Check the lasagna at 5 minutes to prevent burning.
Allow lasagna to sit for five minutes before serving.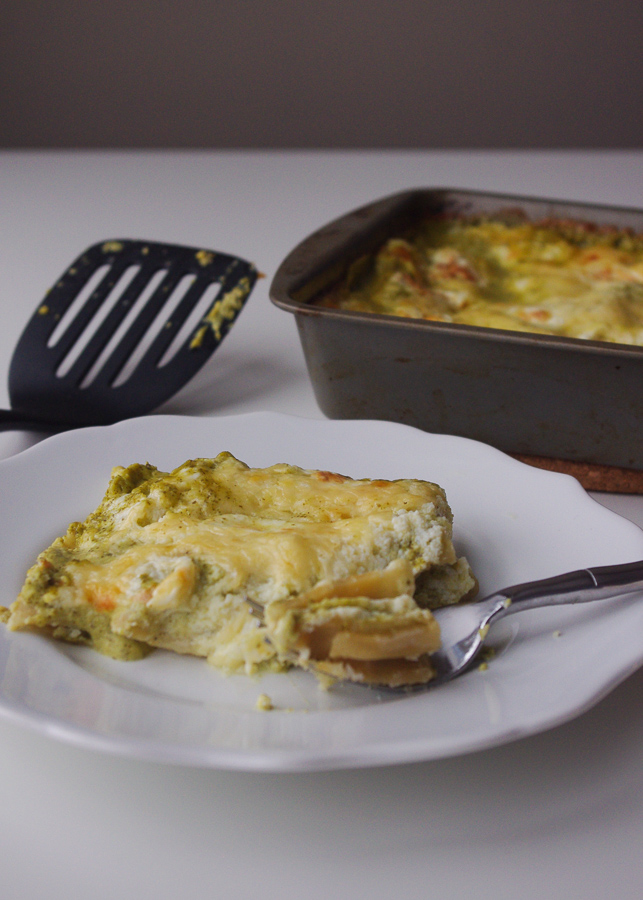 So where do you stand on using cottage cheese in this healthy pesto lasagna? Absolutely not? Or are you willing to give it a try?