I'm normally not THAT person. But I made these a while ago as an experiment. I saw a bunch of recipes with coconut flour and wanted to figure out what the deal is. This was a perfect experiment.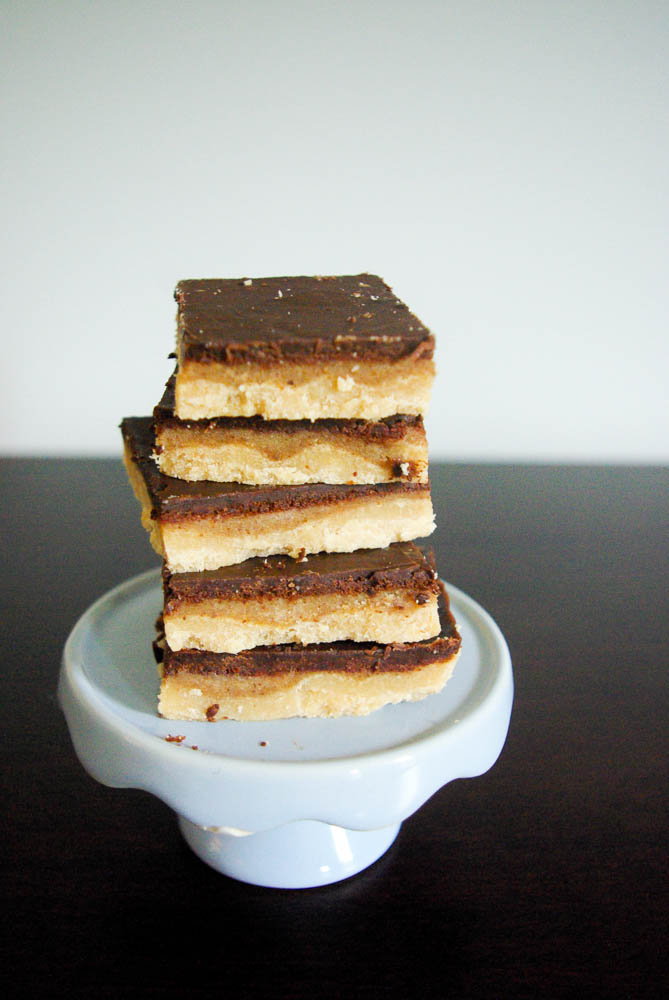 Coconut flour is weird! It is suuuuuuper absorbent. And it has a sort of coconutty taste if you really focus on it, but it isn't overwhelming. And mixing it with these ingredients really did make it taste like shortbread. But the thing about it being absorbent is that it can sometimes make your mouth really dry when you eat it. But if you get the caramel layer in your bite, it works perfectly.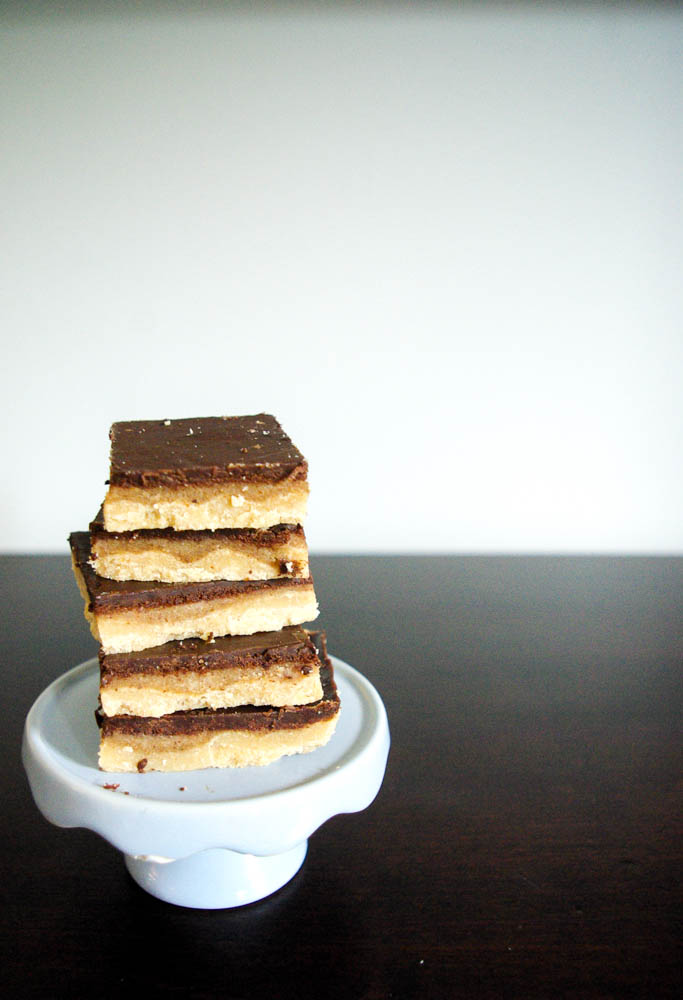 And the caramel layer? That was truly magic. Maple syrup and almond butter? How in the world does that taste so good. I guess it shouldn't be too much of a surprise because I love those things independently, and it's a 1:1 ratio so there's plenty of maple syrup to make it sweet. But really. Amazing. I would drink it plain if that were acceptable behavior.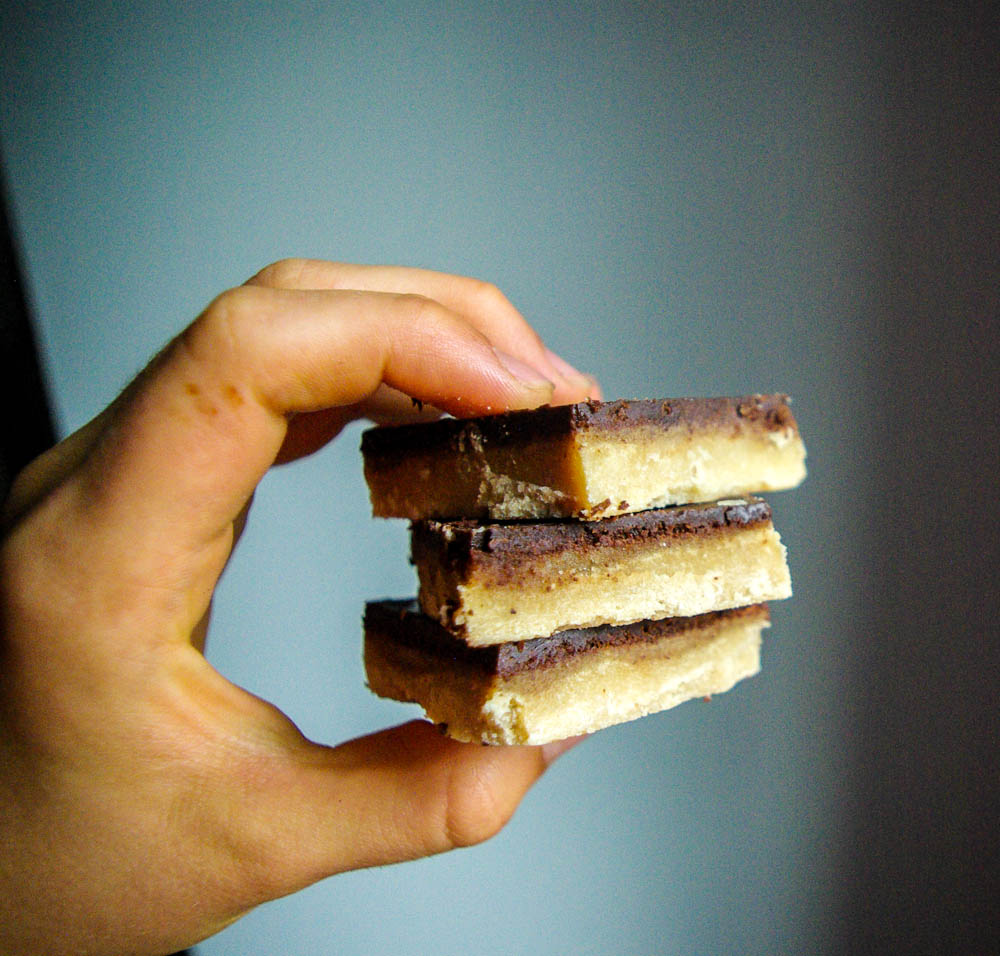 The chocolate layer is pretty easy. It's just cocoa powder and coconut oil and it hardens into a chocolate layer. But you do have to keep it refrigerated. The chocolate will melt otherwise. And also, they just taste better cold.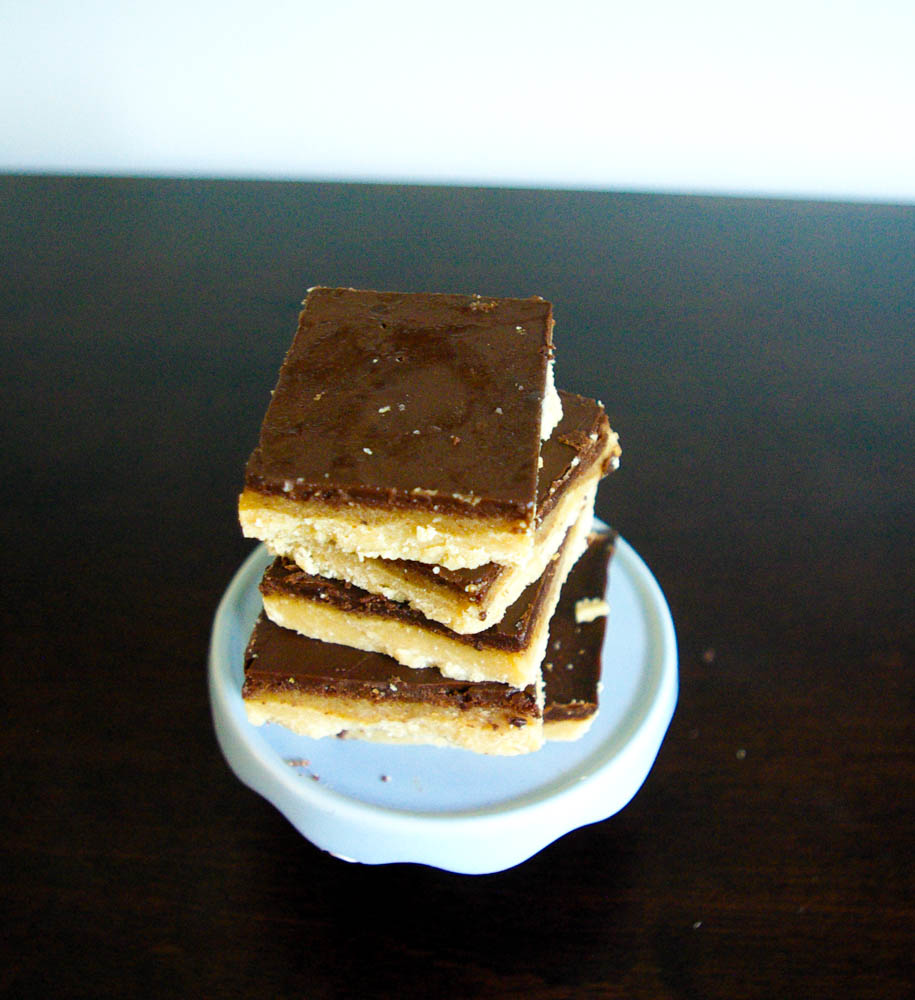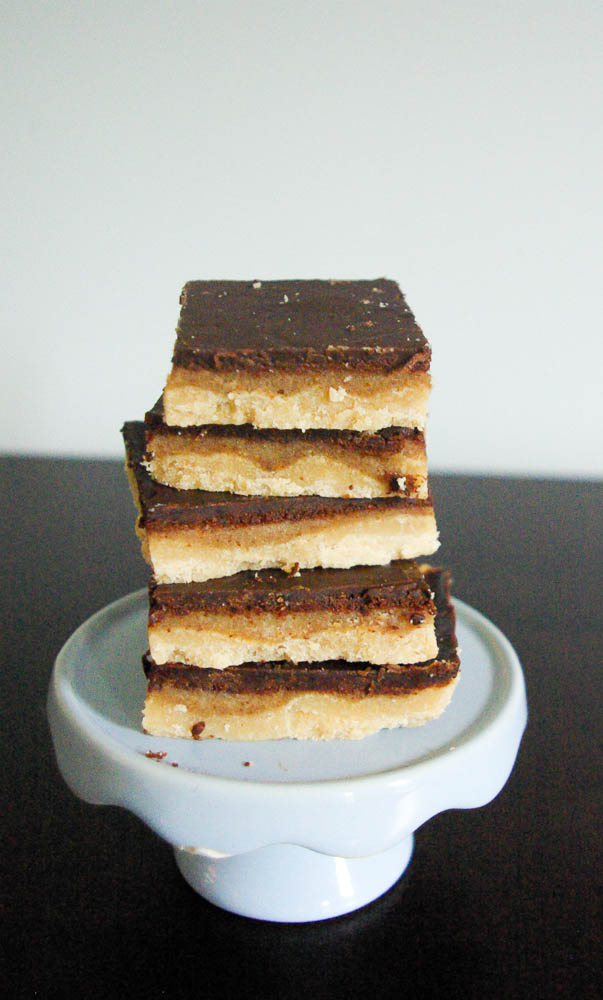 So these may not be the most decadent dessert ever, and they may make you feel like you're THAT person (the Paleo diet, gluten free, vegan freak). But I promise you, they're suuuper yummy and if you've ever wanted to try coconut flour this is the perfect recipe.
-Audrey
Paleo Millionaire Shortbread
2016-06-01 14:23:24
Serves 16
Shortbread
1 cup coconut flour
½ cup maple syrup
½ cup melted coconut oil
1 teaspoon vanilla extract
Caramel
¼ cup maple syrup
¼ cup melted coconut oil
¼ cup almond butter
1 teaspoon vanilla extract
pinch of sea salt
Chocolate
½ cup coconut oil
½ cup cocoa powder
3-4 tablespoons maple syrup (adjust to your taste)
1 teaspoon vanilla extract
pinch of sea salt
Instructions
In a small bowl mix together your shortbread ingredients (the coconut flour, maple, oil, and vanilla. Press the dough into a lined 8x8 in baking tin to make the bottom crust. Set aside for later.
In a small pot melt the caramel ingredients on a medium low heat for about 3 minutes (the maple, oil, almond butter, and vanilla). Make sure to stir while everything melts to keep from burning. Let cool for a couple of minutes then pour over the top of the shortbread crust. Cover and refrigerate for about 30 minutes to set let the caramel set.
While the caramel is setting, begin making the chocolate by melting the coconut oil in a small sauce pot first. Stir in the maple, cocoa powder, vanilla and salt. Make sure there are no remaining lumps, then remove from heat and cool.
After the caramel has firmed up you can pour the chocolate over the top, spread with the back of a spoon to even out the top, then cover and refrigerate for 30-60 minutes until firm.
Notes
From A Saucy Kitchen: http://www.asaucykitchen.com/2015/07/paleo-millionaires-shortbread.html
The Batter Thickens http://www.thebatterthickens.com/