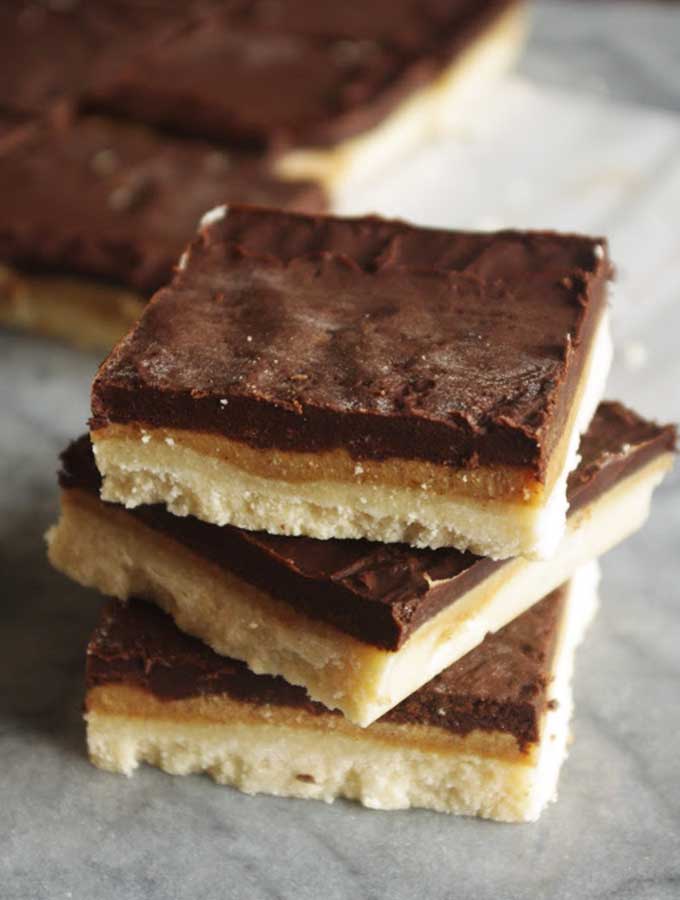 Audrey and I told you we were back, back, BACK to the blog and we kept up a good run for a few weeks, but then guess what happened. I moved (for the third time in three years) and Audrey went to college. And our blog momentum? Skidded. to. a. halt. Oops.
Though to be fair, I think that since moving and going to college are both major life transitions, we can be forgiven for letting this blog slip off the radar for a week or three.
But after a few weeks of unpacking and settling in amidst weekend travels I'm back! And I'm re-introducing you to an old recipe that is, bafflingly, one of our most highly viewed recipes on this site. I say bafflingly because it is a dessert recipe that is paleo, gluten-free, dairy-free, and no-bake. Uh, what? I know. It feels strange to me too. But these paleo millionaire's shortbread bars are pretty popular with the internet and who am I to argue with the internet?
Here's another thing: They're actually…really tasty. Like, raise-your-eyebrows-in-pleasant-surprise tasty.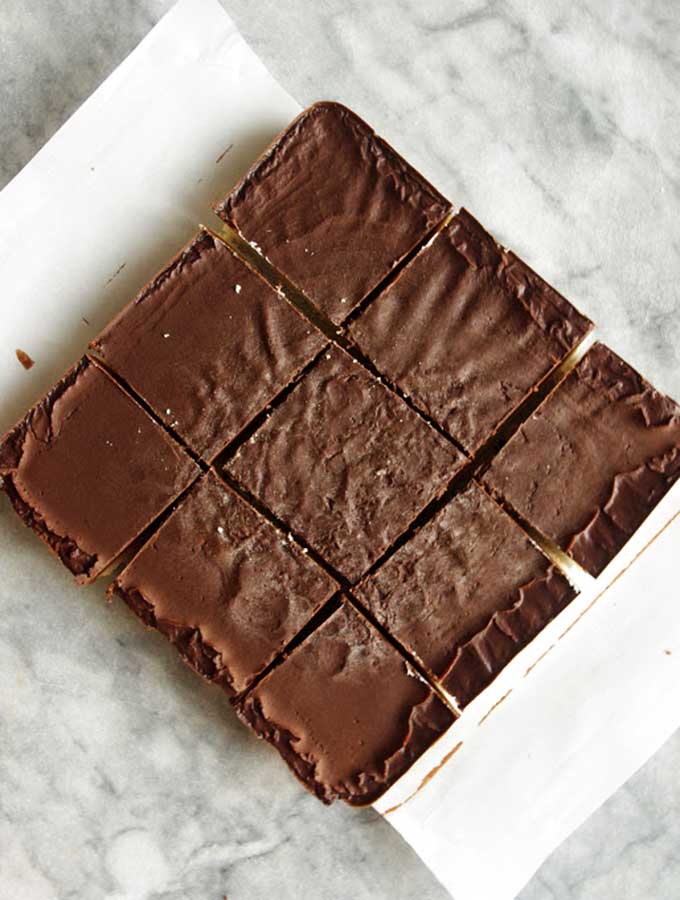 I won't say that you can't tell they're paleo, because that's not true. You can totally tell these bars are paleo. The coconut flour gives the shortbread a uniquely coconutty flavah, the "caramel" tastes ever-so-slightly like almond butter (because guess what, it has almond butter in it), and the chocolate melts faster than an M&M in summer because it's made out of coconut oil and cocoa powder.
Here's what your thought process is going to be when you bite into a paleo millionaire's shortbread bar:
"Mmm."
"Huh, this does taste a little different."
"Like, kinda healthy."
"But…I like it?"
"Yeah, I do. I really like it."
"More, please!"
I call it The Six Stages of Paleo Dessert Acceptance. I've gone through them all, and I'm on the other side telling you to just give them a chance, you might surprise yourself!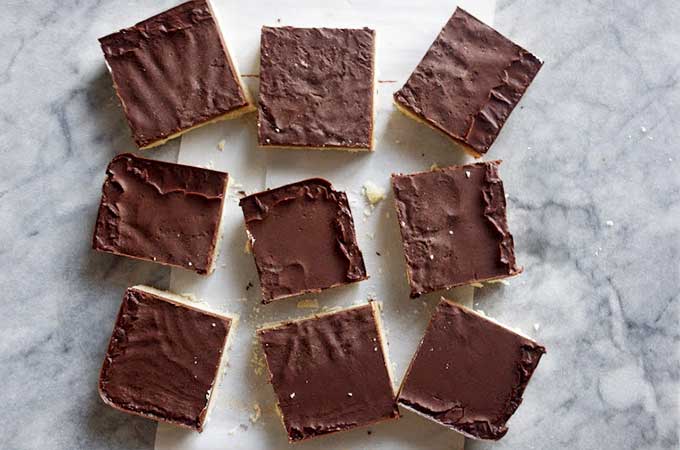 I don't know about you, but I equate "paleo" with "mucho time and effort." But here's the good news: these paleo millionaire's shortbread bars are very easy to make, which means they aren't too much of an investment of your precious time and effort if you find you don't like them.
They also, unlike many paleo "desserts," don't require super exotic ingredients that have to be purchased from some obscure dealer on Amazon. Depending on your pantry habits, you might need to specially purchase coconut flour and coconut oil (though coconut oil is becoming so ubiquitous that I bet you already have some). But everything else in this recipe, I am willing to bet you already have in your cupboards.
For example, here are the ingredients you need for the crust, from top clockwise: coconut oil, coconut flour, vanilla extract, and maple syrup. That's it!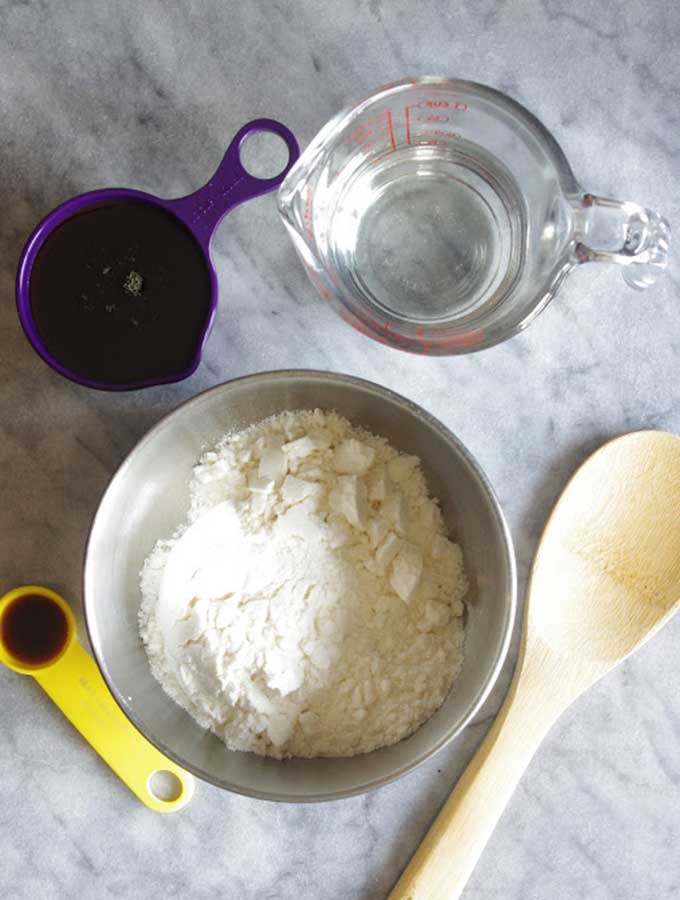 And did I mention? You don't even have to turn on your oven.
Here's what we're doing. Step one: stir up your shortbread crust.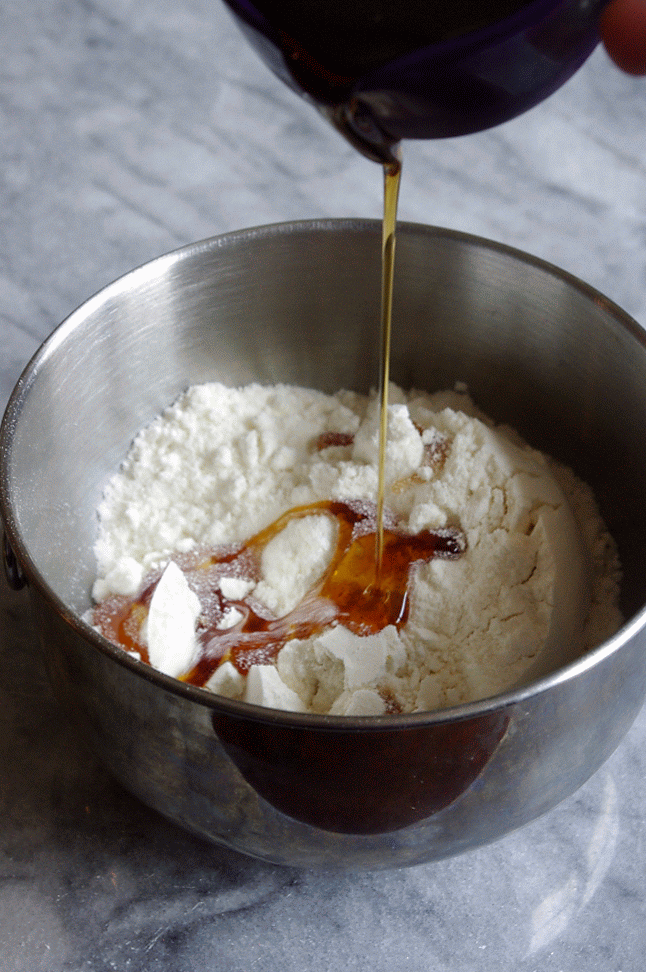 Then, dump that shortbread mixture into a square pan, and press it into the pan until it makes a uniform layer. Use your fingers or the back of a rubber spatula, whatever floats your boat or tickles your whiskers!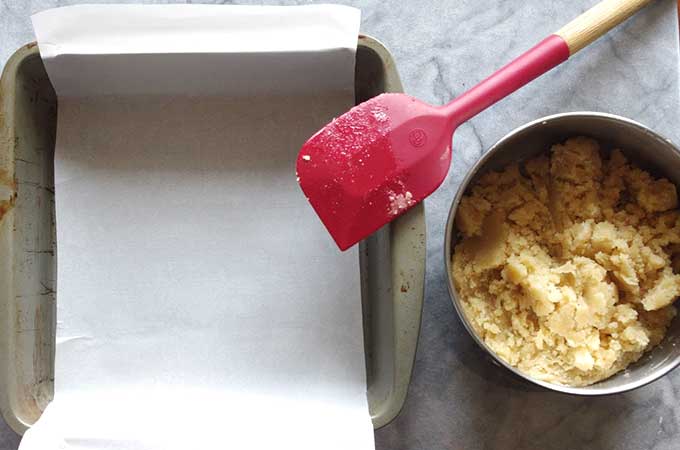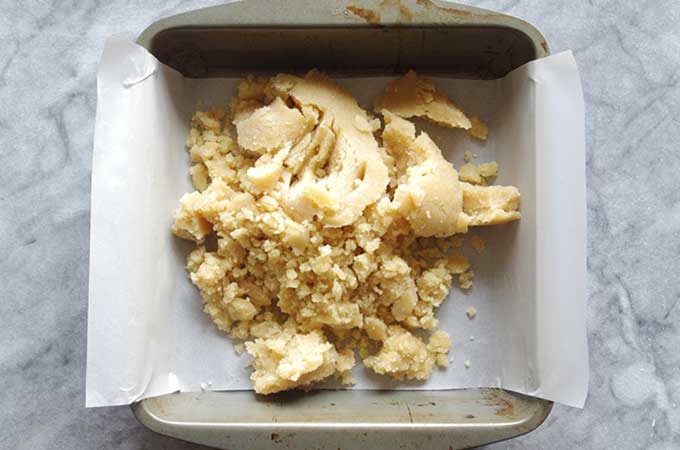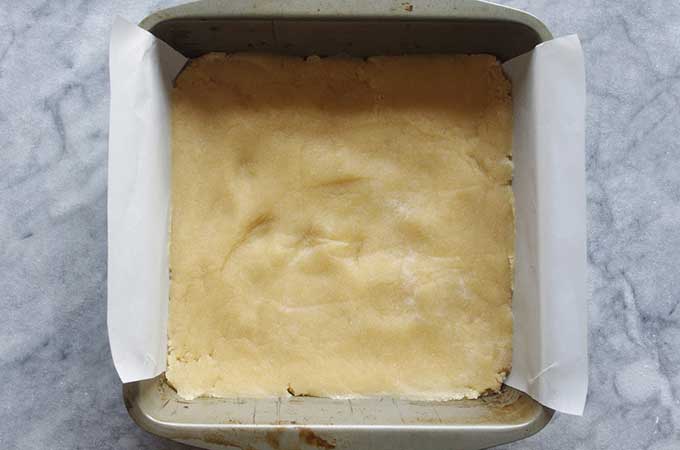 Boom, already done. Next, mix up the caramel layer, then pour onto the shortbread crust.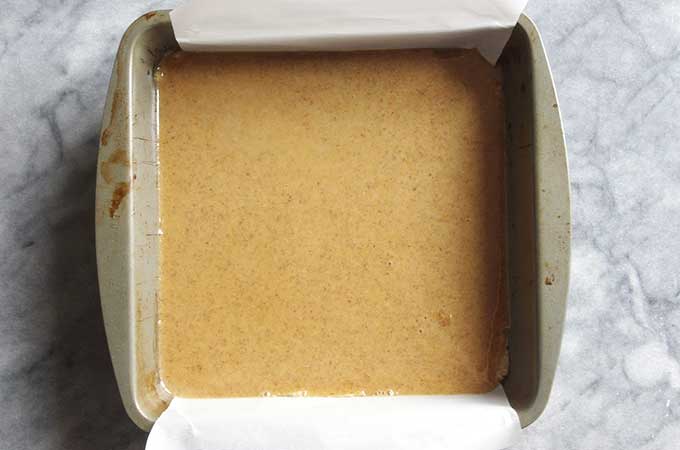 Put that gorgeous caramel layer into the fridge to solidify. Meanwhile, make your chocolate layer. When the caramel is solid enough, pour the chocolate on.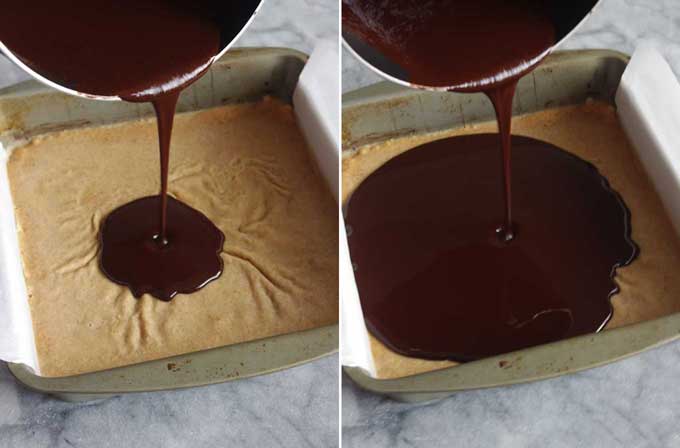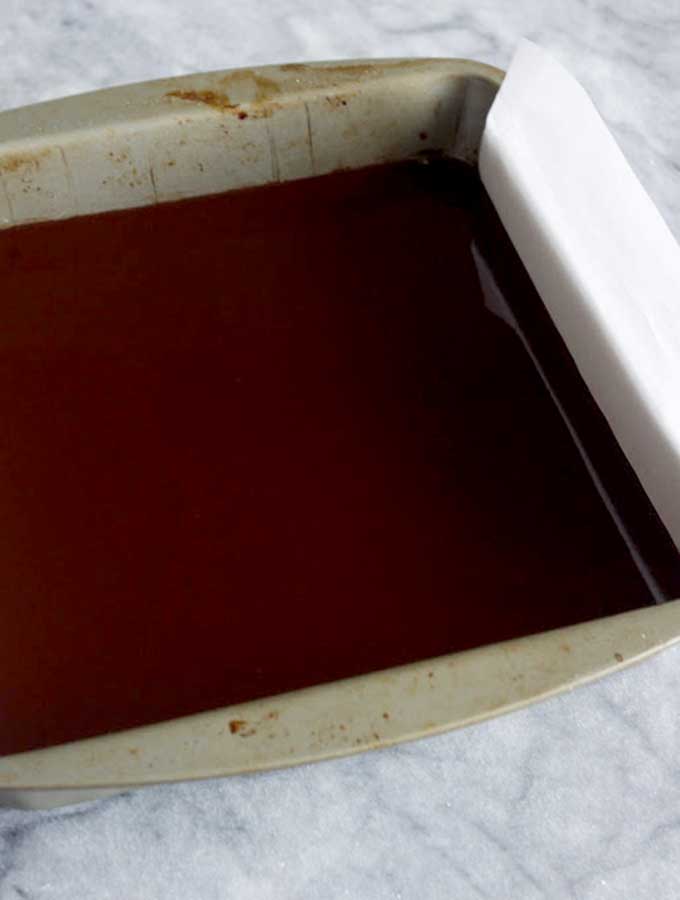 Look how shiny that chocolate is! This is why coconut oil is a fave.
Now you just refrigerate your paleo millionaire's shortbread bars until they reach peak solidity and goodness, and that's it! Slice them into squares and enjoy, you paleo adventurer, you.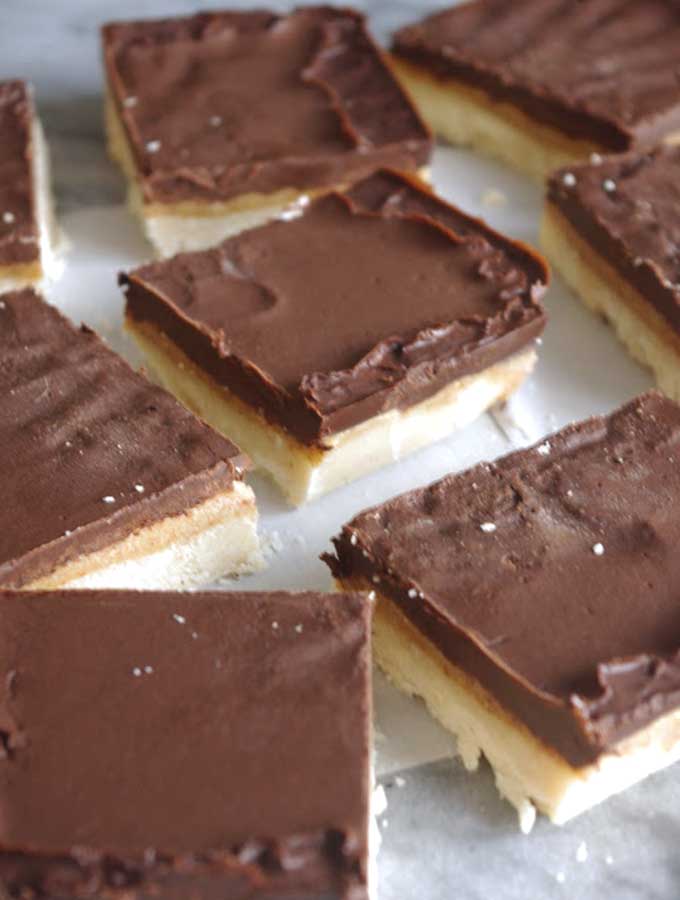 What these bars are:
Sweet
Chocolatey
Satisfying
Filling
What these bars are not:
Decadent
Guilt-inducing
Only pretending to be dessert while actually sucking
A "worse" version of the real thing
Believe it! Now go forth and indulge on paleo millionaire's shortbread bars and feel great about it!
– Molly
Print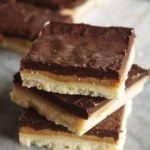 Paleo Millionaire's Shortbread Bars
Yield:

9
---
Ingredients
Shortbread
1 cup coconut flour
½ cup maple syrup
½ cup melted coconut oil
1 teaspoon vanilla extract
Caramel
¼ cup maple syrup
¼ cup melted coconut oil
¼ cup almond butter
1 teaspoon vanilla extract
pinch of sea salt
Chocolate
½ cup coconut oil
½ cup cocoa powder
3-4 tablespoons maple syrup (adjust to your taste)
1 teaspoon vanilla extract
pinch of sea salt
---
Instructions
Line an 8×8 baking pan with parchment paper. Set aside for now.
In a small bowl, stir together the coconut flour, maple syrup, coconut oil, and vanilla until well combined. Press the mixture into the bottom of the 8×8 pan until it forms an even layer.
In a small saucepan, melt the caramel ingredients on medium-low heat for about three minutes, or until melted and well-combined. Stir continuously to prevent ingredients from burning.
Set mixture aside to cool for a couple minutes, then pour over the shortbread crust. Cover the pan with tinfoil and refrigerate for half an hour until the caramel has set.
In the meantime, make your chocolate mixture. Start by melting the coconut oil in a small saucepan. When it's fully melted, stir in the cocoa powder, maple syrup, vanilla, and salt until the mixture is completely smooth with no lumps. Remove from heat and allow to cool.
When the caramel is done setting, pour the cooled chocolate over the top. Cover again and refrigerate for about an hour until firm.

Have you ever braved the world of vegan baking? If so, what did you make and how did it go? Leave a comment and tell us about it!