If you were following along on Instagram, you probably noticed that I (Molly) spent the last week and a half eating my way through the best ice cream in California.
I spent 11 days traveling up and down the California coast, spending a total of five days in L.A., three days in San Francisco, one day in San Jose, one day in Napa, and one day in Monterey. Whew! It was a busy 11 days, but luckily I had plenty of amazing ice cream to keep me fueled 😉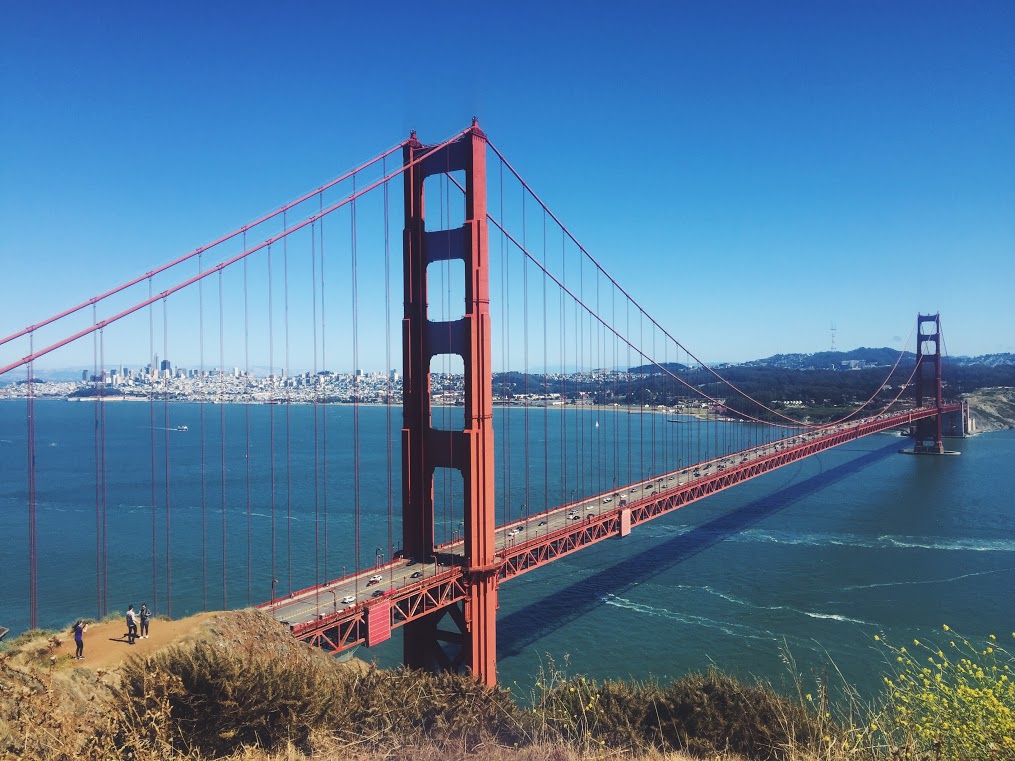 I was documenting my ice cream experiences via Instagram throughout the trip, but I wanted to do a roundup post of the best ice cream in California, ranked according to my personal favorites.
If you find yourself in Los Angeles or San Francisco one of these days, you should check out all of these places. Because no matter where they fall on my list, they are still exceptional. Ranking them is like ranking Olympic swimmers. The differences are all down to decimal points.
That said, #1 is the Michael Phelps – a lap ahead of the rest.
5. Pressed Juicery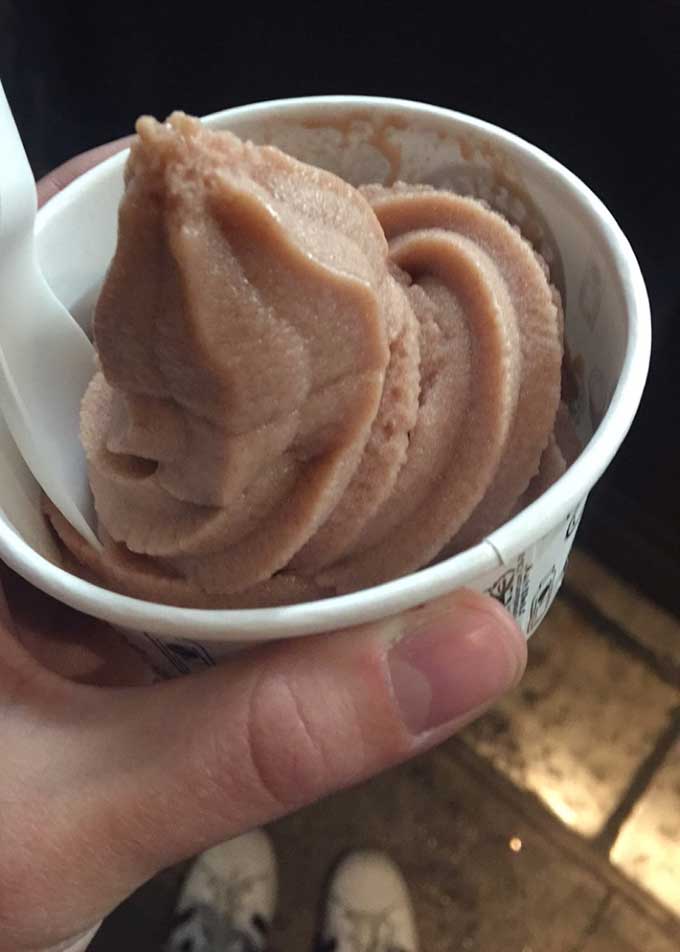 Pressed Juicery is a chain of stores that create the kind of fresh-pressed juices that fuel juice cleanses (you know, full of 7 different fruits and veggies plus a vial of unicorn tears, that kind of thing). They also happen to make a soft-serve called the Pressed Juice Freeze that's vegan, plant-based, gf, and dairy-free.
I know, I know, that's like the most L.A. thing ever, but when we stumbled across their stand at The Grove, I was drawn to the siren song of "healthy" ice cream. The flavor I ordered, Strawberry Almond Freeze, is made out of almond milk, strawberries, raspberries, beets, vanilla bean, and dates.
The Pressed Juicery Freeze doesn't hold a candle to the other ice creams on this list (maybe because it's…not ice cream), but it was legitimately tasty in its own right. It's not the best ice cream in California, but let's be honest: if there was a Pressed Juicery in Minneapolis, you could catch me there ordering a freeze a couple times a month.
You'll never catch me doing a cleanse though.
4. Bi-Rite Creamery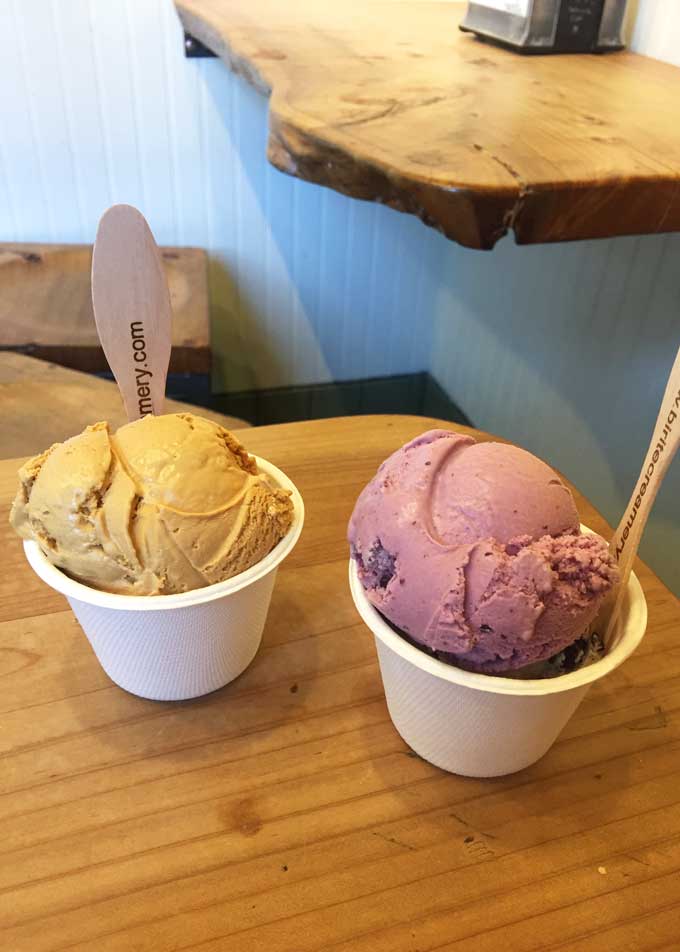 I can't remember how I heard about Bi-Rite Creamery, but it floats to the top of any search for "San Francisco best ice cream" or "best ice cream in California" and it has a 4.6 rating on Google with over 1,200 reviews. Not too shabby. So of course I had to check it out.
We passed one location by accident on our first day in San Francisco, but we were too stuffed from our visit to Tartine Bakery to even contemplate ordering ice cream. So we backtracked the next day to check it out.
At peak times the line at Bi-Rite is apparently out the door and around the block, but by going around 6:00pm (thereby ruining our dinner – don't tell our moms) we got lucky and only had a couple people ahead of us. I ordered two half scoops (trying to save room for dinner, after all): roasted banana and salted caramel, which is one of their most popular flavors.
The roasted banana flavor was really unique and delicious. The salted caramel was solid too, but I've had better (see #1 on this list). I would've liked to be able to sample even more flavors at Bi-Rite, because they have a lot of really interesting ones, like strawberry balsamic, honey lavender, and one made with fennel pollen.
In hindsight, I wish I had ordered milk chocolate peanut butter with fudge & chocolate peanut candies or malted vanilla with peanut brittle and milk chocolate pieces. I tried to go for a more unique flavor, but you can never go wrong with something involving peanuts and chocolate.
3. Salt and Straw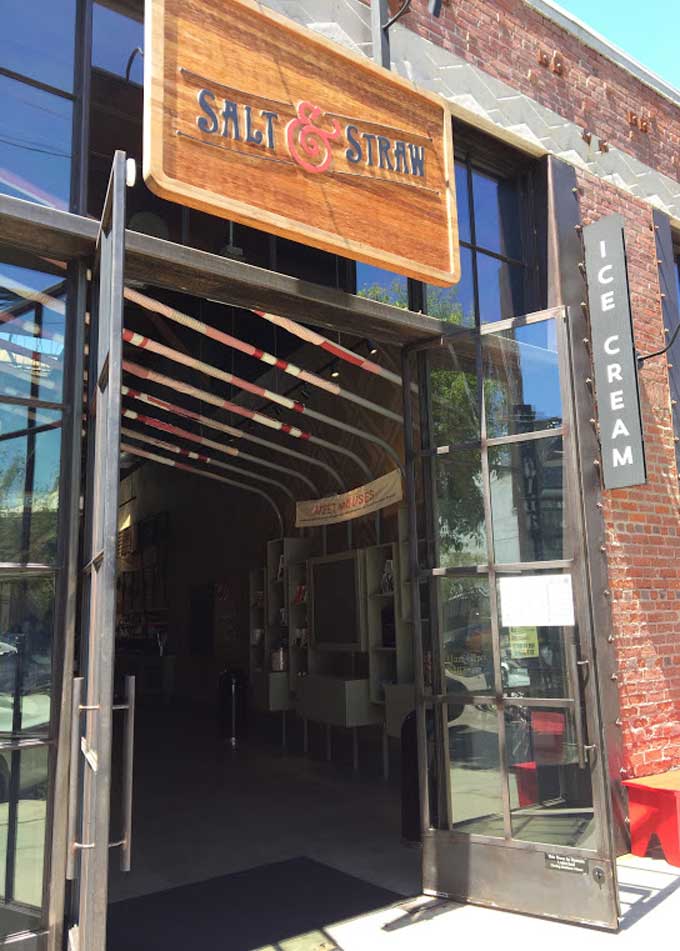 We stumbled on Salt and Straw utterly by happy accident on our first day in L.A., though when Audrey saw the snaps and raved about how she'd wanted to go there, I realized it should've been on our list!
I had the hardest time deciding what to order. Just look at some of these flavors and you'll understand why:
Salted, Malted, Chocolate Chip Cookie Dough
Avocado and Strawberry Sorbet
Chocolate Gooey Brownie
Black Olive Brittle and Goat Cheese (okay, so this doesn't actually sound tempting AT ALL, but it's a super intriguing flavor, right?)
I asked for at least four samples before I was finally forced to make up my mind because the line was building up behind me (er…sorry?). Fortunately the guy behind the counter was pretty patient with me!
I settled on Roasted Strawberry & Toasted White Chocolate. Under any other circumstances, I would've gone for the Salted, Malted, Chocolate Chip Cookie Dough because OMG 😍, but it was like 90 degrees and we had been walking around for a few hours already and it was just too freaking hot to think about eating something so rich.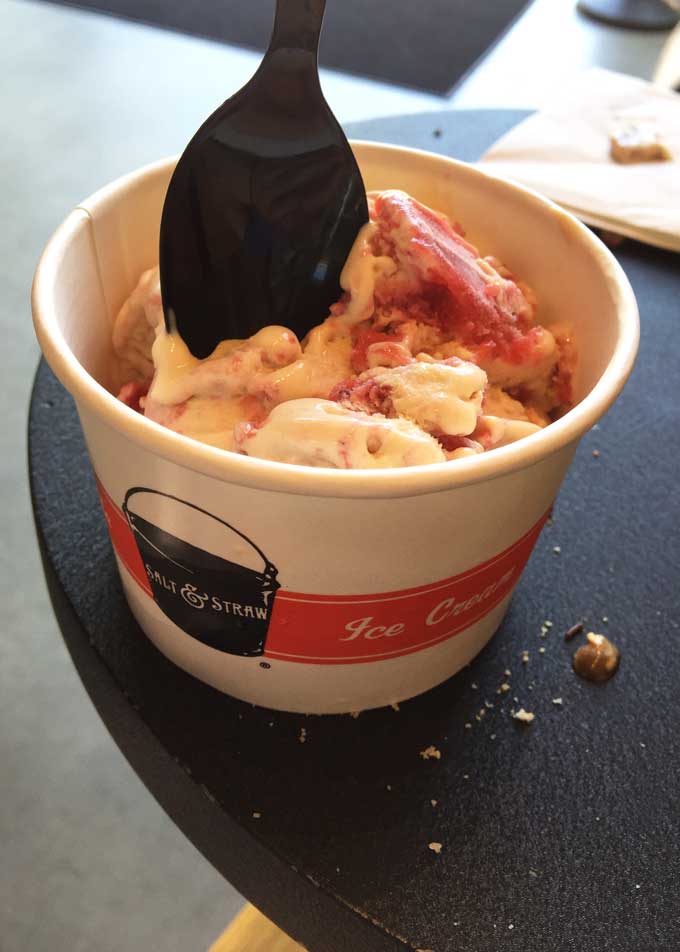 Oh, and the inside of the store was pretty cool too.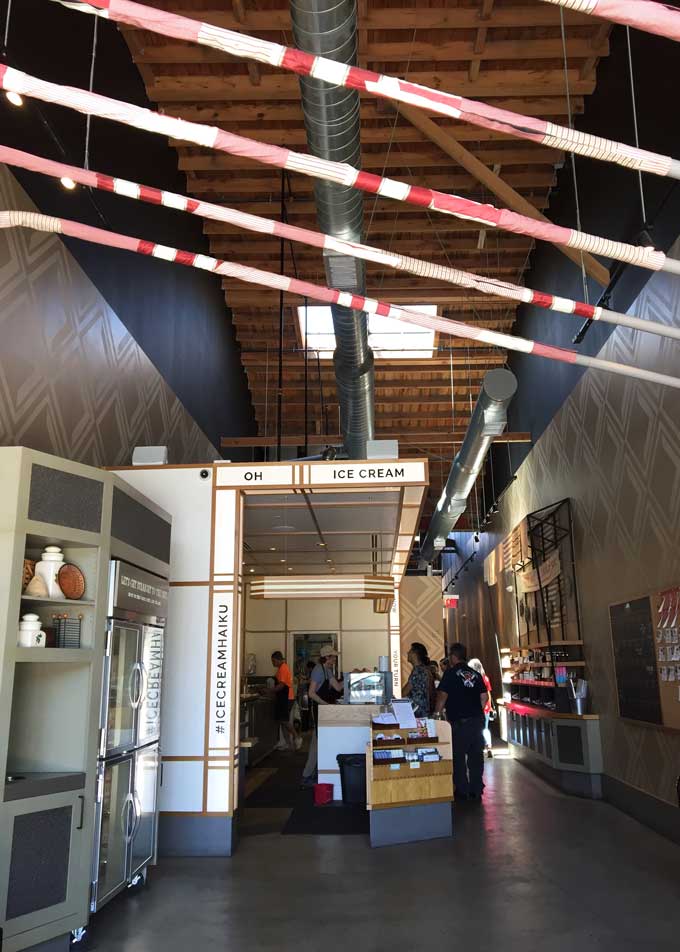 This Salt and Straw ice cream really set the tone for our trip. Namely, that we would be setting out on a journey to experience some of the very best ice cream in California. And that we did.
Looking back at these flavors, I am definitely forcing Audrey and Ethan to take me back to Salt and Straw next time I visit them in L.A.
2. Smitten Ice Cream
Smitten Ice Cream wins for the coolest place on this list. They make their ice cream with SCIENCE! (Anything with science impresses me, the consummate English major.) The founder of the shop, Robyn Sue Fisher, partnered with an engineer to create a brand new ice cream machine: the Brr, which uses liquid nitrogen to freeze the ice cream at a temperature so cold that it's impossible for ice crystals to form, resulting in the smoothest ice cream you'll ever taste. The machine is patented now, and Robyn has been offered $50,000 dollars for a replica, which she turned down.
Think Smitten can't get any cooler? Every dish of Smitten ice cream is churned to order right before your eyes.
Check it out:
In the early days, Smitten operated out of a little red wagon on the streets of San Francisco (cute, much?). Nowadays, they operate 9 locations across San Francisco and moving into L.A. (Audrey, go get it!!). It's a pretty impressive entrepreneurial story, too. I was all around wowed by Smitten. And we haven't even gotten to the ice cream itself.
I ordered the Cookie Dough with Pretzels and Chocolate Chips (because, duh).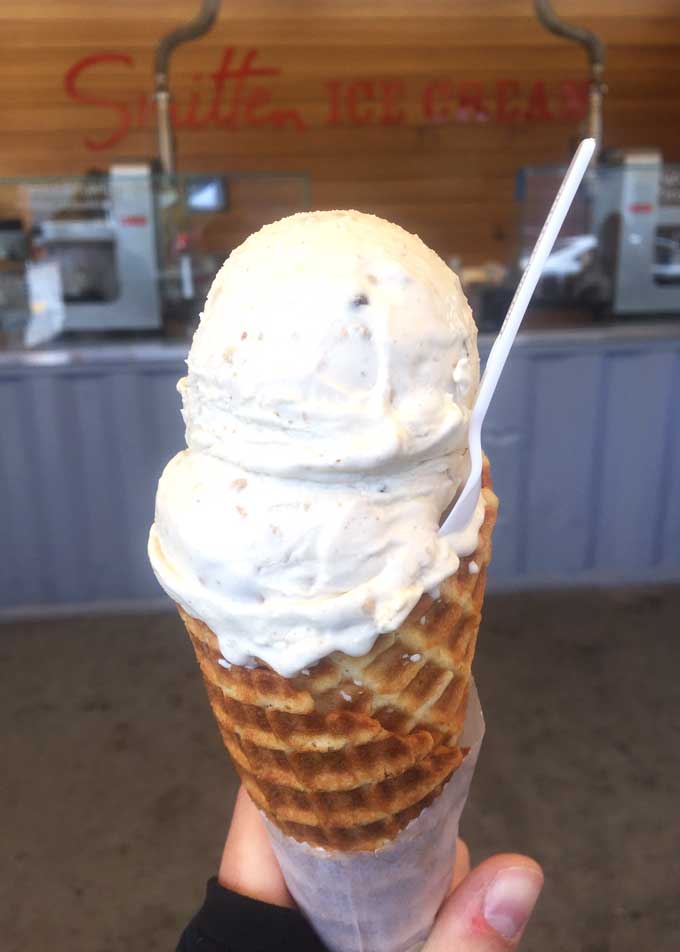 We also got an order of Blueberry Lavender. Lavender flavors cropped up at almost every ice cream shop we visited on our trip. Both flavors were amazing. (But mine was better.) I reveled in every bite.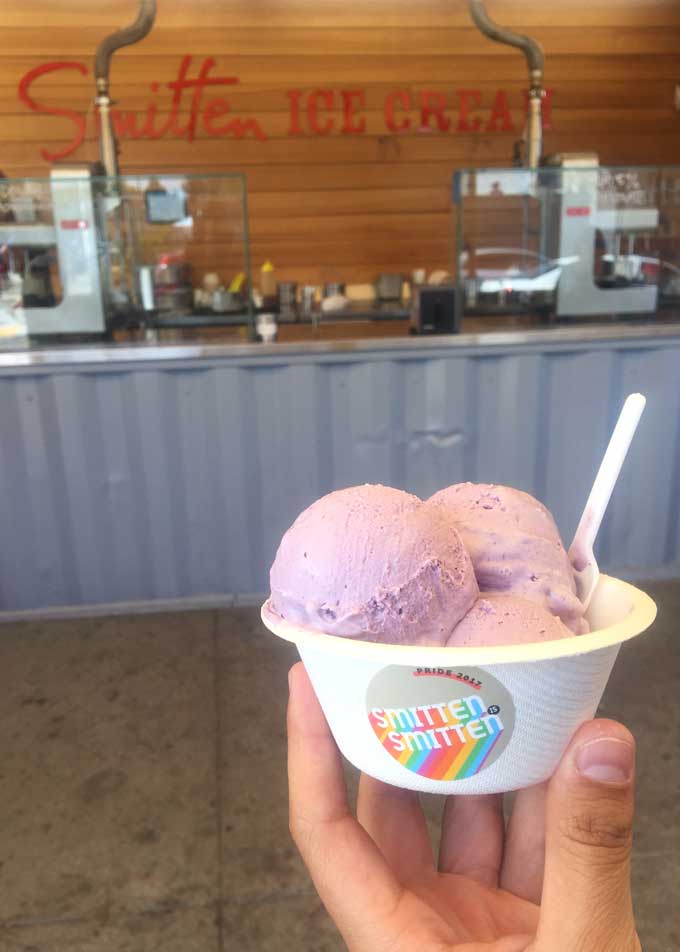 Smitten is across the board amazing. But still not quite as amazing as our #1 best ice cream in California…
1. Jeni's Splendid Ice Cream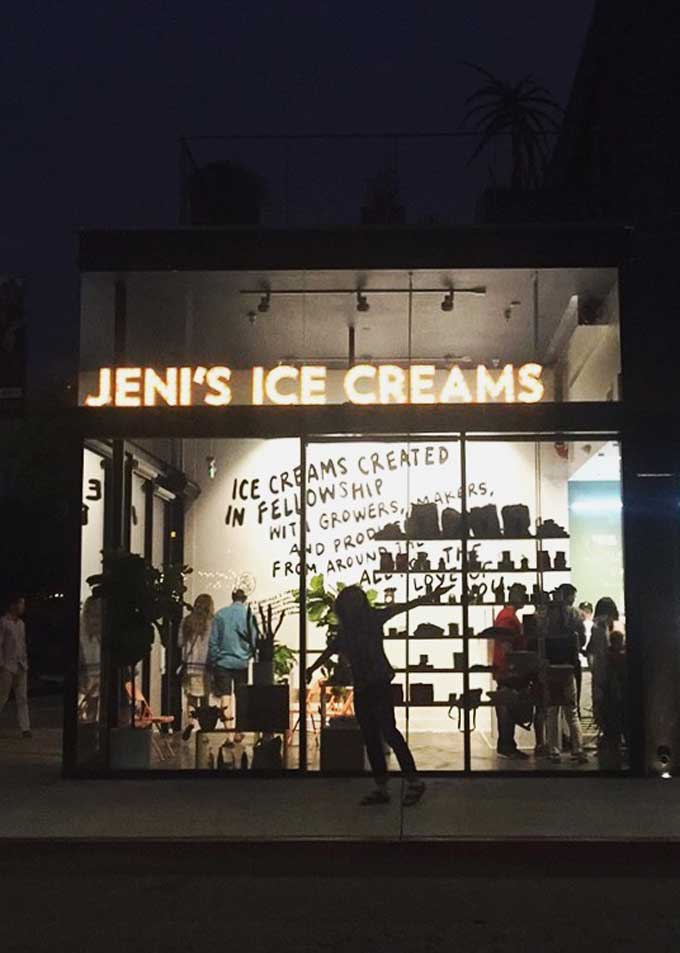 And now we come to the #1 best ice cream in California.
My first time trying Jeni's Splendid Ice Cream was actually when we made her Salted Caramel Ice Cream a few years ago. It was mind-blowing. It was game-changing. It was heart-stopping. (Because we couldn't stop eating it and too much sugar sneaks up on you HARD. I never seem to learn that lesson.)
Although we've remade Jeni's recipe for salted caramel ice cream several times, we've never been to one of her ice cream shops because although she started out of Ohio, she has yet to expand into Indiana or Minnesota.
Until a few weeks ago, that is, when Audrey was lucky enough to have her first Jeni's experience on a trip to L.A. (the one where she committing to attending USC – it was a momentous trip). When I got the snap of those three little scoops of ice cream perfection, I let out an exclamation of excitement mixed with jealousy, and immediately added Jeni's Splendid Ice Creams to my California itinerary.
As it happens, we went twice in our time in L.A. Once at the beginning, and once at the end, when we were joined by Audrey, who was in L.A. for her orientation. I meant to get a photo of us together at Jeni's, but it just didn't happen. We were too distracted by savoring every bite of Jeni's amazing ice cream.
What makes Jeni's Splendid Ice Cream so splendid? The flavors, first and foremost. She has an amazing selection of unique flavors, and each one is so true, so pure, so delicious, that it will stop you in your tracks and make you close your eyes as a dreamy expression washes over your face. It's also as smooth and creamy a mixture as you could hope.
Each time, I ordered the three half scoops. It's really the best way to experience Jeni's. Getting three half scoops (really more likely slightly undersized full scoops) for just $1 more than one scoop, it's the best deal, and then you get to enjoy three wonderful flavors instead of just one.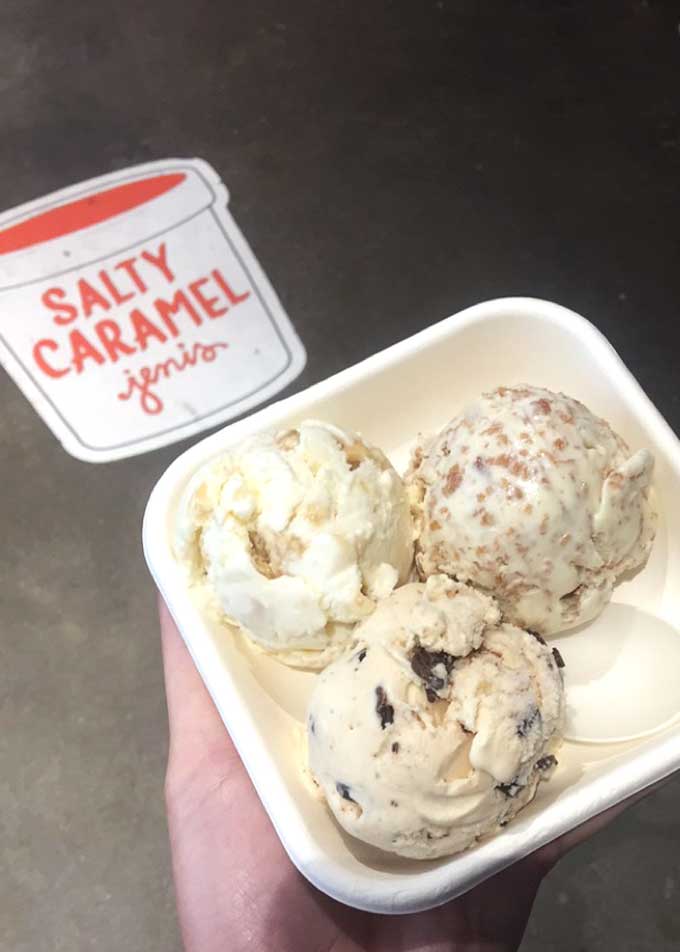 Basically, Jeni's is perfect. The only thing that isn't perfect about Jeni's is that there isn't a location in Minneapolis. But you know what? It's so good, I would seriously consider taking a road trip to Ohio just to eat it again. I'm dying to try Gooey Butter Cake.
Post-Trip Withdrawal: Milkjam Creamery
After spending a week and a half eating ice cream to my heart's content (not to mention all the other food indulgences…), I thought I would be content to go without ice cream for at least a couple weeks. Not so. Less than a week later and I found myself lining up at my local favorite, Milkjam Creamery, which can more than compete with the best ice cream in California. Eventually I'll write up a full review – it deserves a post of its own.
It was National Chocolate Day, so I'm saying I went in the name of observing the holiday. Definitely not because I was going through withdrawal…😉