Peanut Butter Captain Crunch may be my favorite classic cereal. I've honestly never bene much of a cereal for breakfast kind of person. It's just too much in the morning, with all the milk and then the cereal getting soggy. And I always, ALWAYS, inevitably pour myself too big a bowl and get uncomfortably full trying to finish it. And the cereal is just so sugary that I crash quickly.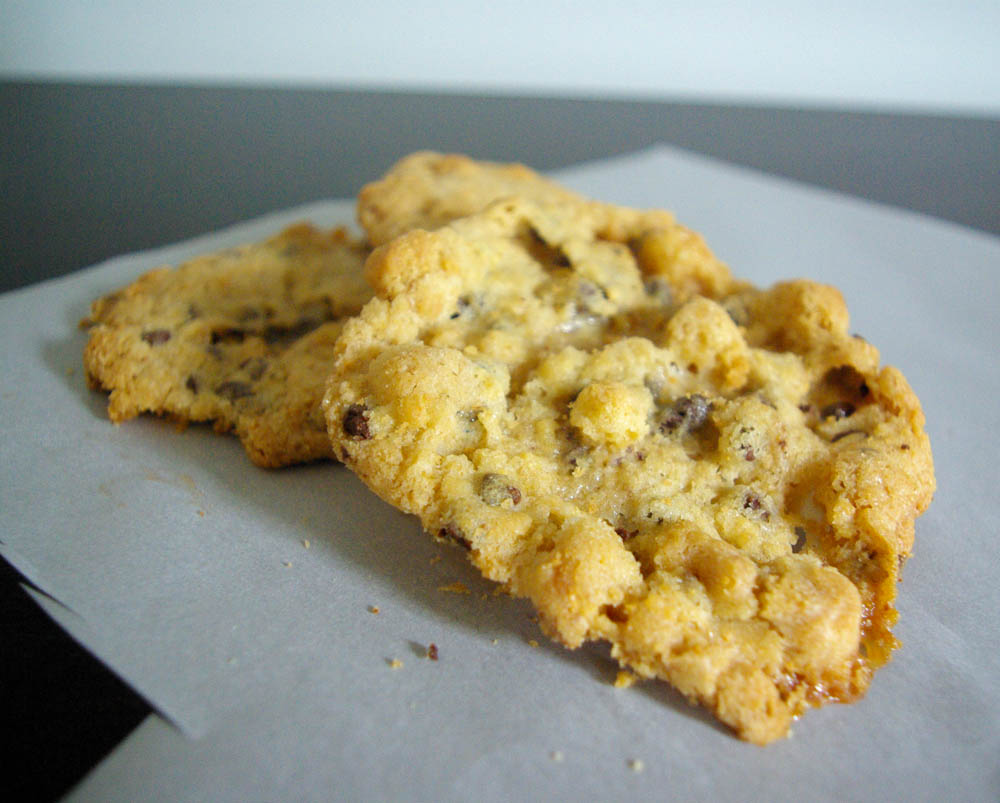 So cereal for breakfast has never been my thing. But cereal in dessert? I'm all over that. Especially when it's peanut butter captain crunch, which, like I said, is my favorite classic cereal. It's basically only the peanut butter parts of Reese's Puffs, and while I love Reese's Puffs, we all know the best part is the peanut butter bits. (The chocolate puffs just do not capture the beauty and potential of chocolate, and I have become a major chocolate snob.)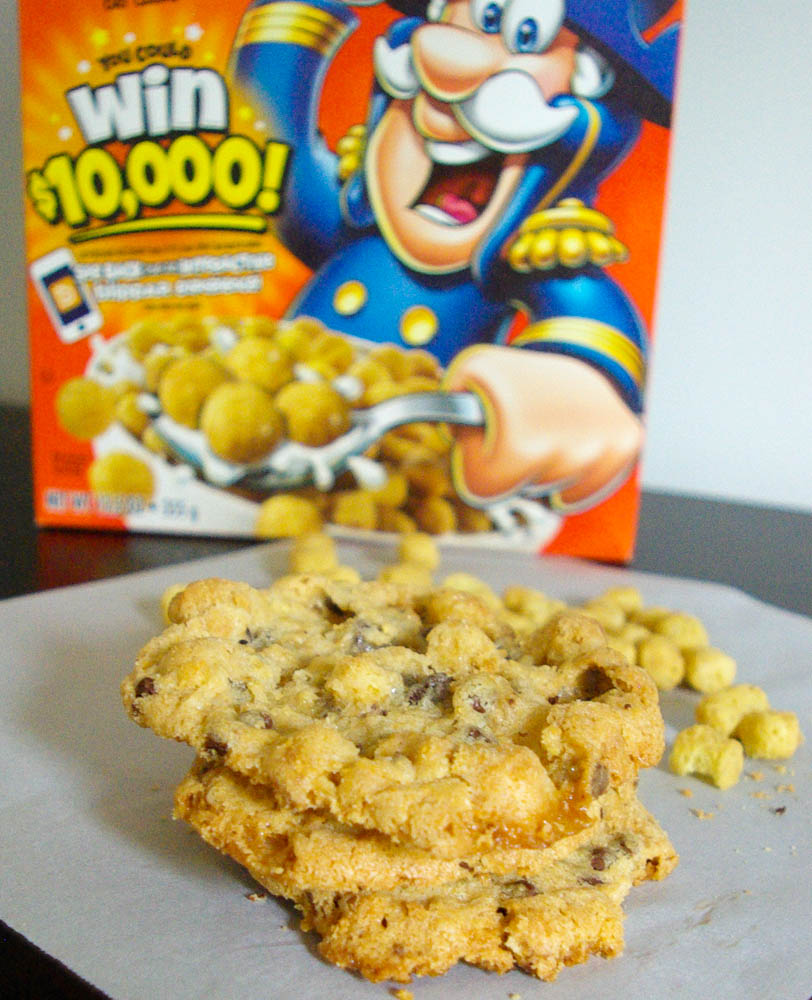 They're incredibly sweet, but not without being a little bit salty, and they are full of peanut butter. Also they have a nostalgic aspect – I remember watching commercials of kids saying they need something to eat and the captain magically appearing in his ship and saving the day with PB Cap'n Crunch. And they have a nostalgia/emotional connection because my dad always waxes poetic about how back in his day, they ate Cap'n Crunch, "and they liked it," and then he makes sure to say it "CAP'N" instead of "captain" crunch.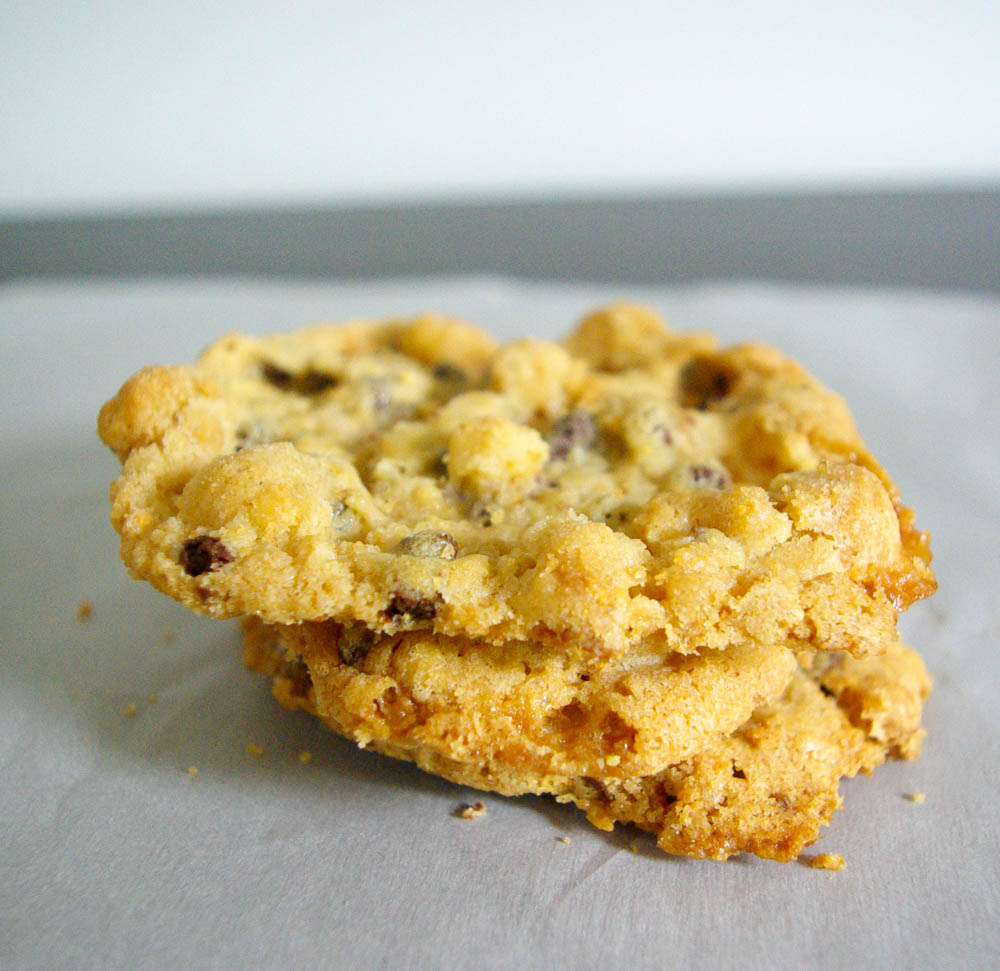 So after making cornflake crunch from Momofuku numerous times, I decided to experiment and try it with cap'n crunch. And that was a great idea. It absorbed the butter and sugar perfectly and gave the already sweet cereal a nice milk powder + sugar coating that made it irresistibly addictive. Quite frankly I wanted to eat it plain. But I resisted, and put it into cookies, ala Momofuku's cornflake crunch cookies.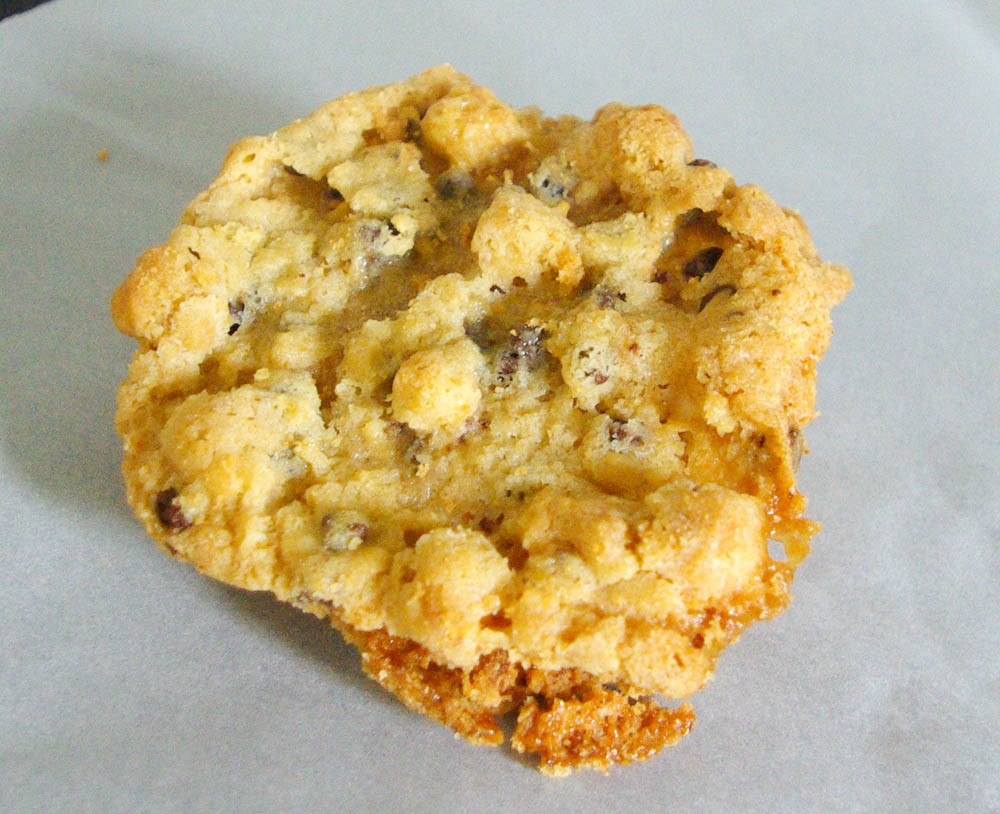 My friends at school thought this was weird. Their reactions were, "cereal in a cookie? What?" But let me just say:
I heard no complaining after they took their first bites.
-Audrey PB Cap'n Crunch Cookies
---
Ingredients
16 tablespoons (2 sticks) butter, at room temperature
1 1/4 cups granulated sugar
2/3 cup tightly packed light brown sugar
1 egg
1/2 teaspoon vanilla extract
1 1/2 cups flour
1/2 teaspoon baking powder
1/2 teaspoon baking soda
1 1/2 teaspoons kosher salt
3 cups Cap'n Crunch Crunch (recipe below)
---
Instructions
Combine the butter and sugars in the bowl of a stand mixer fitted with the paddle attachment and cream together on medium-high for 2 to 3 minutes. Scrape down the sides of the bowl, add the egg and vanilla, and beat for 7 to 8 minutes.
Reduce the mixer speed to low and add the flour, baking powder, baking soda, and salt. Mix just until the dough comes together, no longer than 1 minute. (Do not walk away from the machine during this step, or you will risk overmixing the dough.) Scrape down the sides of the bowl with a spatula.
Still on low speed, paddle in the Cap'n Crunch crunch just until it's incorporated, no more than 30 to 45 seconds.
Using a 2-ounce ice cream scoop (or a 1/3-cup measure), portion out the dough onto a parchment-lined sheet pan. Pat the tops of the cookie dough domes flat. Wrap the sheet pan tightly in plastic wrap and refrigerate for at least 1 hour, or up to 1 week. Do not bake your cookies from room temperature—they will not hold their shape.
Heat the oven to 375°F.
Arrange the chilled dough a minimum of 4 inches apart on parchment- or Silpat-lined sheet pans. Bake for 18 minutes. The cookies will puff, crackle, and spread. At the 18-minute mark, the cookies should be browned on the edges and just beginning to brown toward the center. Leave them in the oven for an additional minute or so if they aren't and they still seem pale and doughy on the surface.
Cool the cookies completely on the sheet pans before transferring to a plate or to an airtight container for storage. At room temperature, the cookies will keep fresh for 5 days; in the freezer, they will keep for 1 month.
---
Notes
Adapted from Momofuku Milk Bar