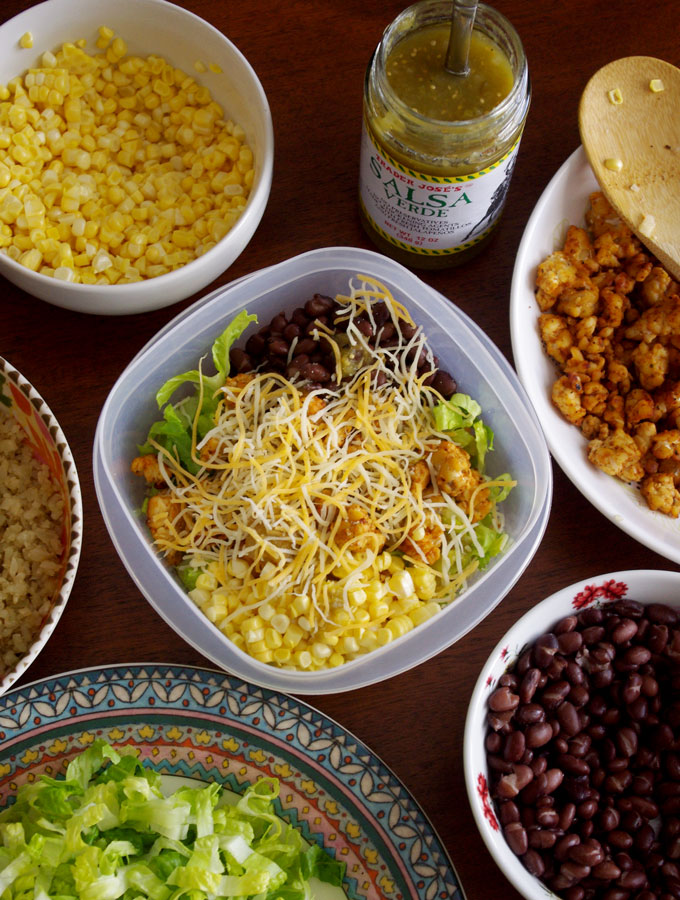 How was your Labor Day weekend? Mine was really good! We had b-e-a-utiful weather here in Minneapolis. It was the perfect transition weather between summer and fall: bright blue skies, warm sun, and a crispness to the air that signals summer is coming to an end. My highlight was spending an afternoon on Lake Minnetonka eating lots of good food and enjoying lots of good company.
I also spent some of my Labor Day weekend…laboring. I got some chores out of the way, worked on some personal projects, and made these tempeh cauliflower rice burrito bowls!
At the Labor Day gathering I went to, I was given several ears of sweet corn that had been freshly picked that very morning. The corn came from Sogn Valley, which is said to have the best sweet corn in the region, and I have to agree!
If you're from the Midwest, you know that end of summer means one thing: it's sweet corn season. Peak sweet corn season only lasts for a few weeks in late August and early September, but when it's in season, boy is it good. Usually my feelings about corn are take it or leave it, but there's something special about sweet corn that makes it a serious treat.
So, with several ears of fresh sweet corn on my hands, I had to figure out what to do with it! Of course, fresh sweet corn is delicious enough that I could have eaten it raw, but I wanted to put it into a recipe.
Tempeh cauliflower rice burrito bowls is what came to mind. Fresh and zesty with a satisfying crunch, a burrito bowl is a perfect vehicle for fresh sweet corn.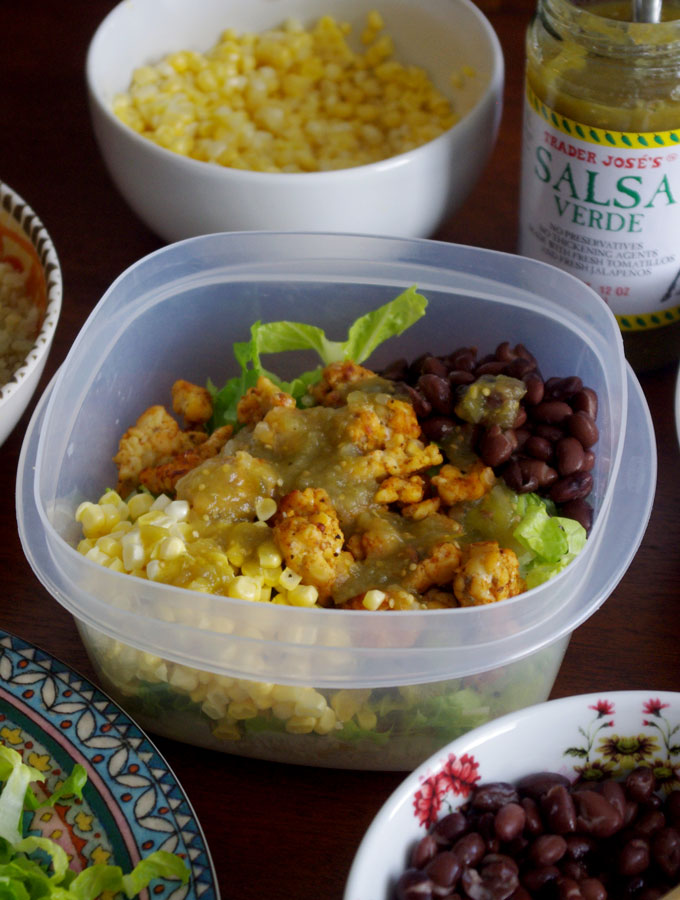 Burrito bowls are also awesome because they're so versatile. Wary of tempeh? Sub for ground beef or turkey. Not into cauliflower rice? Use white or brown rice. Want an extra kick? Throw in some jalapeños. Don't think it's a burrito bowl without guac? Toss in some avocados, you avo addict.
Now, I understand that tempeh gives a lot of people some trepidation. It's like tofu's more obscure, lumpier cousin. (I'm not selling it very well am I?) It's not something you see on menus very often outside of vegetarian restaurants, and it's not a common item on most grocery lists.
But there's no reason to fear! I actually prefer tempeh over tofu. It's more substantive, so you feel like you're actually eating something that's going to fill you up. And it's actually easier to cook than tofu, because you can skip the whole pressing all the water out bit.
All you have to do to prepare the tempeh taco meat you're going to use in these tempeh cauliflower rice burrito bowls is…prepare it exactly as you would normal taco meat.
Prep your pan with olive oil. Add the tempeh to the pan, crumbling it with your hands into chunks of various sizes as you go. Sprinkle taco seasoning generously. Then cook until brown. Easy peasy!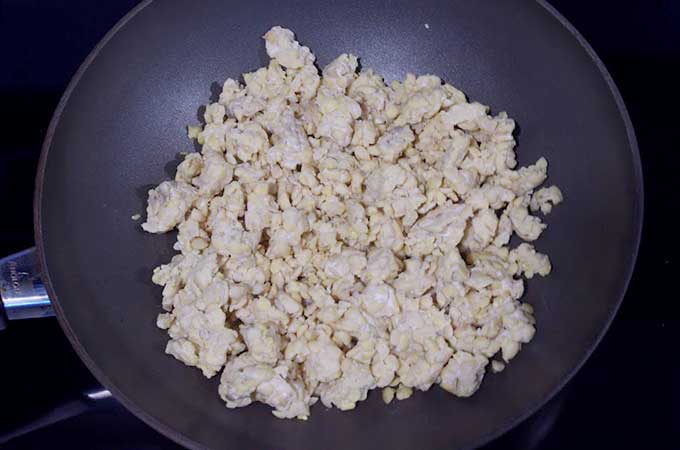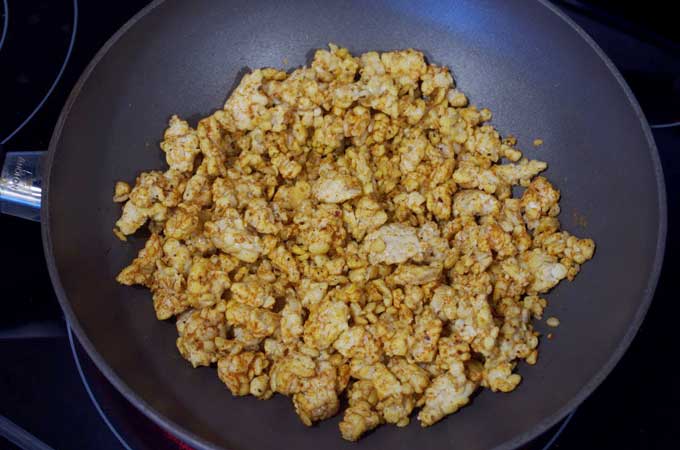 When your tempeh is done, set it aside to cool. Use the same pan to sauté your cauliflower rice until it is just starting to become translucent.
You could use frozen cauliflower rice for this recipe, but I don't recommend it. Frozen cauliflower rice tends to be more watery, and I like to keep a good crunch in the cauliflower rice to add some good texture into these tempeh cauliflower rice burrito bowls.
Now, let's assemble!
Start with a base of cauliflower rice.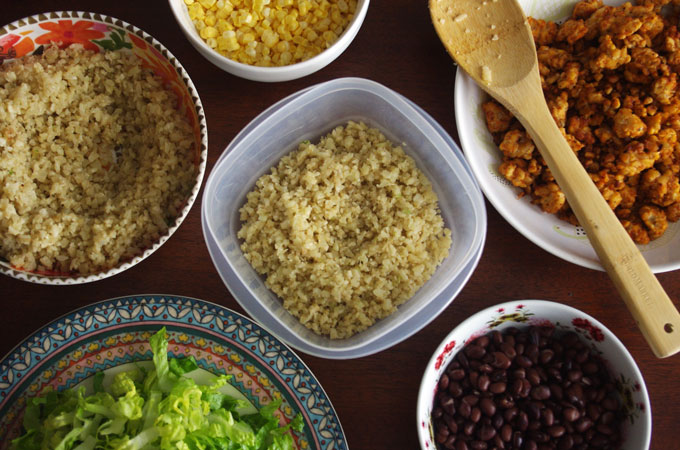 Next, add a generous handful of lettuce.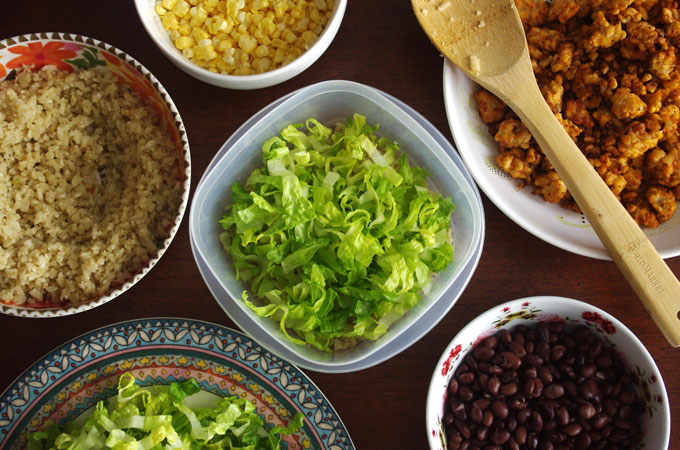 In goes the tempeh! (Or whichever meat you landed on.)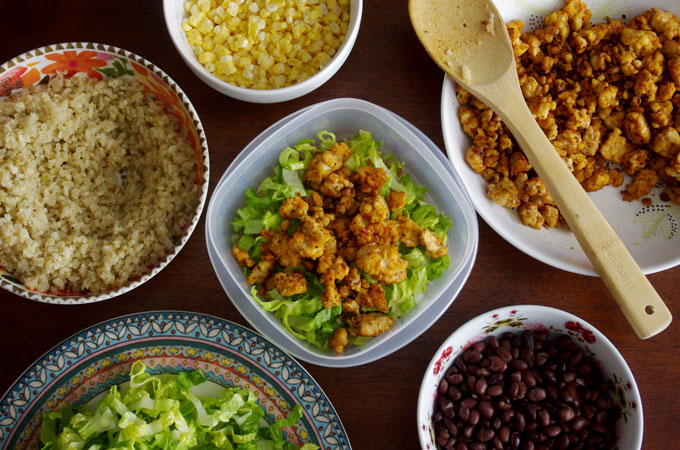 Next up, top with corn and beans.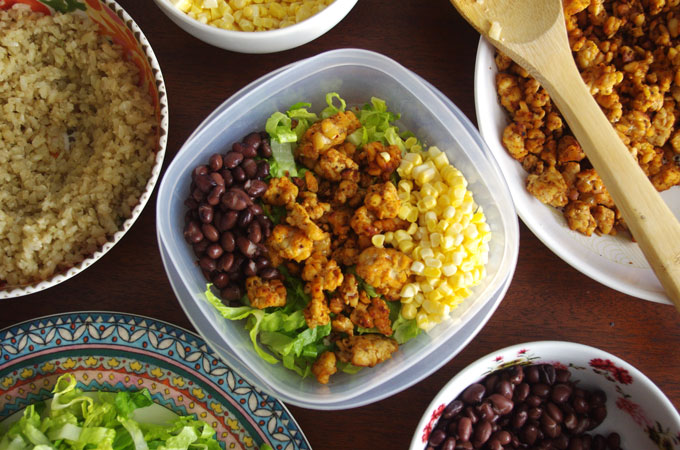 Finally, garnish with salsa and cheese to your heart's content.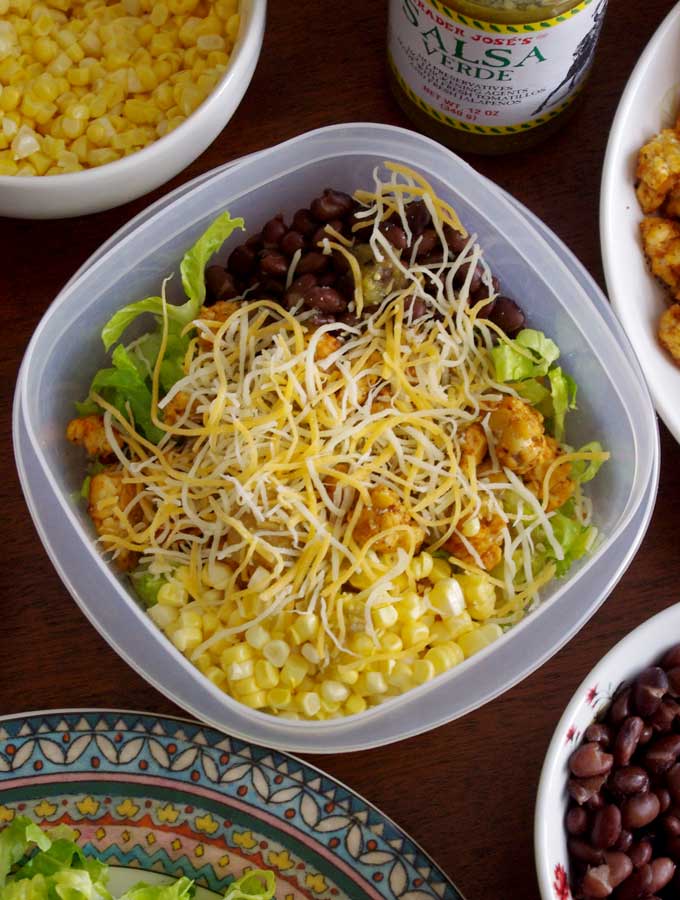 Are you prepping tempeh cauliflower burrito bowls to take for lunch this week? Great idea. Heat it up or eat it cold. Either way, you'll have the tastiest lunch in the break room, I guarantee it. Let those suckers with their frozen meals weep at the sight.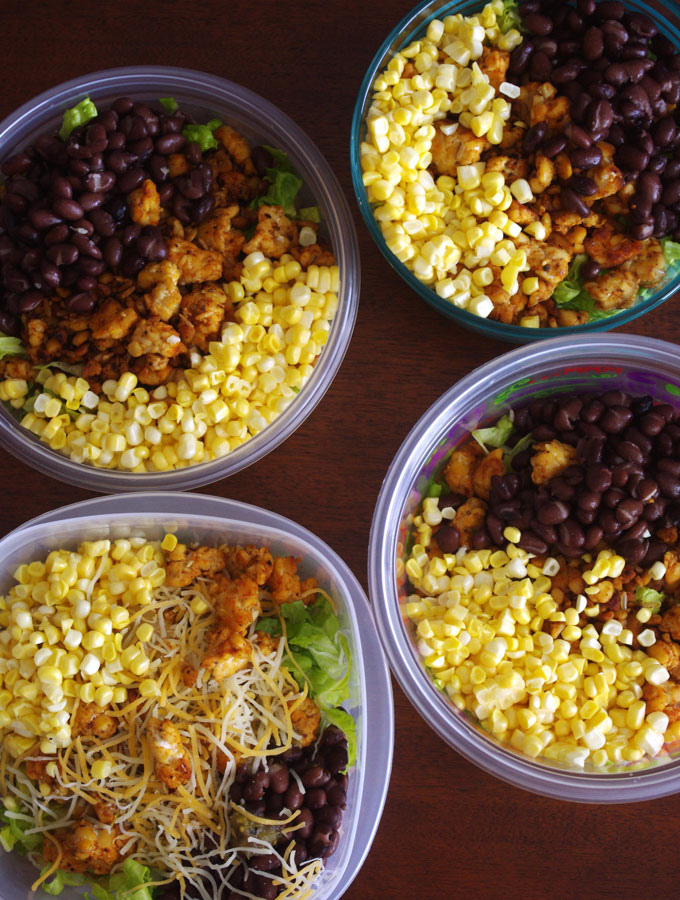 Print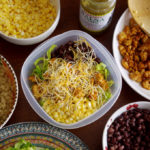 Tempeh Cauliflower Burrito Bowls
Prep Time:

15

Cook Time:

15

Total Time:

30
---
Ingredients
Tempeh "Ground Beef"
1 tablespoon olive oil
2 packages tempeh
2 tablespoons taco seasoning
salt to taste
Cauliflower Burrito Bowls
1 package cauliflower rice (fresh, not frozen)
1/2 tablespoon olive oil
1/2 tablespoon garlic powder
salt and pepper
4 cups shredded lettuce
1 can black beans
2 ears fresh sweet corn
1 cup Mexican shredded cheese
Salsa of your choice
---
Instructions
Add olive oil to a large saucepan over medium heat. Add tempeh, crumbling it with your hands into chunks of various sizes as you go. Sprinkle tempeh with taco seasoning and salt, then stir until tempeh is evenly coated. Cook until tempeh is browned. Transfer to another bowl and set aside to cool.
In the same pan, cook cauliflower rice. Add olive oil, salt, and garlic powder, and sauté until it is just starting to become translucent. Remove from heat and transfer to another bowl to cool.
While tempeh and cauliflower are cooling, prep your other ingredients. Rinse black beans and place them on paper towel to dry. If using whole lettuce, chop into thin strips. Cut sweet corn off the cob.
To assemble, start by spooning cauliflower rice into four bowls (or tupperware, if prepping for lunches). Next, add a generous handful of lettuce. Top with spoonfuls of black beans and corn. Finish with salsa and Mexican cheese. Optional additional toppings: avocados, jalapeños, tortilla strips.
Tempeh cauliflower burrito bowls can be enjoyed hot or cold.
---

Are you going to make your tempeh cauliflower rice burrito bowls with tempeh, or opt for meat? Have you ever made tempeh before? Tell us your tempeh tales in the comments!