With oatmeal, dark chocolate, and fresh raspberries, these Oatmeal Raspberry Dark Chocolate Scones are a wholesome yet tasty breakfast treat to make any morning a little more special. Best enjoyed with a warm cup of coffee or tea.
These. Are the best scones ever.
Being both a baker and an anglophile, I've made my fair share of scones over the years, many of them scrumptious by any usual standard. But these? These Oatmeal Raspberry Dark Chocolate Scones are the absolute best. And not only are they hands down my favorite scone recipe, they are also one of my favorite recipes…period. Coming from someone who prefers trying new recipes to repeating old ones, that should tell you something.
Like many exceptional things in life, these Oatmeal Raspberry Dark Chocolate Scones are actually quite simple. A tender, buttery base studded with chewy oatmeal bits, the soft pockets of the raspberries' light fruitiness balanced by the chocolate's more bitter sweetness.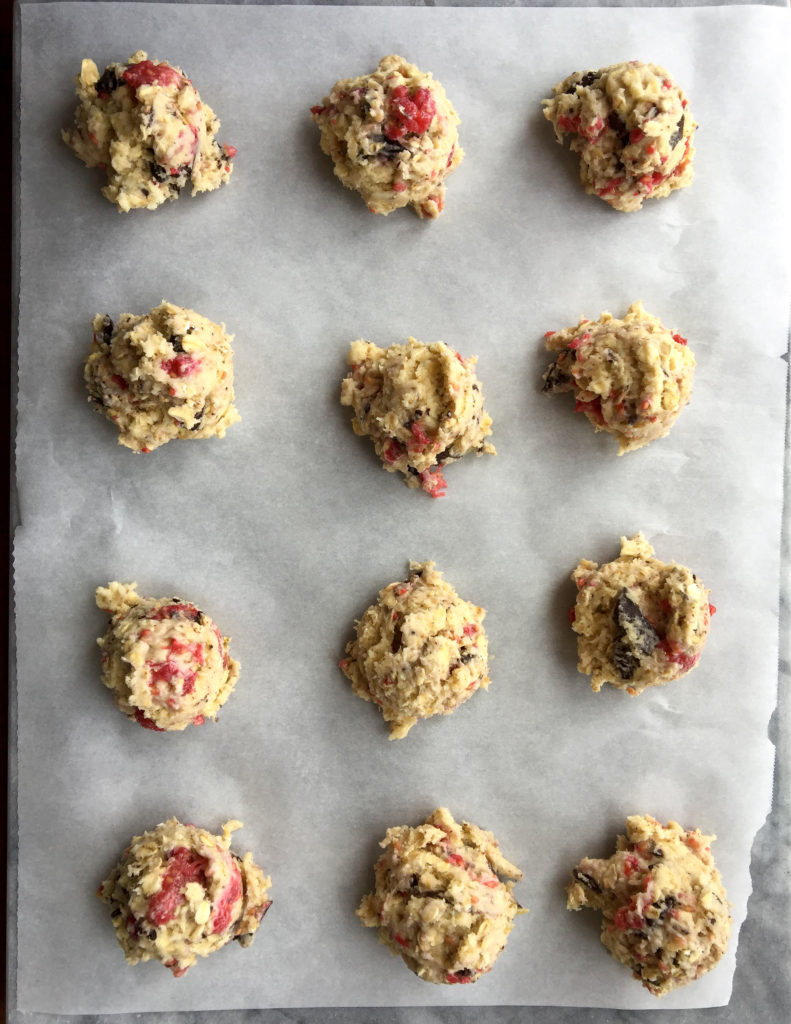 The recipe calls for all-purpose flour, but if you want to up the wholesome factor of the oatmeal, I recommend subbing King Arthur's white whole wheat flour. It will behave (and taste, in my opinion, though certain members of my family would be quick to disagree) exactly like if you used all-purpose flour, but you'll get the added nutritional benefits of whole wheat!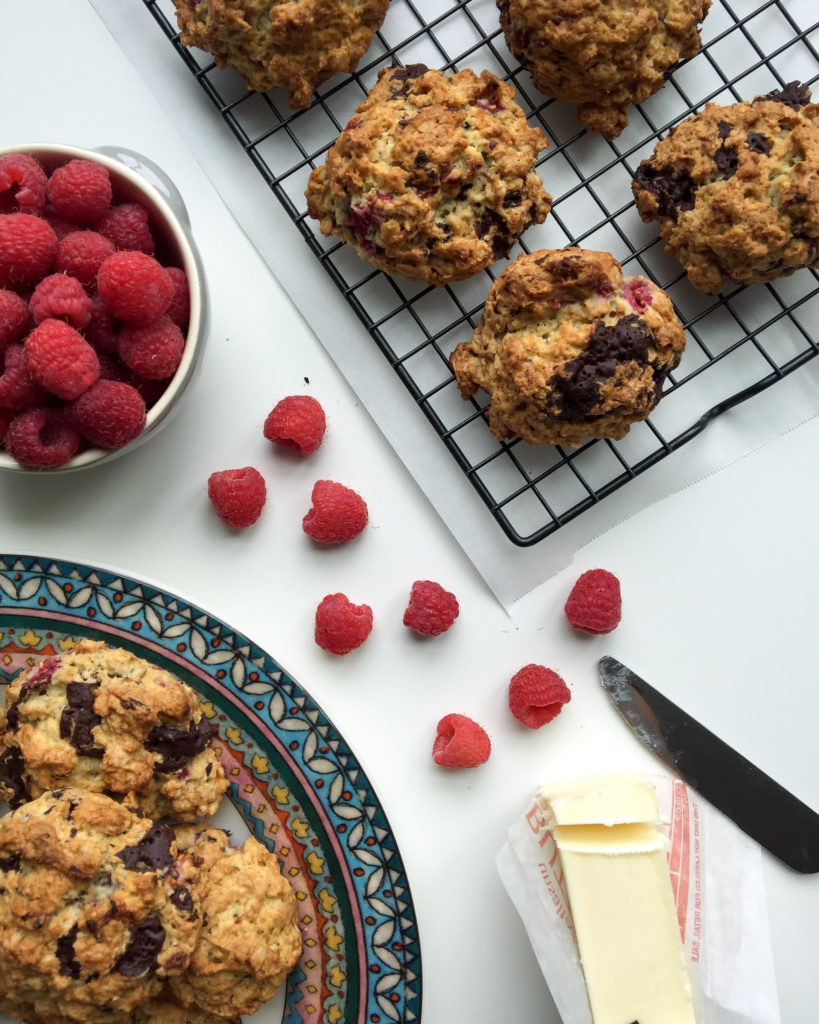 With oatmeal, whole wheat, raspberries, and dark chocolate (antioxidants, anyone?) all happening at once, these Oatmeal Raspberry Dark Chocolate Scones are actually almost a little bit healthy. Er, aside from the butter situation. Which gets a little out of control in scone scenarios. But we don't need to talk about that. We also don't need to talk about how the first time I made these, I ate three in one single morning. Or wait… I just brought it up, didn't I? Oops. Well, just goes to show you: these scones are that kind of irresistible, can't-stop-until-they're-gone, butter-what-butter good that makes pants tight and tastebuds sing in delight.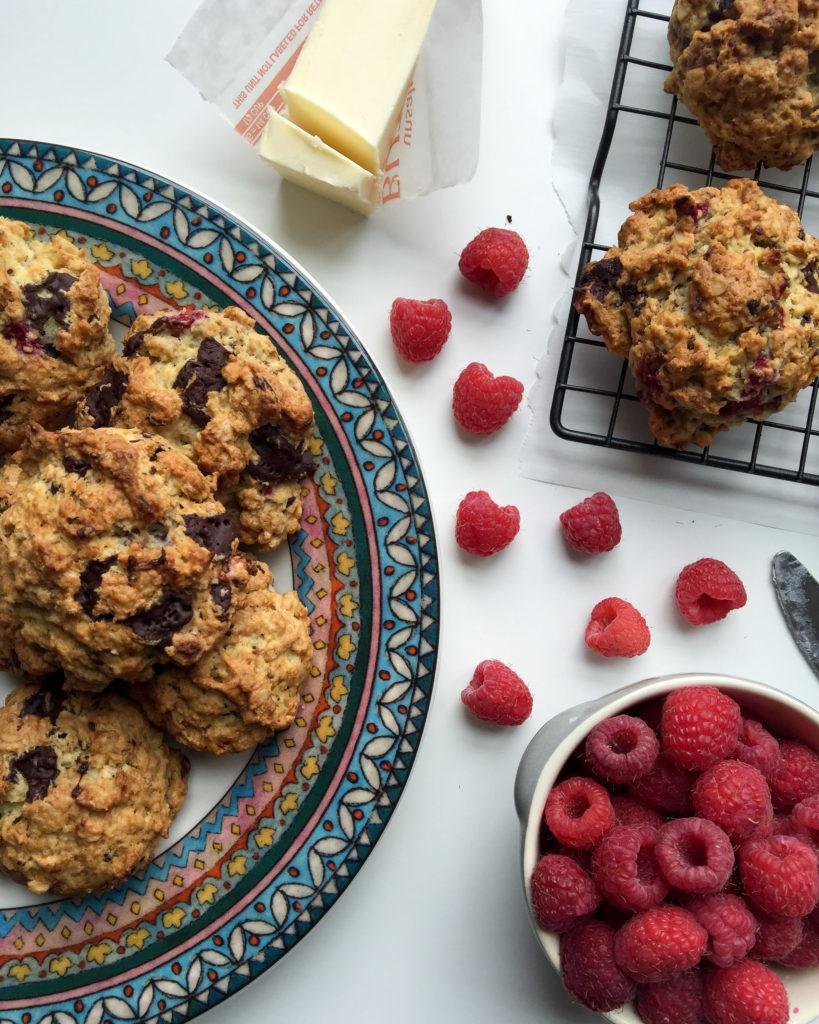 When you're sitting with your hand cradling your stomach, ruing the moment you broke and reached for that third scone (hypothetically, of course), I want you to remember one thing. In the inspirational words of Katy Perry: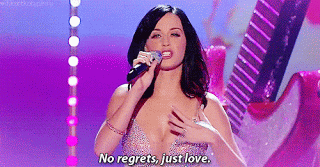 Never regret anything that made you happy at the time, amiright?
(Yes, I do sing this to myself when my conscience tries to get me to feel bad about that last scone/piece of brownie/scoop of ice cream/etc. And yes, I do realize that's maybe not normal. I don't care.)
– Molly
Print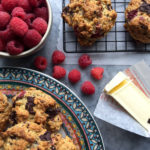 Oatmeal Raspberry Dark Chocolate Scones
Author:

Prep Time:

15 minutes

Cook Time:

20 minutes

Total Time:

1 hour (includes cooling time)

Yield:

12 scones
---
Ingredients
1 egg
1/2 cup cold buttermilk
1 2/3 cups all-purpose flour
1 1/3 cups old fashioned oats
1/ 3 cup sugar
1 tablespoon baking powder
1/2 teaspoon baking soda
1/2 teaspoon salt
1/4 teaspoon freshly ground nutmeg
1/2 to 3/4 cup fresh or frozen raspberries or blueberries
1/2 cup dark chocolate chunks
1 stick plus 2 tbsp cold unsalted butter, grated on a box grater or cut into small pieces
---
Instructions
Preheat the oven to 400 degrees F and place a rack in the center of the oven. Line a baking sheet with parchment paper or foil and set aside.
Stir the egg and buttermilk together and set aside.
Whisk together the flour, oats, sugar, baking powder, baking soda, salt and nutmeg in a large bowl. Using a box grater, quickly grate the butter until all is shredded and add to the dry ingredients, using your fingers to quickly incorporate the butter and flour mixture. If you don't have a box grater, you can also simply cut the butter into small pieces and quickly rub the butter into the dry ingredients until it is pebbly.
Pour the egg and buttermilk mixture over the dry ingredients and stir with a fork just until the dough, which will be wet and sticky, comes together. Add the berries and chocolate.
Still in the bowl, gently knead the dough by hand or turn it with a rubber spatula about 8 to 10 times. Turn the dough out onto a lightly floured work surface and press the dough until you have a circle that is about 1 1/2-inches thick. Use a 1/4 cup ice cream scoop to portion out 12 scone dough balls. At this point the scones can be frozen on the baking sheet, then wrapped airtight. Don't defrost before baking, just add about 2 more minutes to the baking time.
Bake for 20 minutes or until their tops are golden and firm-ish. Transfer them to a rack and col for 10 minutes before serving, or wait for the scones to cool to room temperature.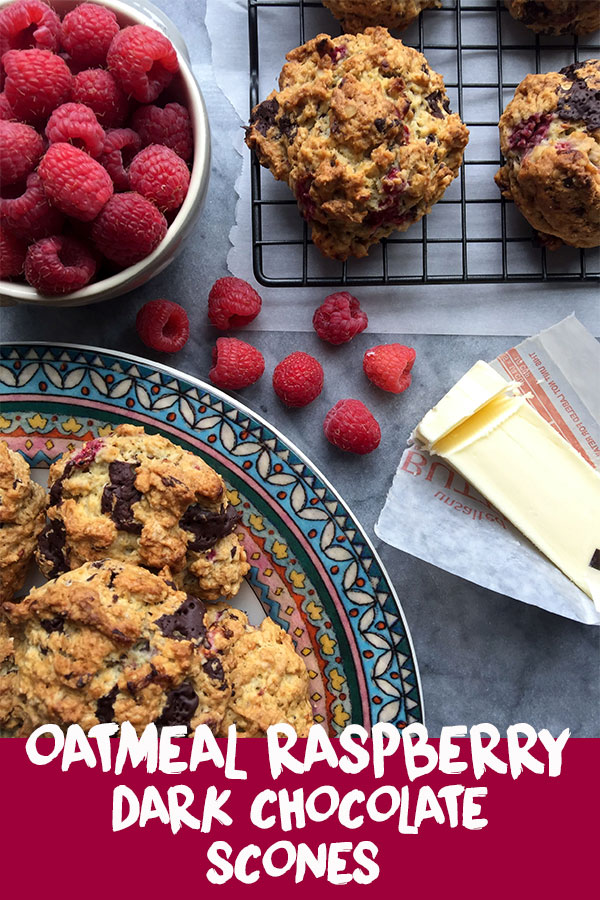 </P