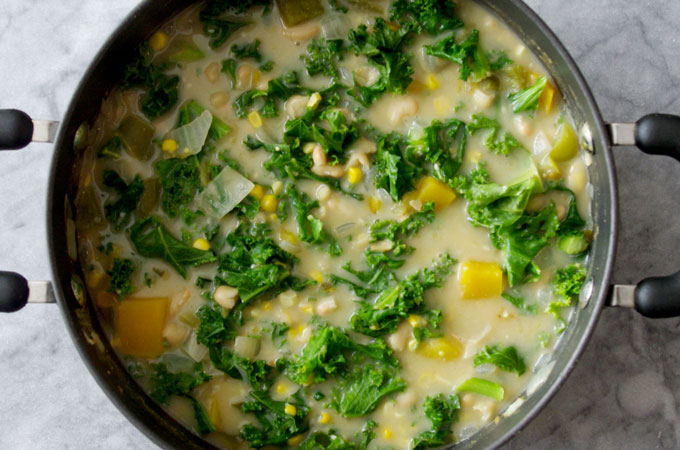 After making the Tempeh Cauliflower Rice Burrito Bowls last week, I still had a couple ears of Sogn Valley sweet corn left. With corn that tasty, I wanted to put it to good use. It was chilly last week and this weekend (though that's hard to believe now, when we're experiencing a wave of Indian Summer) and I was craving some coziness, so I decided to make chili! Vegetarian white bean chili, to be exact.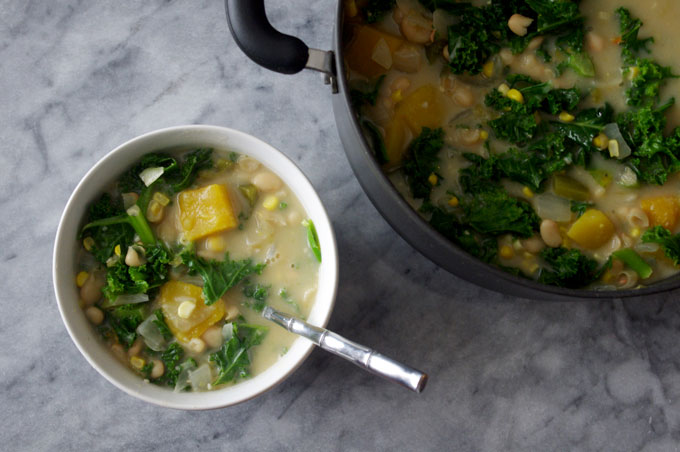 I love making chili during the fall and winter. It's filling, it's nourishing, it's flavorful, and it's really easy to make a big batch, pack it into tupperware, and call it lunch for the week.
With this recipe, I decided to go the route of a vegetarian white bean chili because I wanted something really easy (i.e. no meat to deal with), full of veggies, and more fitting to the early fall vibe. As eager as I am to jump into fall and winter, September feels a little early for a heavy red meat/red bean chili. Doesn't it?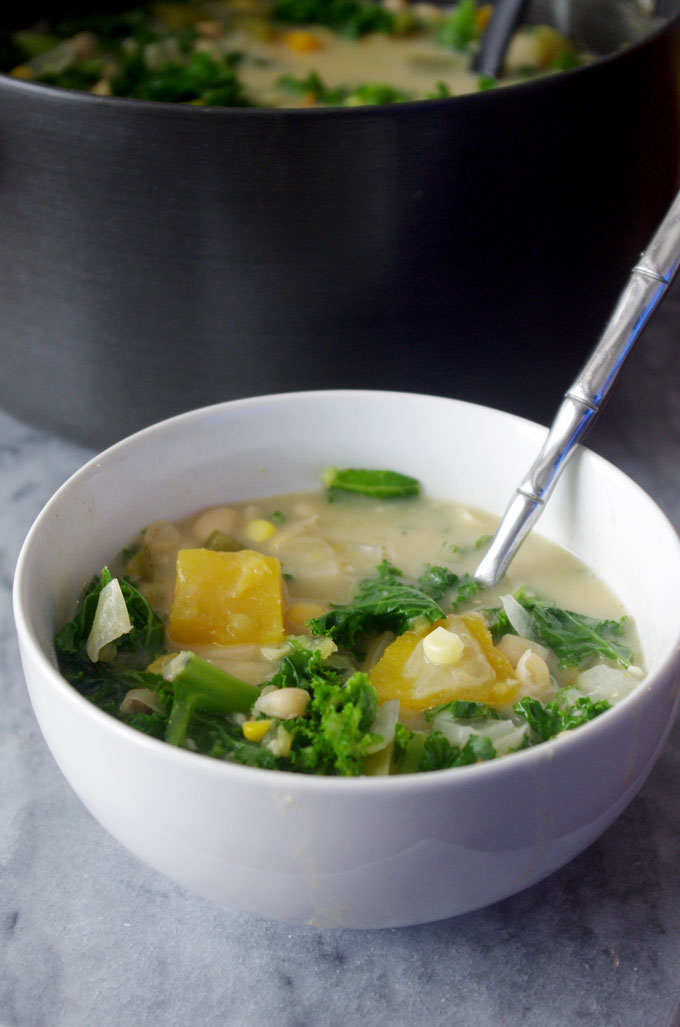 I also love this vegetarian white bean chili because you can make it on your stovetop, no slow cooker required. I'm sure slow cookers are just as awesome and handy as the internet says they are, but…I don't happen to have one. And I can't be bothered to buy one. So stovetop chili it is! Isn't it easier this way, anyway? No extra appliances, just one dish… hard to beat that.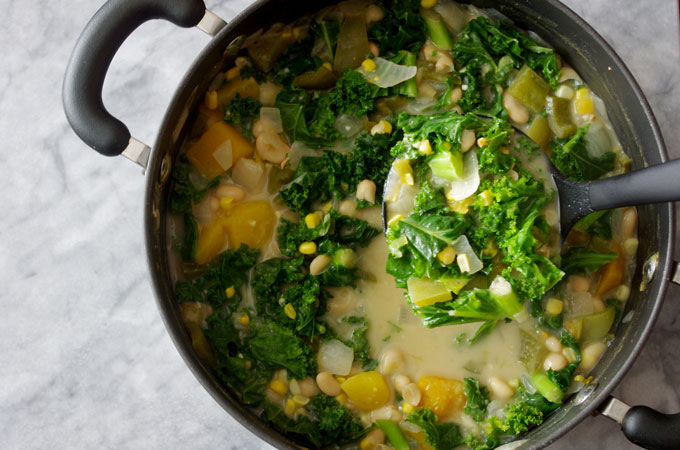 I didn't top this vegetarian white bean chili with anything because I was packing it straightaway into tupperware for my work lunches this week. However, I think if you wanted to a) serve with cornbread or b) garnish with cheese, sour cream, extra jalapeno slices, or sliced avocado, I would say you are doing this chili thing exactly right/better than I did.
If you try it with toppings, let us know what you tried and how it tastes!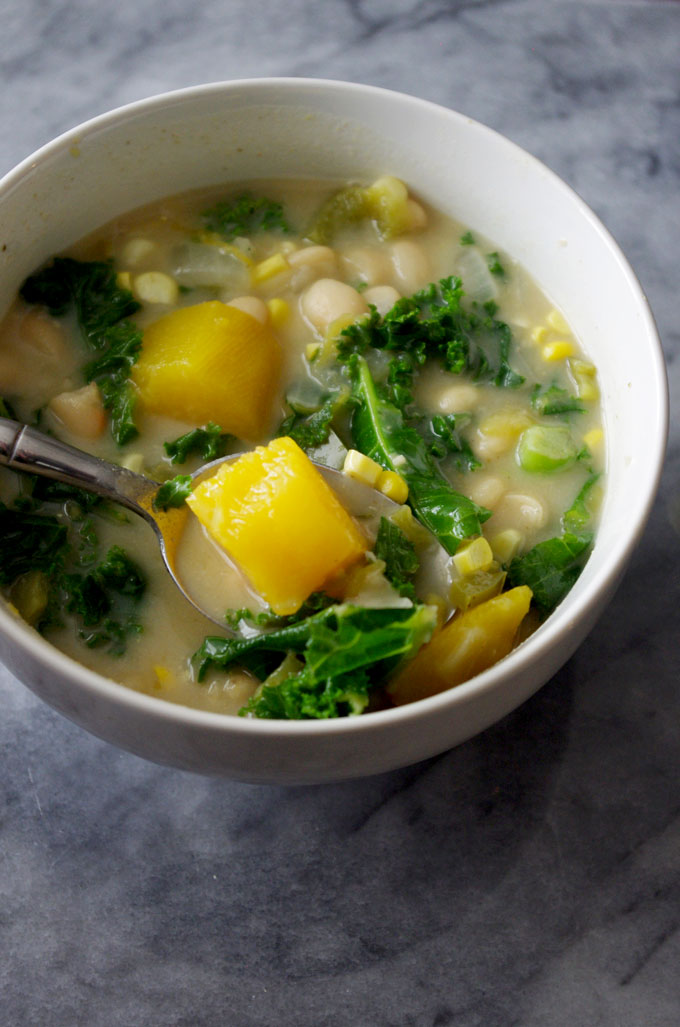 Print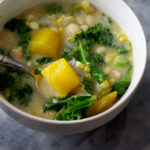 Easy Stovetop Vegetarian White Bean Chili
Prep Time:

10

Cook Time:

30

Total Time:

40 minutes
---
Ingredients
1 tablespoon olive oil
1 white onion, diced
1 green bell pepper, diced
2 jalapenos, diced
2 cups butternut squash, cubed
3 garlic cloves, minced
1 tablespoon cumin
1/4 cup all-purpose flour
4 cups vegetable broth
3 15-ounce cans Great Northern beans, drained and rinsed
1 4-ounce can chopped green chilies
3/4 cup fresh sweet corn
2 cups warmed milk (any kind, but the creamier the better)
5 cups chopped kale
---
Instructions
Put a large stock pot over medium heat. Add olive oil.
Add onion, green pepper, butternut squash, and jalapeno to the stock pot and saute until the veggies are soft and the onions translucent, about ten minutes.
Add garlic and cumin. Saute for another 30 seconds.
Add flour and toss until veggies are coated, then slowly pour in the vegetable stock, stirring constantly.
Next, add the beans, green chilies, and corn.
Turn heat up to medium-high and bring chili to a boil. Once boiling, turn the heat back down to medium low and simmer for 15 minutes, until liquid is slightly reduced.
Heat milk in the microwave until warm, about 2 minutes. Pour into chili and stir, then let simmer for another two minutes.
Stir in kale and let simmer for two more minutes. Do not overcook the kale! If you don't think the chili has reduced enough yet, let it continue to simmer before adding kale.
Remove from heat and season with salt and pepper to taste.
Optional: garnish with cilantro, avocado, fresh jalapenos, or cheese.
Suggested: Serve with warm corn bread and honey.
---

Do you have a favorite chili recipe? Are you willing to share?