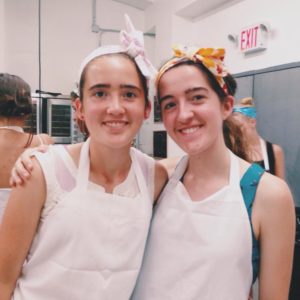 Hello, and welcome! The Batter Thickens is a food blog written by two sisters living across the country from each other in Minnesota and California. On The Batter Thickens, you'll find creative dessert recipes, easy recipes for healthy eating, reviews of the best restaurants and bakeries in Minneapolis and Los Angeles, and a sprinkling of book reviews.
The Batter Thickens: What's In a Name?
There's a point in many baking recipes where the instructions tell you that when you add the next few ingredients, the batter will thicken. The moment when the batter thickens is always the most satisfying moment in the baking process. It's the moment when flour, butter, oil, and sugar come together to form the batter that will soon become the best chocolate chip cookies or densest, fudgiest, chewiest brownie or an amazing chocolate cake for someone you love. It's a moment of anticipation and delight.
In a novel, we say the plot thickens when the circumstances become more complex, when a new twist is revealed, when a new conflict arises. Basically, when the plot thickens is when you know things are about to get really good. Again, a moment of anticipation and delight.
The Batter Thickens lives in the overlap of these two phrases. It celebrates the moments when the ingredients of life come together to produce a feeling of anticipation, delight, and satisfaction – especially when it comes to food.
That might be in curling up with a good book, a special homemade treat, and a warm cup of coffee or tea. Or it might be pulling a bodacious salad out of the fridge at work that Past You made for Future You to enjoy at lunchtime. We believe a good life finds a balance between the two and sees both as a form of indulgence.
The Beginning of The Batter Thickens
We started The Batter Thickens in the fall of 2011 as a dessert-focused baking blog. The blog was a way for us to stay in touch, swap recipes, and indulge our shared sweet tooth while Molly was away at college in Minnesota and Audrey was in middle school in Indiana.
Fast-forward to today and the roles are flipped. Now Audrey is the one away at college (in California) and Molly is making a life in her adopted home of Minnesota. We still use the blog to stay in touch and share recipes.
The Batter Thickens Today
Today on The Batter Thickens, you'll still find a healthy amount of dessert recipes. We will always love making and enjoying the heck out of rich brownies, chewy cookies, and over-the-top cakes.
But you'll also find recipes for healthier meals. These "real food" recipes give you easy ways to eat healthy foods that make your taste buds happy and your belly satisfied.
We decided to start incorporating healthier recipes on The Batter Thickens because it's more representative of what we actually eat on a daily basis. For every inch-thick brownie, we eat three bodacious salads. For every piece of cake, a cauliflower rice burrito bowl or dish of cauliflower chickpea salad (kinda seems like we eat a lot of cauliflower…probably 'cause we do). It's all about balance.
For all the hours we've spent creaming butter and sautéing vegetables, we're nothing more than self-taught food enthusiasts. That means that all our recipes are easy enough for anyone with some basic kitchen know-how, an active sweet tooth, and a little determination to pull off!
TBT Travels
Because we're both living in cities known for their food and dessert scenes, we also feature reviews of restaurants and bakeries in Los Angeles and Minneapolis. It's a way for us to get to know our cities better and share our favorite finds with each other and with our readers. If you ever visit one of the restaurants we recommend on TBT Travels, please come back and tell us about it!
Give us a shout!
We're really good at answering emails. Inbox zero FTW. If you have questions, want to get to know us outside the blog, or want to work with us, feel free to reach out to us at thebatterthickens(at)gmail(dot)com!