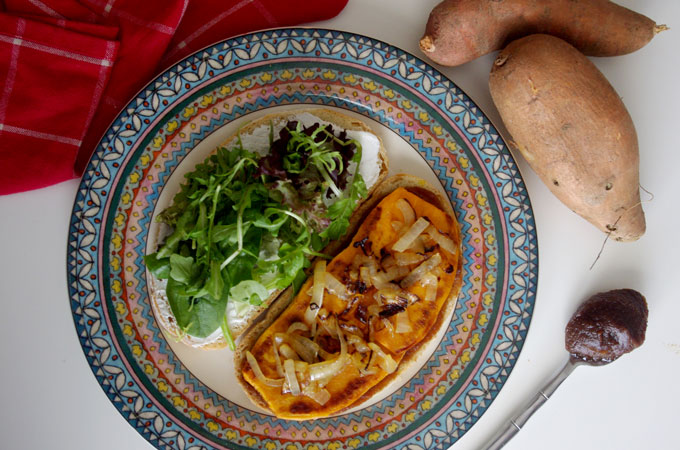 While I was living at home (before I moved back to Minnesota), I worked at a farm-to-table restaurant. My official title was Dairy Barista, a title as perfect for me as if I had chosen it myself. The restaurant was attached to a dairy farm, so they specialized in all things dairy, including the BEST chocolate milk I've ever had, excellent cheese, and ice cream.
My job as dairy barista was to make all ice cream-based treats for the restaurant and dairy bar. That means lots of milkshakes, speciality sundaes, and adding a scoop of ice cream to the warm desserts that came out of the kitchen during dinner service before they were sent to the guests. Sometimes people even tipped me for doing this.
Like I said, pretty much the ideal gig.
Anyway, in addition to abusing my position to sneak "samples" of ice cream throughout my shift, the servers and I were also occasionally allowed to get free meals off the menu when we worked long shifts. That fall, they had a sweet potato sandwich on the menu that I was obsessed with. It had sweet potato, goat cheese fresh from the farm, caramelized onions, apple butter, and a few greens, and it was served warm. I ordered it every single time I got a free meal. (Pro tip: Apple butter is a seriously overlooked fall flavor.)
When I was brainstorming "real food" recipes to feature here on the blog this fall, this sandwich came rushing back to me. I knew immediately that I wanted to try and recreate it. And you know what? I think I nailed it. This sweet potato sandwich is every bit as delicious as I remember.
And, as I discovered in the process of recreating it, the sweet potato sandwich from heaven is actually really easy to make!
The hardest part is peeling the sweet potato. The longest part is making the caramelized onions. But while they're cooking, you can do literally everything else.
Look how easily it comes together: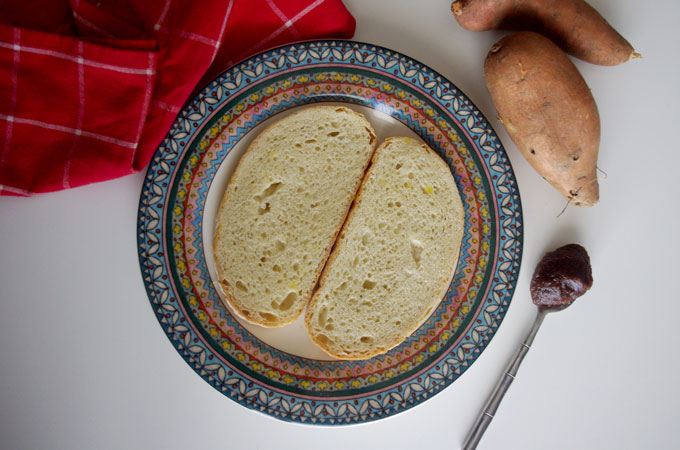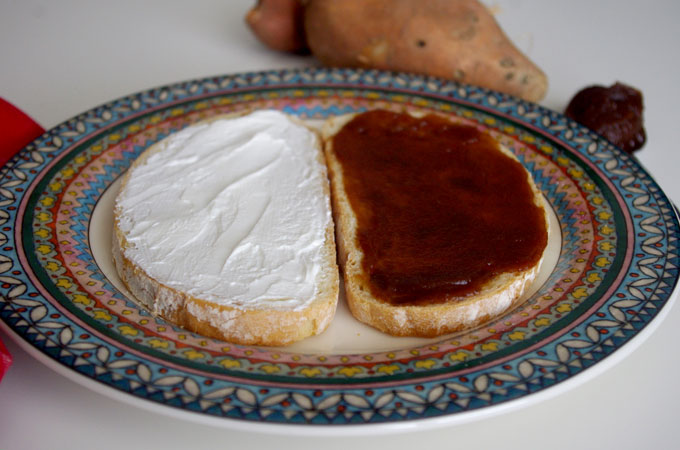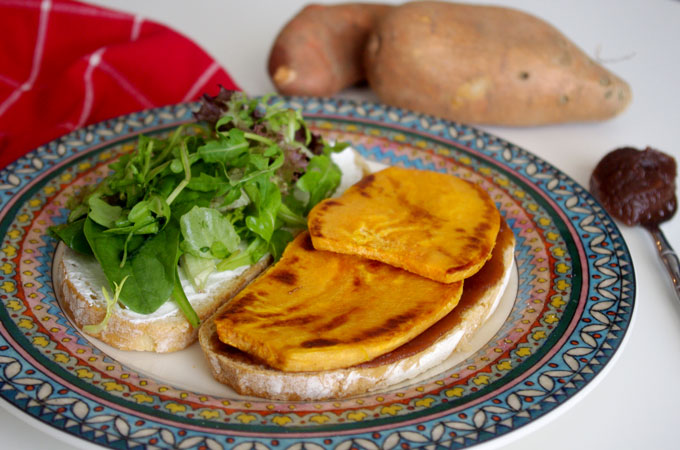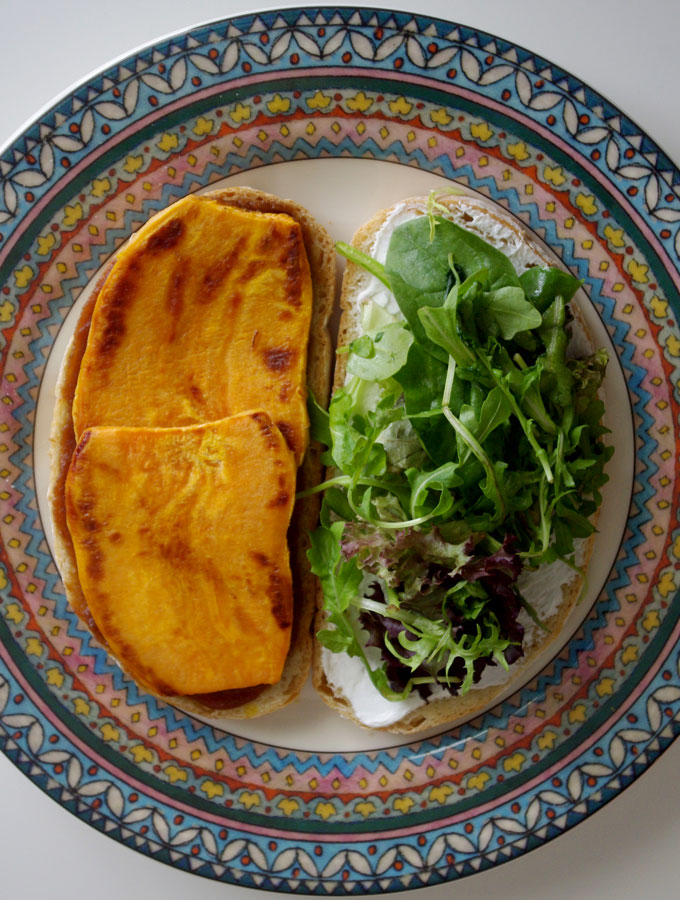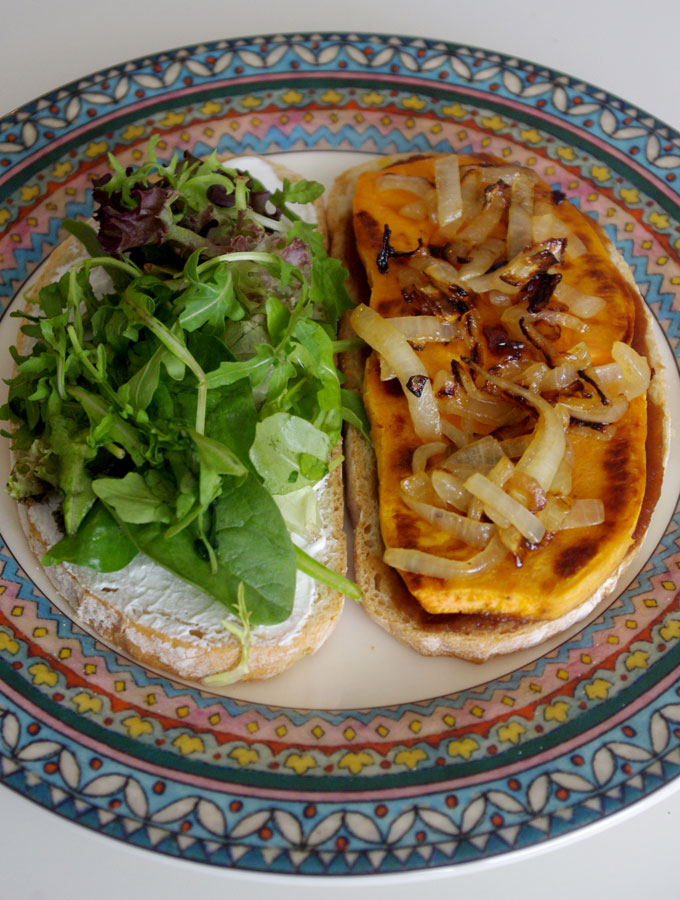 This sweet potato sandwich works so well because it achieves a perfect flavor harmony. The sweetness of the sweet potato, caramelized onions, and apple butter is perfectly offset by the tart creaminess of the goat's cheese. The flavors just melt together into one warm, comforting, delicious bite.
Eating this sweet potato sandwich is like living your ultimate fall dreams. Close your eyes as you bite in and you'll suddenly be standing outside on a perfectly crisp fall day, leaves falling lazily around you, wrapped in your favorite sweater.
I know, it's magic.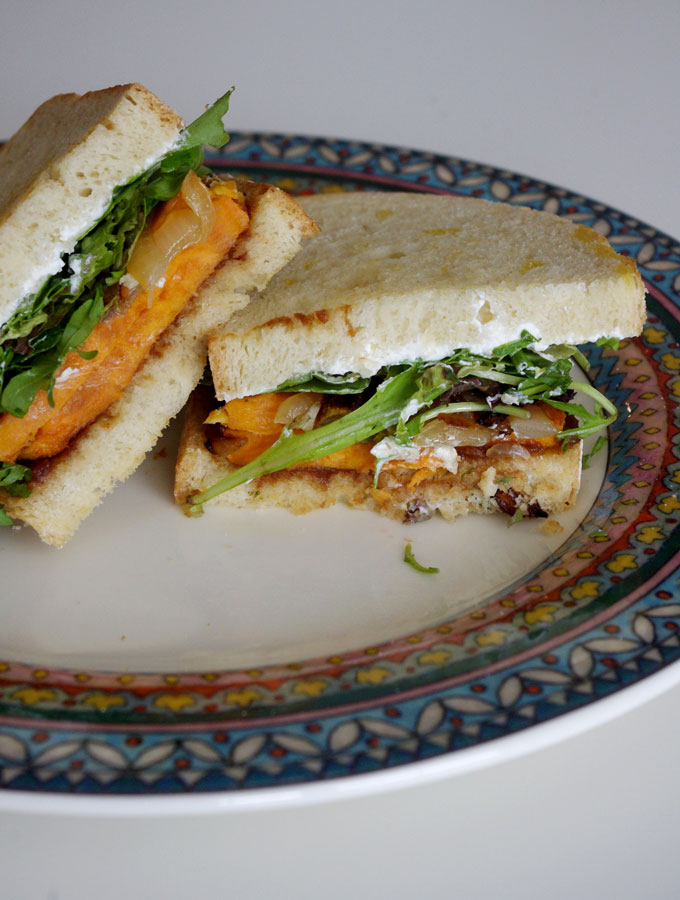 Print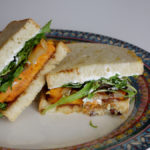 Harvest Sweet Potato Sandwich with Apple Butter and Goat Cheese
Prep Time:

5

Cook Time:

10

Total Time:

15

Yield:

2
---
Ingredients
1 large sweet potato
1 yellow onion
1 tablespoon butter
2 teaspoons olive oil
Spring salad mix
Goat cheese spread
Apple butter
Whole grain sourdough or similar
---
Instructions
You're making caramelized onions first. Place a pan over medium heat and add the tablespoon of butter.
While the butter is melting, chop the onion.
Add the onion to the pan with the butter, then leave to cook while you prepare the rest of the ingredients. After 10 minutes, turn the heat down to medium-low. Continue cooking, stirring occasionally, for a total of 20-25 minutes until onions are browned and translucent (and smell irresistible).
Peel the sweet potato, then cut it lengthwise into half-inch thick slices. You'll want to end up with about 4 slices, as equal in size as possible. If your sweet potato is wonky, you might need to have 5-6 slices to make up the difference. You need enough slices to over two slices of bread.
Put a pan on medium-low heat, and add olive oil. Place the sweet potato slices in the pan and flip them around until they're coated in the olive oil. Cook until tender and starting to brown, about 10 minutes.
While the sweet potato slices are cooking, toast four slices of bread.
Spread one slice of bread generously with apple butter and the other with goat cheese. Place a handful of greens on the goat cheese sides.
When the sweet potatoes are done cooking, place them on top of the greens. Add a couple spoonfuls of caramelized onions on top, then close the sandwich. Enjoy!
---