Pumpkin Spice Overdose Cake is for the PSL lover that doesn't think they can possibly get enough pumpkin no matter how many pumpkin spice products they buy. It's three decadent layers of pumpkin flavor inside and out: pumpkin cake, pumpkin ganache, pumpkin salted caramel, pumpkin frosting, and pumpkin whipped cream.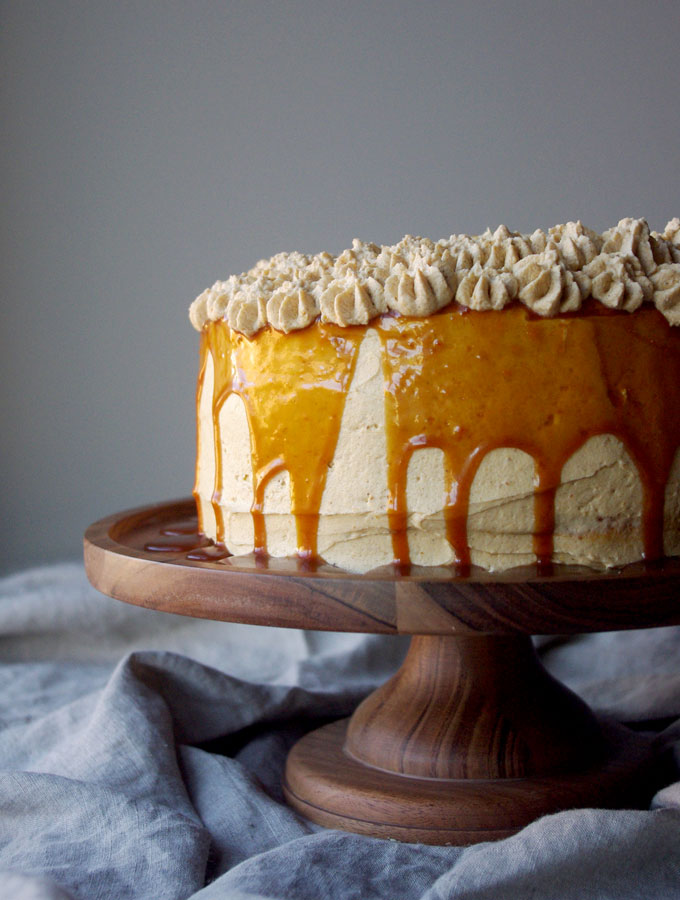 I have a mixed relationship with pumpkin. See, I love pumpkin as much as the next girl. I love pumpkin whoopie pies and pumpkin cinnamon rolls, I love pumpkin in my oatmeal and inside chocolate cake. And in many more ways besides. But sometimes the collective mania that's sprung up around all things pumpkin in the last few years just… ruins it for me.
You know how when you love something that starts becoming really popular, it kind of sours you on that thing, and you start feeling bitter about how you're a true lover of that thing, unlike all these fickle fans who caught on after you? That's kinda how I feel about pumpkin.
When I see people losing their minds over pumpkin spice lattes and I see brands churning out pumpkin spice versions of everything under the sun, it triggers my inner contrarian and I want to dislike pumpkin just to be a curmudgeon about it, to go against the grain, to be ~different~ and prove I'm ~not like other pumpkin spice fools~.
Note: Squiggly lines indicate author's awareness of silly ideas.
If you don't mind some colorful language, this article is an entertaining way to gain some perspective on the whole pumpkin madness.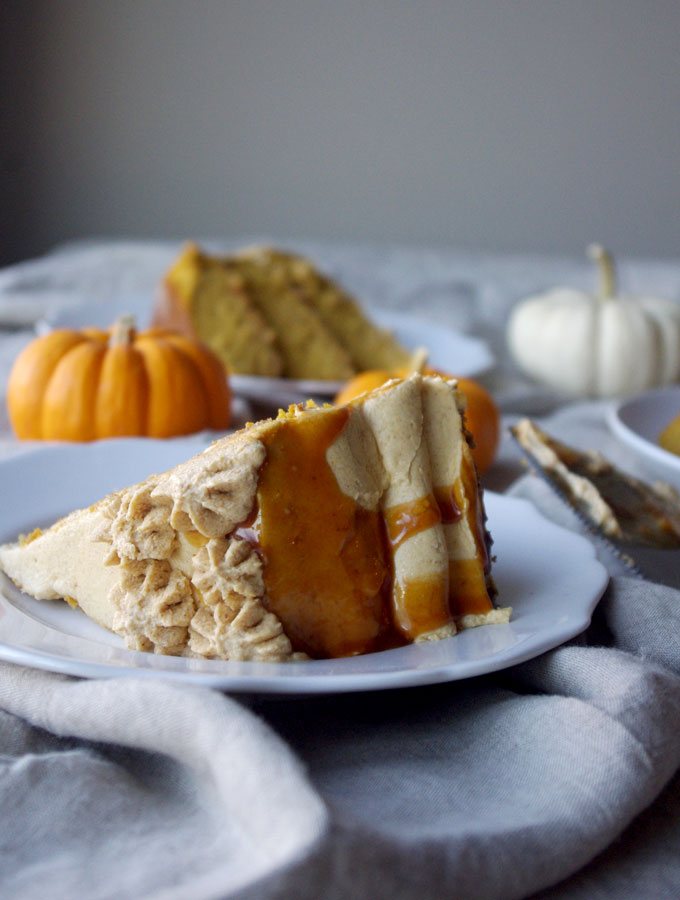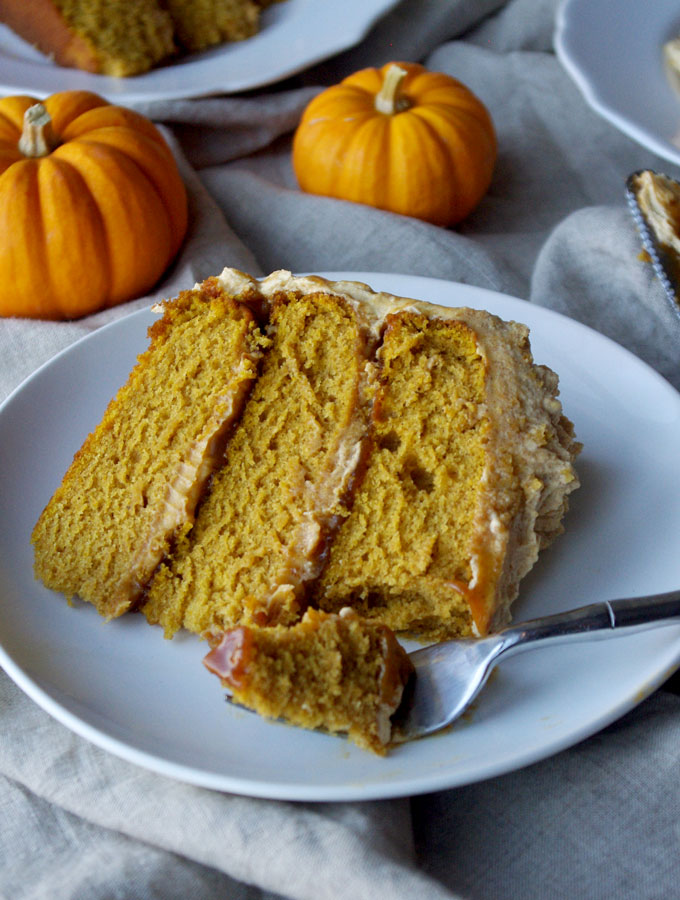 For all the people out there who feel like they just can't get enough pumpkin this time of year, the people who are putting pumpkin on anything and everything, who will buy anything just because it has the words "pumpkin spice" on the label: This Pumpkin Spice Overdose Cake is for you.
There are a lot of pumpkin spice cakes out there on the interwebs. But I challenge you to show me one recipe that takes pumpkin to such an extreme level as this one. Every single element of this Pumpkin Spice Overdose Cake has pumpkin in it.
We're talking:
3 layers of pumpkin cake
Pumpkin ganache
Pumpkin salted caramel
Pumpkin frosting
Pumpkin whipped cream
That might sound like a lot, even if you love pumpkin. I get it. But it actually all comes together really well. Because each element brings a little something extra to the table – texture, flavor, consistency – you end up with a really dynamic pumpkin flavor that will intrigue your taste buds and delight your pumpkin-addled senses.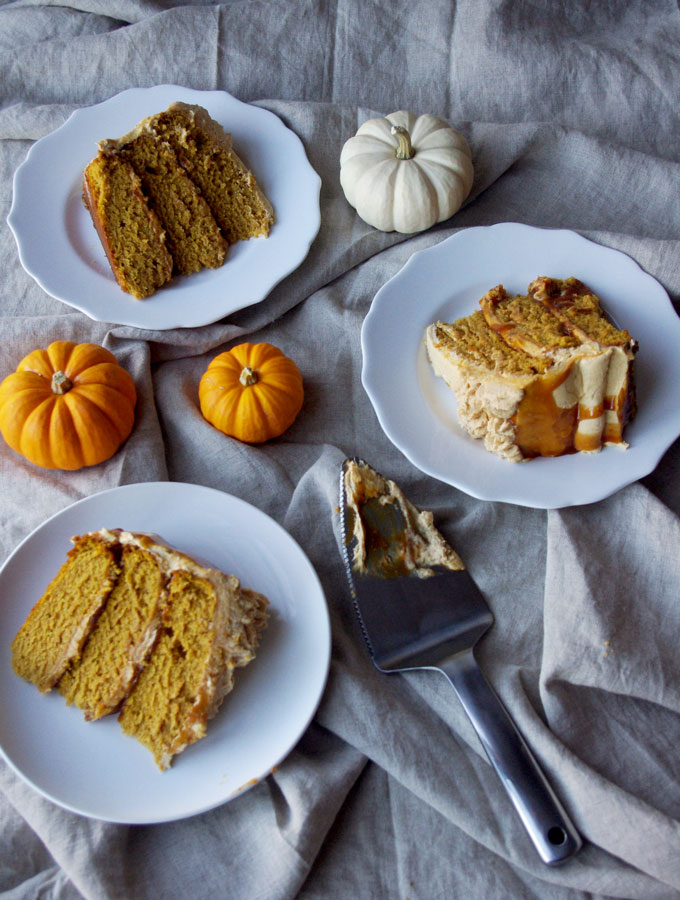 You start with your three layers of pumpkin cake. Why three? Because I wanted this Pumpkin Spice Overdose Cake to live up to its name and be a true over-the-top overdose. To me, that means three layers.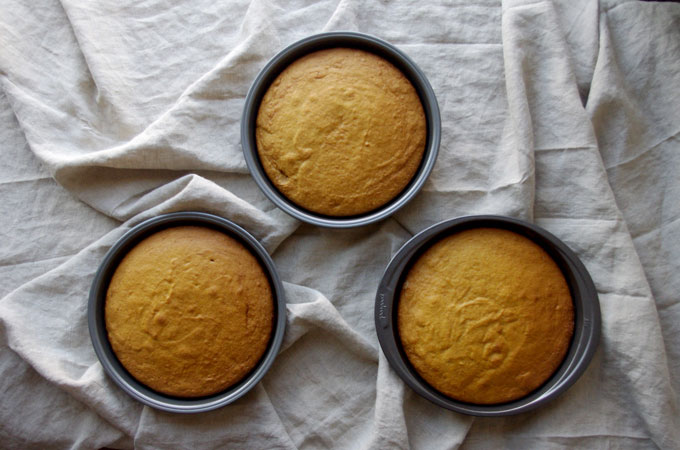 On top of the first layer goes pumpkin ganache and pumpkin salted caramel. Then layer two, followed by more pumpkin ganache and more pumpkin salted caramel.
BTW, if you're new to making caramel sauce (like me 🙋🏻), this guide has a good video with helpful tips.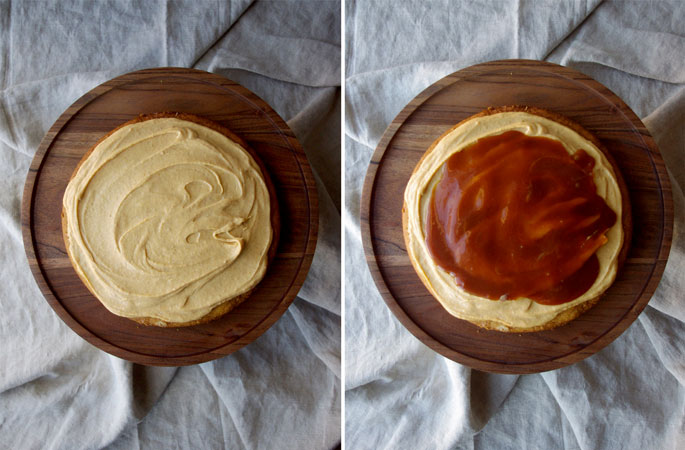 At this point, it's not a bad idea to refrigerate your cake for a while. Maybe an hour. Give your ganache and caramel a little time to set.
Then you're ready to frost your Pumpkin Spice Overdose Cake. Frost it generously, then drizzle with leftover pumpkin caramel and decorate with pumpkin whipped cream, piped around the edges.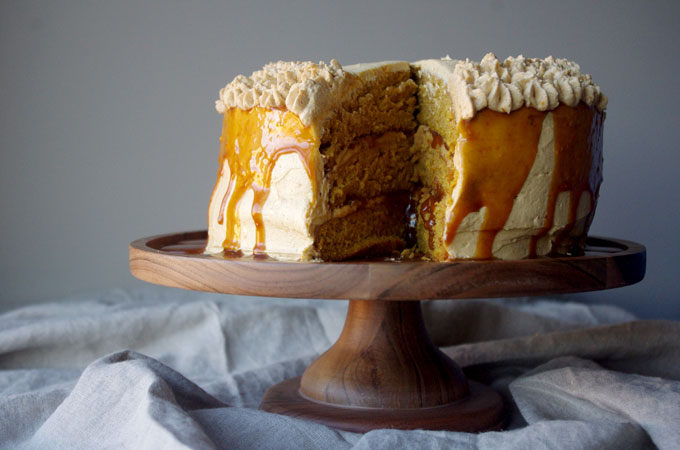 If it's not perfect, don't worry about it. The mouthwatering pumpkin caramel is going to be stealing allllll the attention from your carefully piped whipped cream.
You'll be happy the pumpkin whipped cream is there, though, when it comes time to dish up and eat. It adds a light pumpkin sweetness that is the perfect finish to each bite of this over-the-top Pumpkin Spice Overdose Cake.
Speaking of, let's dish up.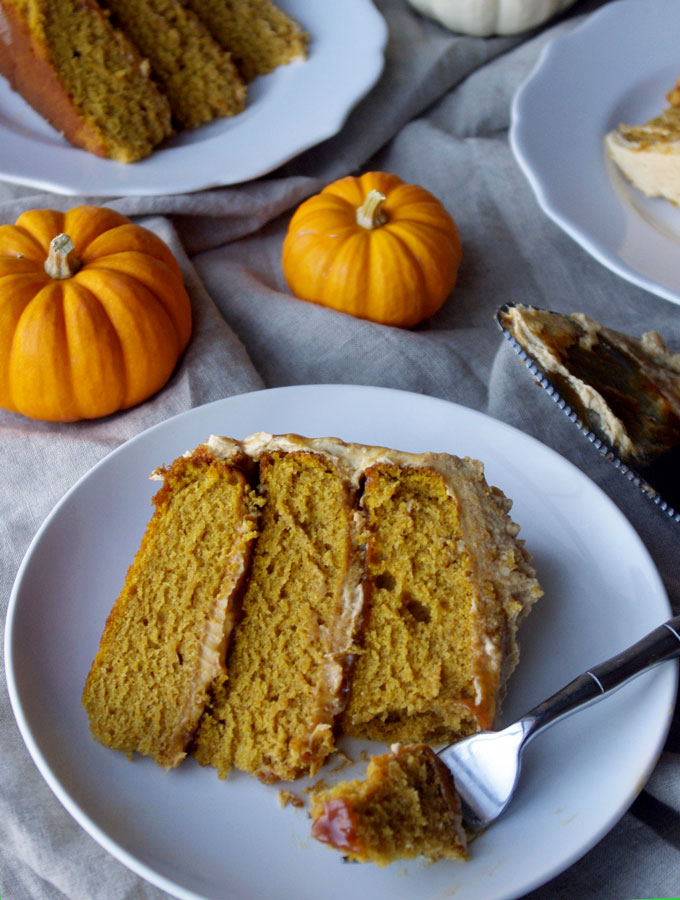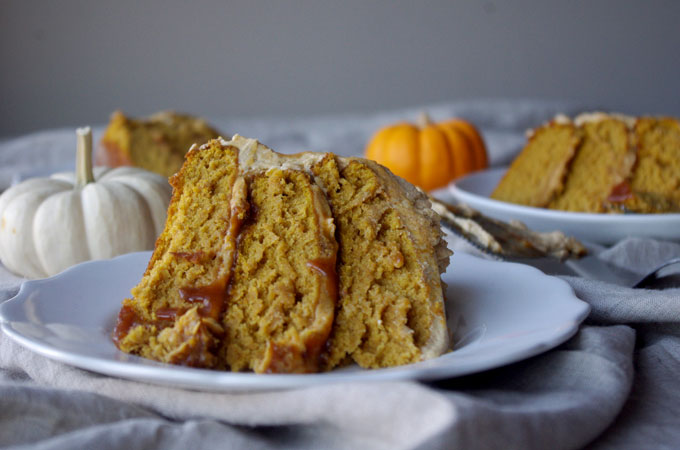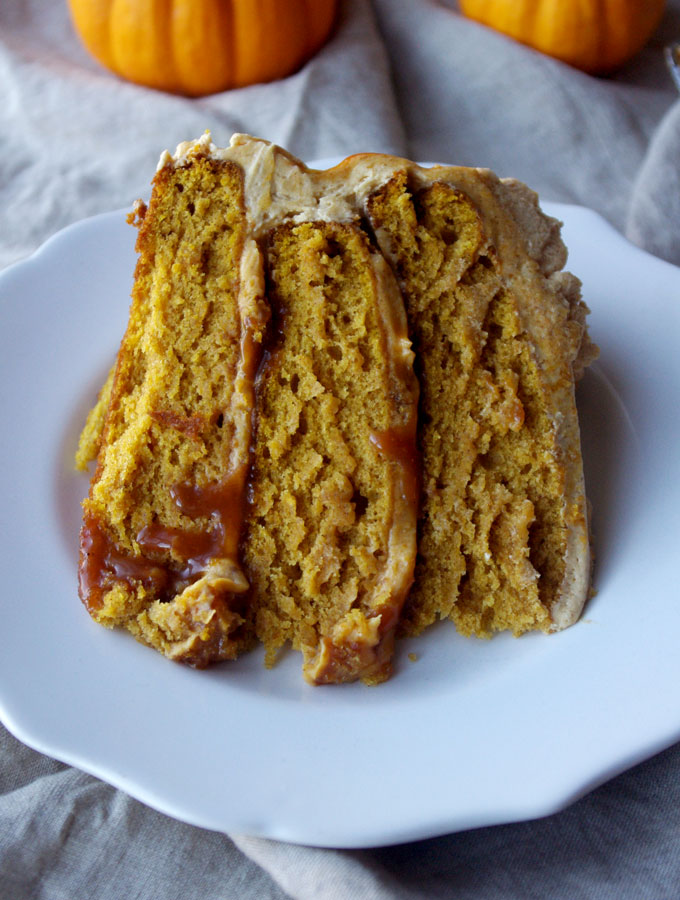 This Pumpkin Spice Overdose Cake is every bit as pumpkin-y and delicious as you might expect. The pumpkin cake is oh so moist and soft and full of pumpkin flavor. The pumpkin ganache and pumpkin salted caramel add just the right amount of saltiness to balance out the in-your-face sweetness of the rest of the cake. (You're going to want to eat the pumpkin ganache with a spoon, I promise you.) And the pumpkin frosting just brings it all together.
Adding pumpkin to frosting can be risky because pumpkin has so much moisture that it can cause the frosting to go limp and lose its fluffiness. This pumpkin buttercream has just the right amount of pumpkin to have a real pumpkin flavor while still managing to be just as fluffy and thick and spreadable as you would hope.
All in all? A bona fide Pumpkin Spice Triumph.
Send this Pumpkin Spice Overdose Cake recipe to your most pumpkin-obsessed friend and see if it cures them, at least for the season 😉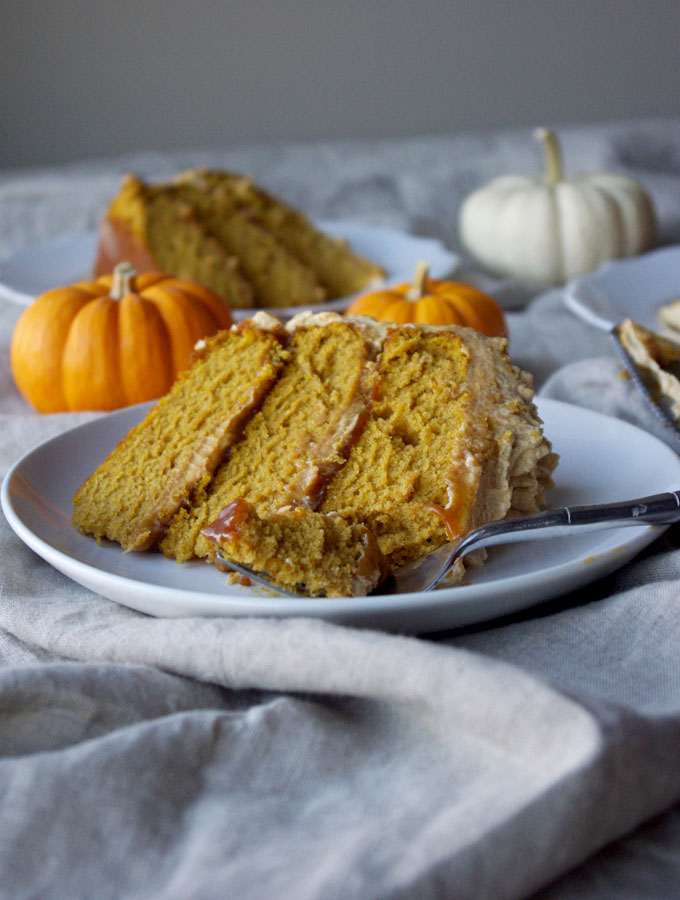 Baking Tips:
Read recipe through completely before starting.
Especially the caramel recipe if you haven't made caramel before.
Ganache must be made the day before.
None of it is very hard, just give yourself a few hours to work!
Print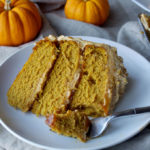 Pumpkin Spice Overdose Cake
Author:

Prep Time:

2 hours

Cook Time:

2 hours

Total Time:

4 hours

Yield:

12-16 servings
---
Description
Overdose on three decadent layers of pumpkin spice flavor: pumpkin cake, pumpkin ganache, pumpkin salted caramel, pumpkin frosting, and pumpkin whipped cream.
---
Ingredients
Pumpkin Ganache
5 1/4 ounces good white chocolate (NOT the chips, please)
2 tablespoons unsalted butter
1 tablespoon corn syrup
1/4 cup cold heavy cream
1/3 cup Libby's pumpkin puree
1 teaspoon kosher salt
1/2 teaspoon ground cinnamon
Pumpkin Caramel Sauce
1/2 cup water
1 cup granulated sugar
2/3 cup heavy whipping cream
1/3 cup pumpkin puree
1/2 teaspoon pumpkin pie spice
1 teaspoon vanilla extract
1/2 teaspoon salt
Pumpkin Cake
2 3/4 cups all-purpose flour
1 tsp baking powder
1 tsp baking soda
3/4 tsp salt
1 tsp ground cinnamon
1/2 tsp ground nutmeg
1/2 tsp ground ginger
1 1/4 cups granulated sugar
3/4 cup packed light-brown sugar
1/2 cup unsalted butter , softened
1/2 cup vegetable or canola oil , divided
4 large eggs
2 tsp vanilla extract
1 3/4 cup canned pumpkin puree
1/2 cup milk
Pumpkin Buttercream
2 sticks butter, softened
1/2 cup pumpkin puree
4 cups powdered Sugar
1 teaspoon vanilla
1/2 teaspoon pumpkin pie spice
1 tablespoon milk (if needed)
Pumpkin Whipped Cream
1 cup heavy whipping cream
1⁄4 cup confectioners' sugar
1 teaspoon vanilla extract
1 teaspoon cinnamon
1⁄2 teaspoon allspice
3 tablespoons pumpkin puree
---
Instructions
Pumpkin Ganache
Combine white chocolate and butter in a microwave safe dish and melt by cooking for 15 seconds at a time, stirring in between each burst. Mixture should be smooth with no bumps when fully melted.
Transfer the mixture to a container appropriate for an immersion blender, ideally something tall and narrow. (If you have an immersion blender, it probably came one such container – use that.)
Heat the corn syrup in the microwave for about 10 seconds before adding to the chocolate mixture.
Blend white chocolate, butter, and corn syrup with the immersion blender for about a minute.
Carefully pour in the heavy cream while the blender continues to run. The mixture should come together into a silky smooth substance.
Add in pumpkin puree, salt, and cinnamon and blend again until smooth.
Cover ganache with lid or plastic wrap, then place in the fridge to firm up before using, at least 5 hours if not overnight.
Pumpkin Caramel
Combine water, sugar, and salt in medium sauce pot and place over medium heat. Stir with a fork until mixture comes to a boil (about 4 minutes).
Then simmer without stirring until mixture turns honey-colored (about six minutes). You can swirl or shake the pot as needed to prevent the syrup from sticking to the sides of the pan.
Continue cooking until mixture reaches a medium amber color, another minute or so.
When mixture turns amber, add the cream and reduce heat to medium-low.
Stirring constantly, cook mixture until it reaches 225 degrees Fahrenheit (about 3 more minutes). If you don't have a kitchen thermometer (I don't), cook until it appears thick and saucy. This is a good indication that it's done.
Turn off the heat and stir in the pumpkin puree, pumpkin spice, and vanilla.
Immediately transfer sauce to a heat-resistant container and leave to cool to room temperature. It will thicken as it cools.
Sauce will keep for up to 2 weeks in the refrigerator.
Pumpkin Cake
Preheat oven to 350 degrees. Butter or grease three 9-inch round cake pans and line bottoms with a round of parchment paper. Set aside.
In a medium mixing bowl, whisk together dry ingredients – flour, baking powder, baking soda, salt, cinnamon, nutmeg, and ginger.
Place butter, granulated sugar, brown sugar, and 3 tablespoons of the vegetable oil to the bowl of an electric stand mixer fitted with the paddle attachment. Whip on medium speed until pale and fluffy. Stop to wipe down the sides if necessary to ensure thorough mixing.
Blend in remaining ¼ cup + 1 tablespoon vegetable oil.
Add eggs one at a time, mixing after each egg. Mix in the vanilla with the final egg.
In a large liquid measuring cup, whisk together the pumpkin puree and milk.
In three rounds starting with the dry ingredients, alternate between adding ⅓ of the flour mixture with half the pumpkin mixture. With each addition, mix until just combined.
Remove bowl from stand mixture and fold batter gently with a rubber spatula a few times to ensure that any ingredients in the bottom of the bowl are fully incorporated.
Divide batter evenly among the three cake pans and bake 30-35 minutes until surface of the cake bounces back when pressed and/or a toothpick inserted into the center comes out clean.
Cool in cake pans for 15 minutes, then remove and place on a wire rack until completely cool.
Pumpkin Buttercream
In a stand mixer fitted with the paddle attachment, blend butter and pumpkin puree on medium until well combined.
Add powdered sugar and begin to mix on a low speed, starting and stopping in short bursts to prevent powdered sugar from going everywhere. When the powdered sugar is starting to incorporate, increase speed to medium and continue to beat until frosting is fluffy.
Add vanilla and mix to combine, then add cinnamon and nutmeg.
Add milk one tablespoon at a time until frosting reaches desired consistency. More milk for thinner frosting, less milk for thicker frosting.
Pumpkin Whipped Cream
Place mixing bowl and paddle attachment in refrigerator to chill for 10 minutes.
Place cream and sugar in mixing bowl and beat on medium until soft peaks form.
Add vanilla, pumpkin puree, and spices, then continue to beat until mixture forms stiff peaks.
Transfer whipped cream to a plastic piping bag or piping bag lined with plastic.
Assemble the Cake
Place first cake layer on cake plate. Spread 1/3 the pumpkin ganache on it, followed by ¼ the salted caramel.
Repeat with second layer.
Refrigerate cake for 30-60 minutes to allow caramel and ganache to set.
Frost cake with pumpkin frosting.
Decorate with pumpkin whipped cream.
Serve plain or with cinnamon ice cream.
Cake can be stored covered at room temperature, but should be refrigerated if it seems unstable (i.e. if the caramel and ganache layers are too thick and cake seems slidey).
---
Notes
Important: Make the pumpkin ganache FIRST because it must be refrigerated for several hours or overnight before using.
Pumpkin Ganache recipe from Momofuku Milk Bar cookbook.
Pumpkin Cake adapted from Cooking Classy.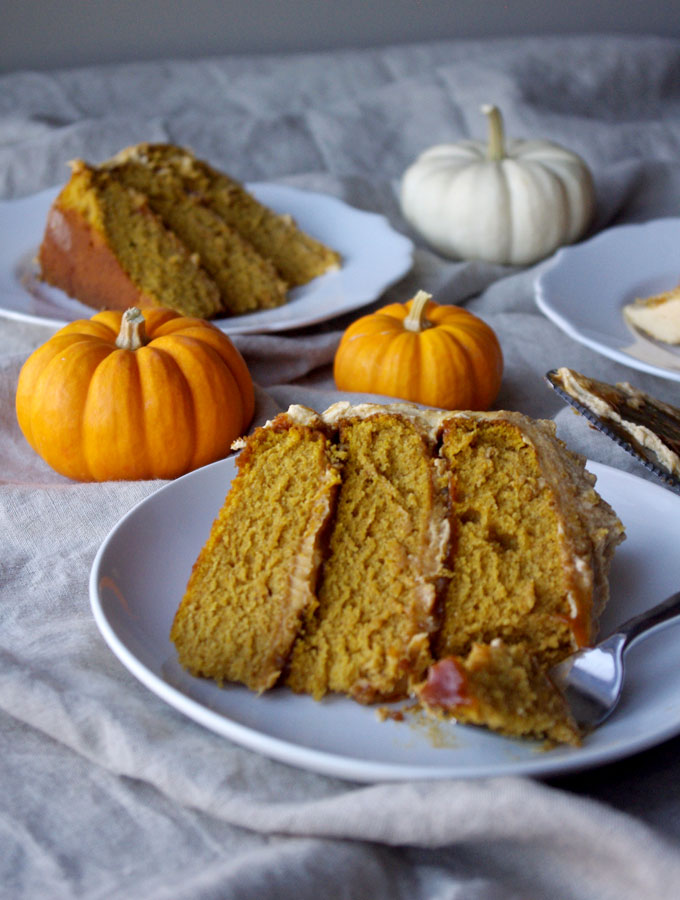 How much pumpkin can YOU handle?! Let us know in the comments!