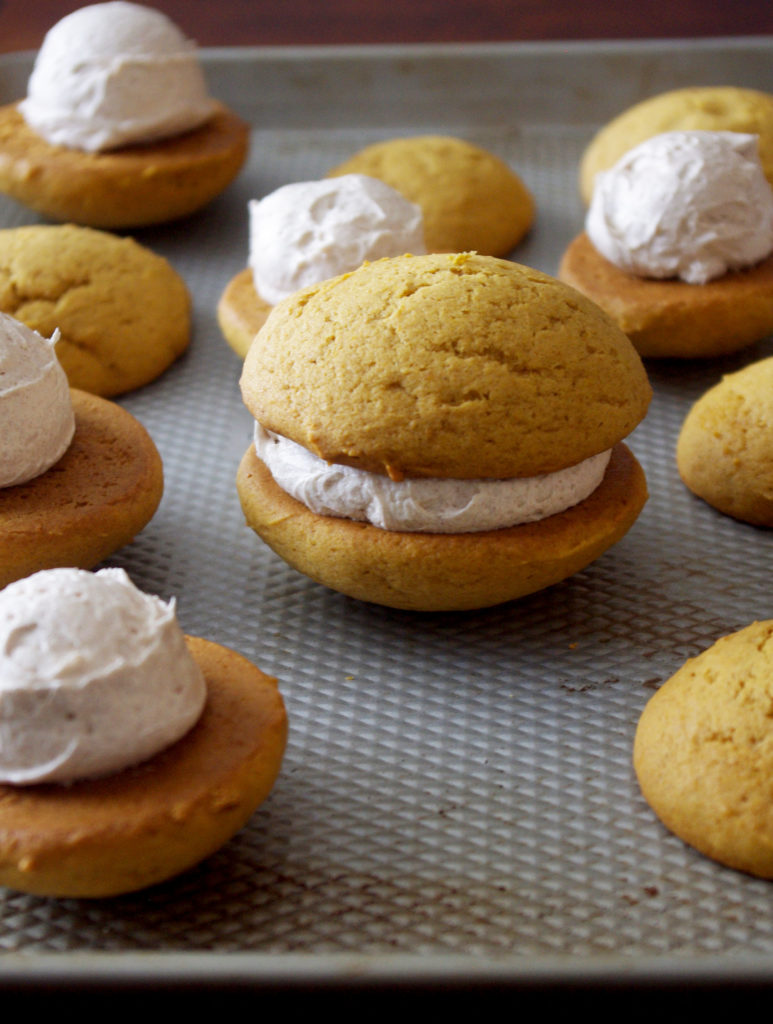 I first made these pumpkin whoopie pies five years ago (!!). I was a sophomore in college at the time, and my friends and I went through two batches in less than three weeks. That's saying something, when you consider that a) I almost never re-bake things and b) we had access to a full cafeteria of desserts that changed daily but we still saved our calories to keep eating these pumpkin whoopie pies over and over (and over) again.
Ever since I first made them, they've been a perennial favorite. Pumpkin whoopie pies are requested by friends and family every fall. I think that's only partly due to generalized pumpkin mania. It's mainly because this recipe is just that good.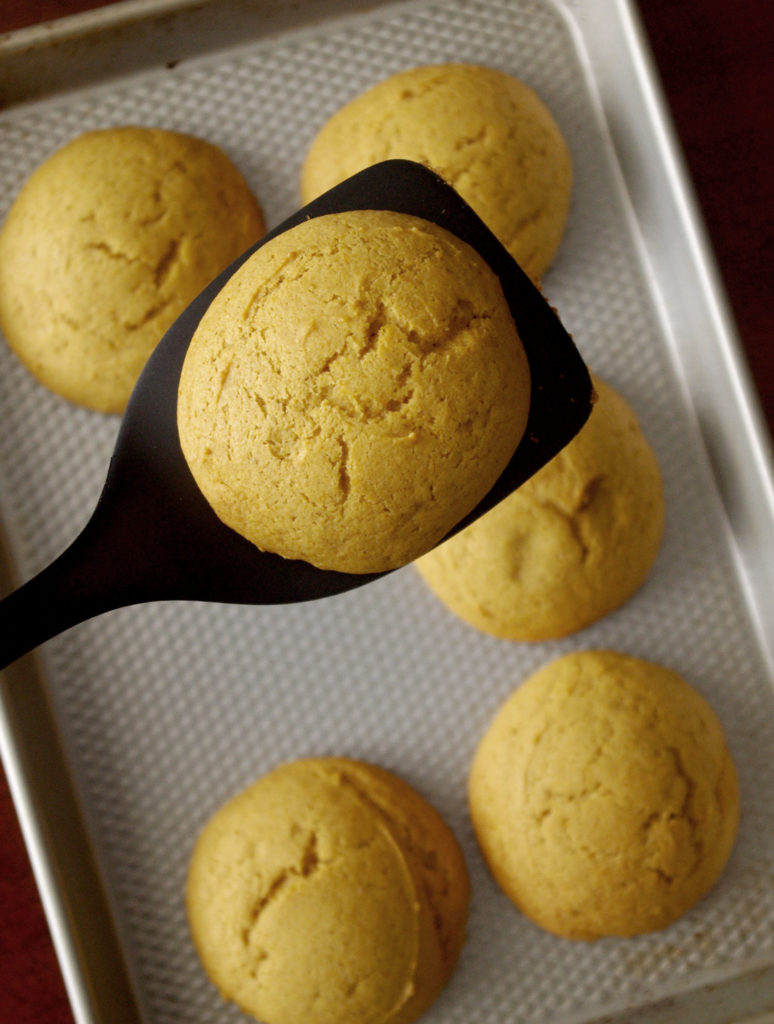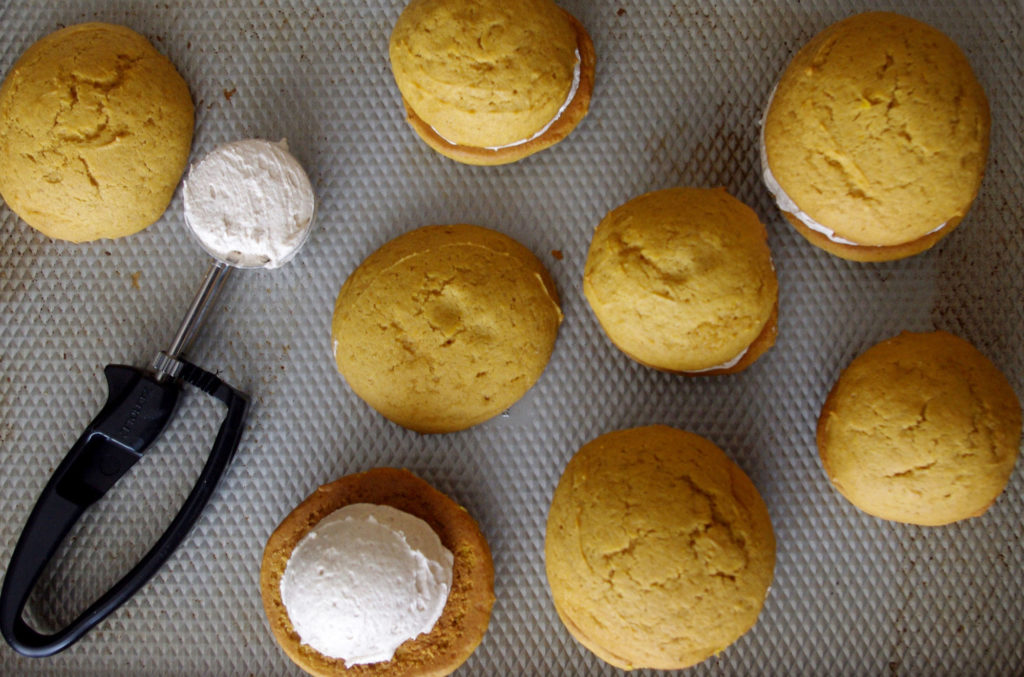 Are we familiar with whoopie pies? You should be, if you've been following our blog for a while. Remember these Apple Butter Whoopie Pies with Peanut Butter Filling that were based on Audrey's favorite lunch as a kid? She would eat peanut butter/apple butter sandwiches two or even three times a day if we let her.
If you need a refresher, a whoopie pie is what you would get if a cupcake and a cookie had a baby together (or should I say, made whoopee together? 😆). It's a soft, pillowy, cookie-like confection sandwiched around a thick frosting center.
As you're making it, the batter is going to be more reminiscent of cake batter than it is cooke dough. It's a pretty wet mixture, but still thick enough to be scoopable.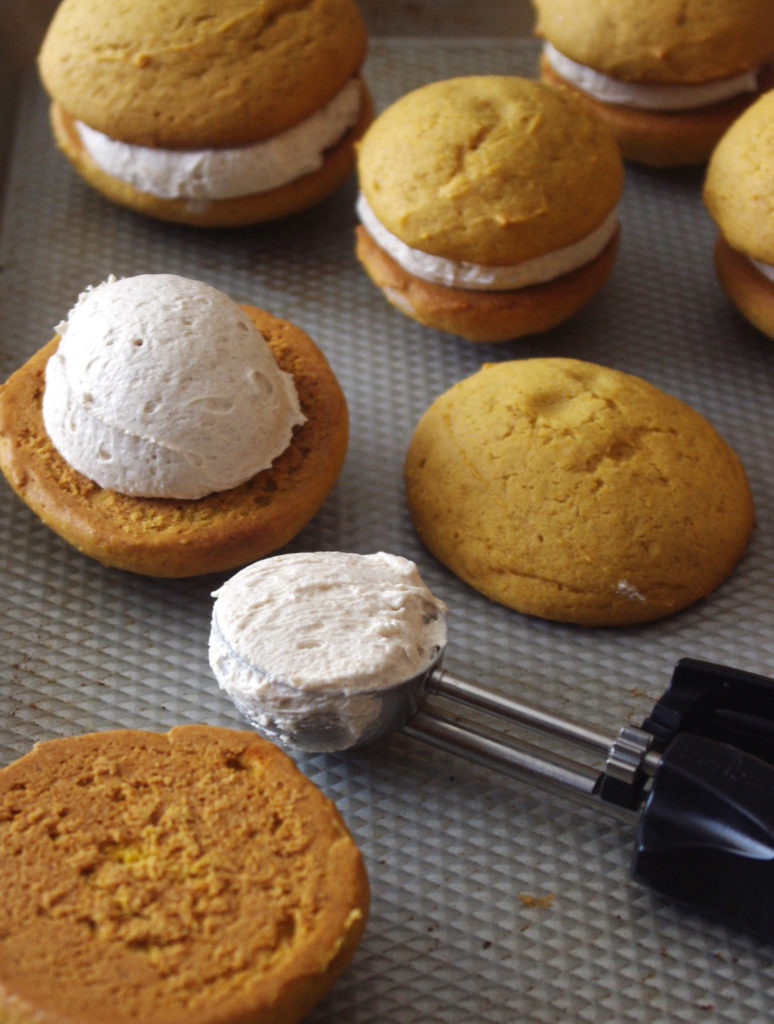 What makes these particular pumpkin whoopie pies so wonderful, you ask?
Moist, soft pumpkin cake with just enough heft to give you something to sink your teeth into
Whipped cinnamon filling that's so light and fluffy and full of cinnamon flavor
Sandwiched pumpkin whoopie pies means double the pumpkin yum
Basically, these pumpkin whoopie pies are fall baking in its purest form. Pumpkin is here to say HELLO! And even the most staunch anti-pumpkin curmudgeon won't be able to resist smiling back.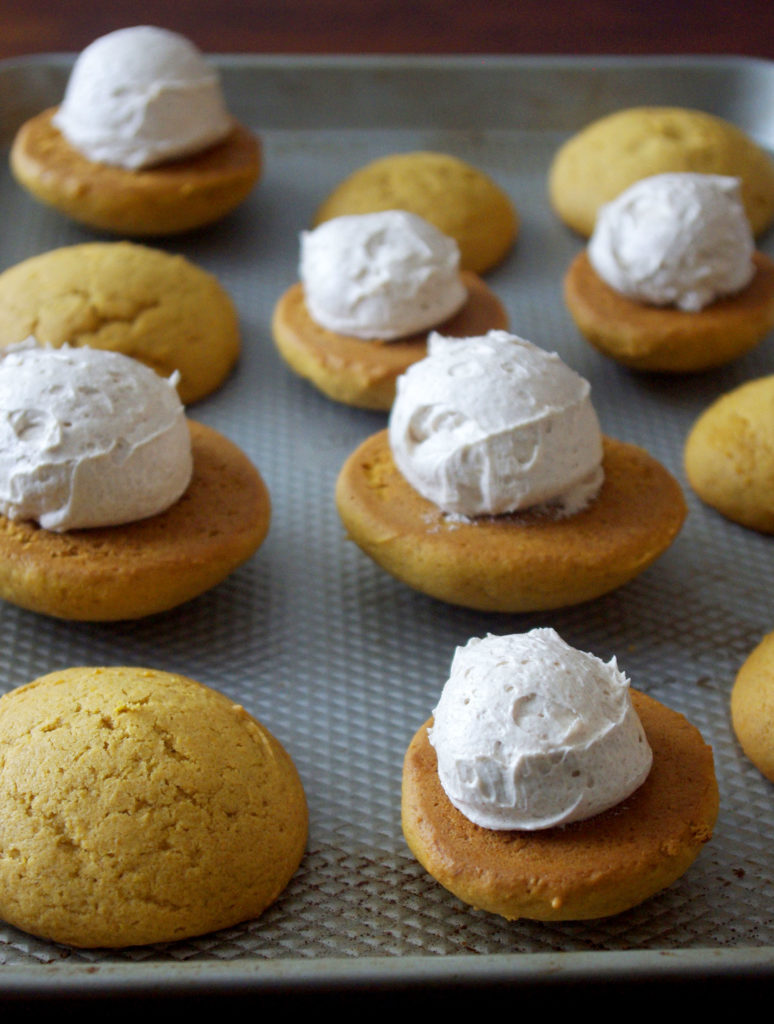 Is it fall yet, where you are? Here in Minnesota it's fall one day and summer the next. We keep waffling about 20 degrees day-to-day. Today it's in the upper 70's, but over the weekend it was in the low 60's. That means we're hovering right on the cusp of fall, but we're not quite there yet. I give it about two weeks until it's all fall all the time. At least for a few short weeks before winter sets in.
So I might be a little premature in posting a pumpkin recipe, but I just couldn't wait to remind you guys how great this recipe is. Also, the old pictures in this post were ATROCIOUS and did not do these beauties justice.
But now they're ready for their close-up. Behold, the pumpkin whoopie pies in all their round, curvaceous, orange glory.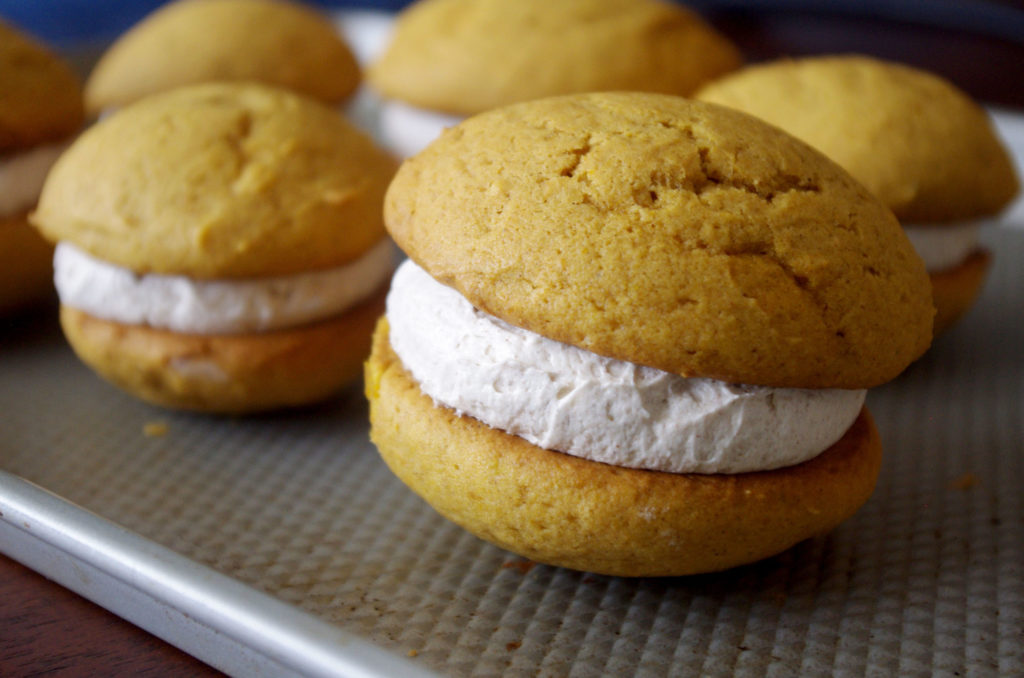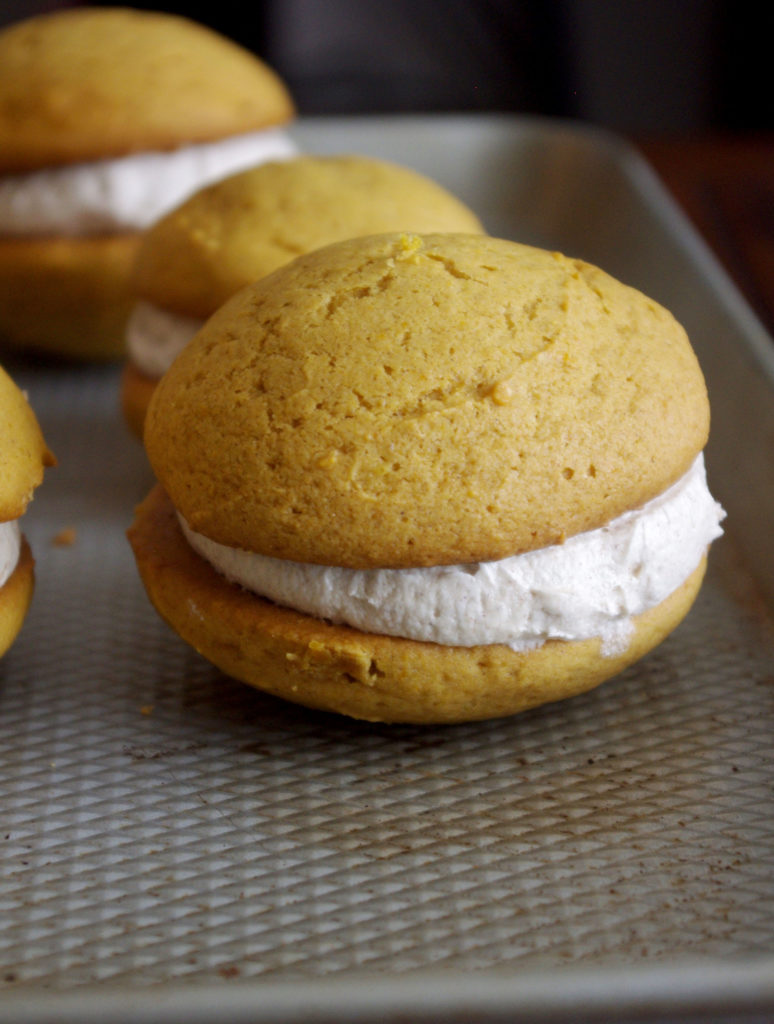 Print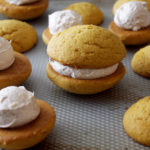 Pumpkin Whoopie Pies with Whipped Cinnamon Filling
Prep Time:

25

Total Time:

60

Yield:

14
---
Ingredients
Pumpkin Whoopie Pies
1 stick butter, softened
1 1/4 cups granulated sugar
2 eggs at room temperature
1 cup pumpkin puree
1 teaspoon vanilla extract
2 cups flour
1 teaspoon baking powder
1 teaspoon baking soda
1 teaspoon ground cinnamon
1/2 teaspoon salt
Whipped Cinnamon Filling
1 stick salted butter, softened
1/3 cup whipping cream at room temperature
1 teaspoon cinnamon
1 teaspoon vanilla bean extract
2 1/2 to 3 cups powdered sugar
---
Instructions
Preheat the oven to 350 degrees.
Using a stand mixer with the paddle attachment or a hand mixer, beat the butter and sugar on medium speed until light in color and fluffy, about 3 minutes.
Add the eggs and mix to incorporate.
Add the pumpkin and vanilla and mix to combine.
Sprinkle the flour over the top of the butter mixture, followed by the baking powder, baking soda, cinnamon, and salt. Mix until well incorporated, about one minute.
Using a jumbo cookie scoop (about two tablespoons), scoop the batter onto a baking sheet lined with parchment paper or silpat.
Bake for 10-12 minutes until the whoopie pies spring back slightly when pressed with your finger.
While the whoopie pies are cooling, make the frosting.
Use a stand mixer or electric hand mixer to beat the butter, whipping cream, cinnamon, and vanilla bean extract on medium-high speed until very light and fluffy, about 5 minutes.
Add the powdered sugar, starting with 2 1/2 cups, and beat for another 3-5 minutes. The filling should be very fluffy. If the filling is too thick, add a touch of cream and beat again. If it is too thin, add the extra 1/2 cup of powdered sugar and beat again.
When the cookies are cool, assemble by scooping a couple tablespoons of filling onto the flat side of half the whoopie pies. Press the flat side of the remaining whoopie pie halves onto the filling to make a whoopie pie sandwich.
Store whoopie pies in a covered container.
These pumpkin whoopie pies are my favorite fall dessert. What's yours?