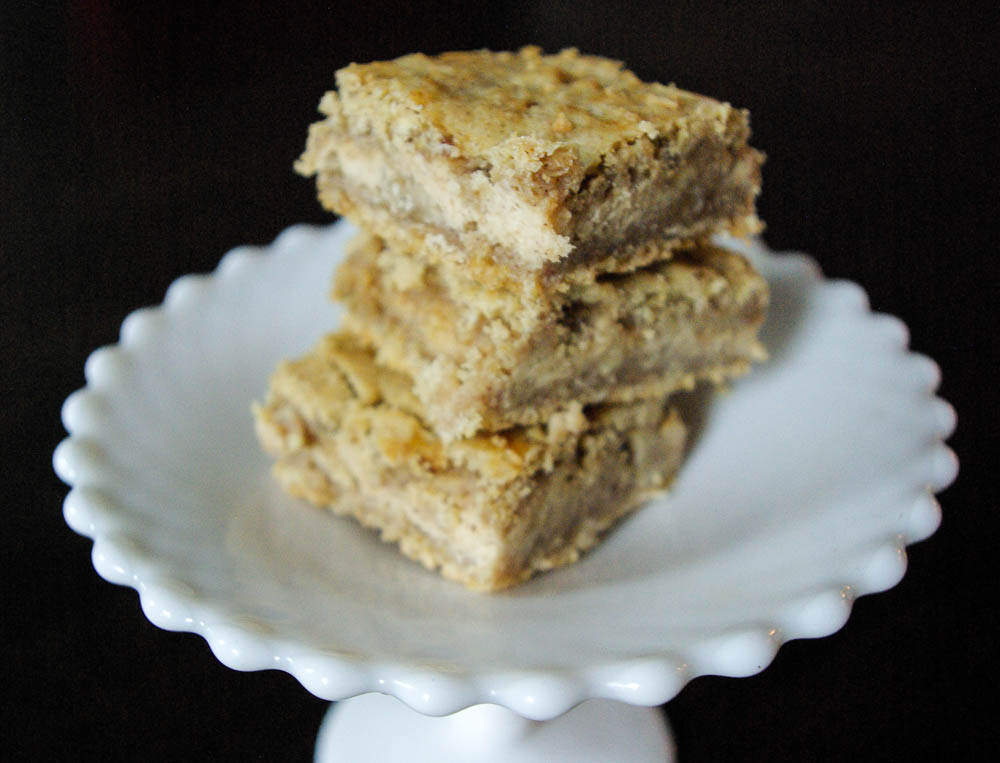 Apple butter is a perfect fall flavor that I think is just so overlooked. We're so inundated with pumpkin and squash and cinnamon and stuff that apple butter gets forgotten. Poor little apple butter. The quietly brilliant spread that just doesn't get the attention or acknowledgement it deserves.
Well I am here to give attention to it. A lot of attention. Apple butter on everything. Or, everything on apple butter if you have enough of it.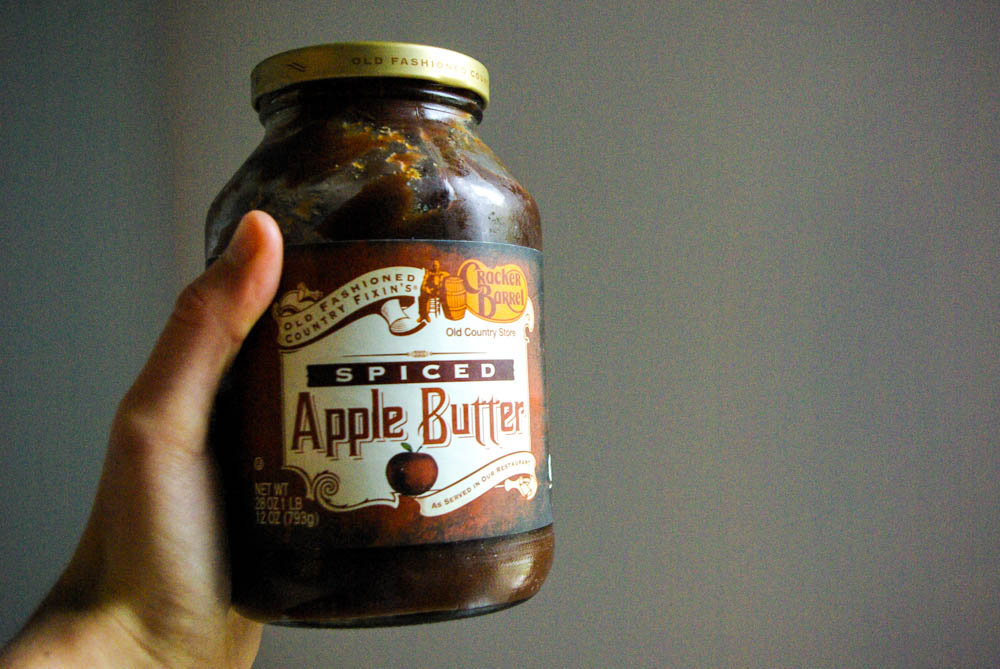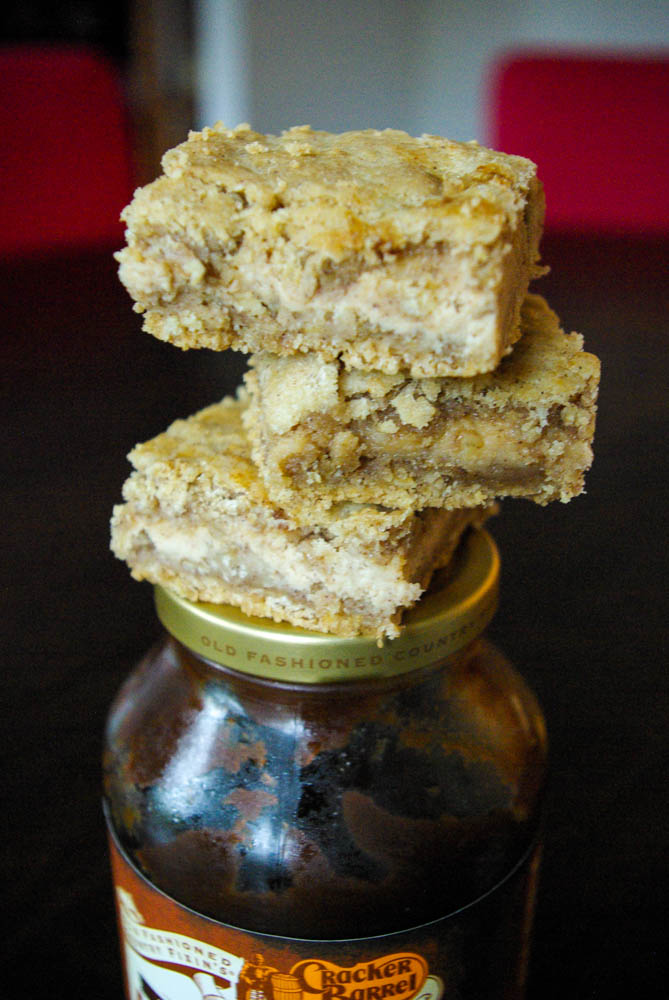 Apple butter and peanut butter sandwiches are perfect. If you haven't tried one, I recommend it, like, ASAP. They are the food of the fall-and-comfort gods. But if you want to get even more fall-y with apple butter, make these Apple Butter Cheesecake Bars. Because they have cinnamon. Also cheesecake. And cookie.
We're talking about a snickerdoodle cookie bar situation only with apple butter cheesecake in the middle.
Can you get on board with that?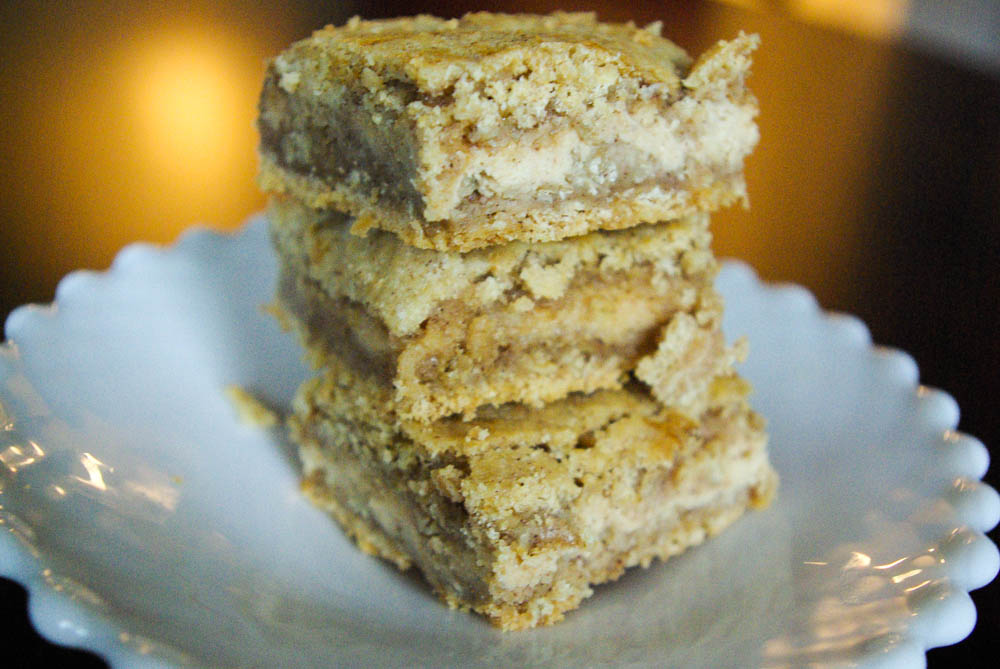 Literally what is not to like about these Apple Butter Cheesecake Bars?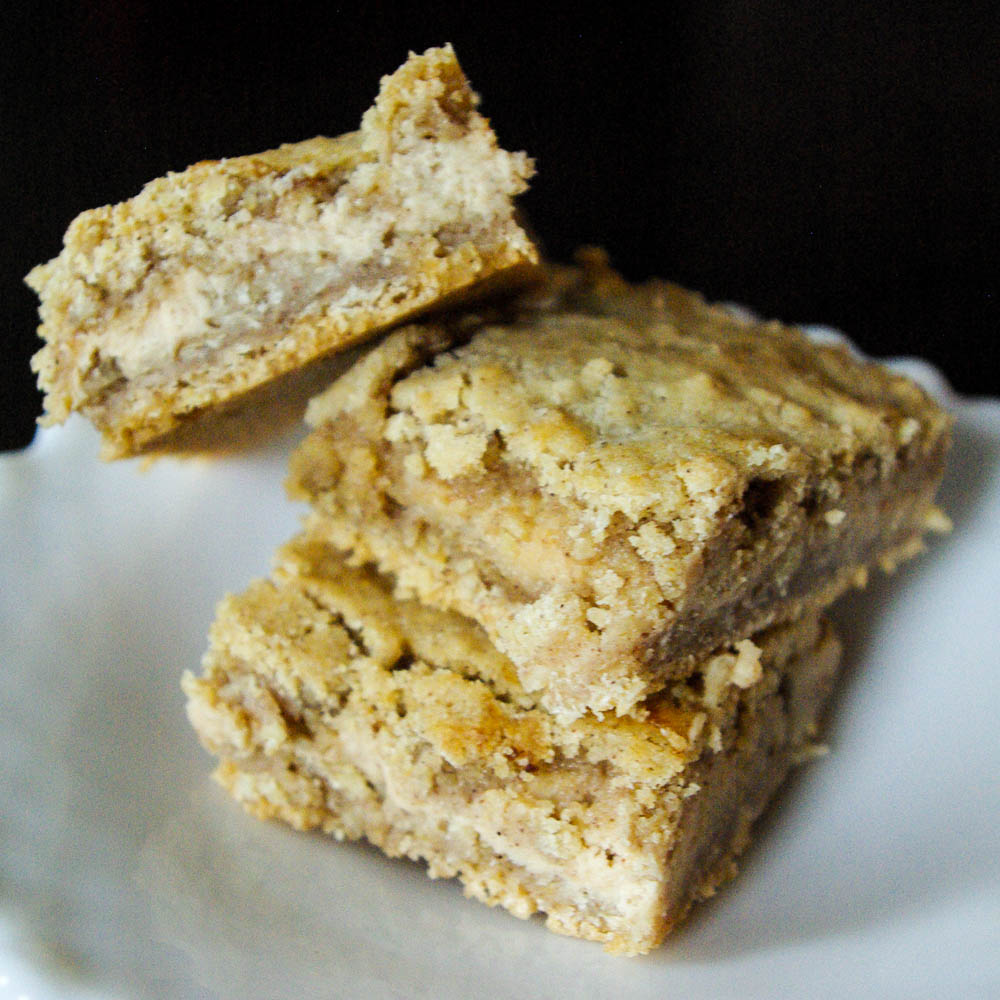 (Answer: nothing. Everything is to like about these Apple Butter Cheesecake Bars.)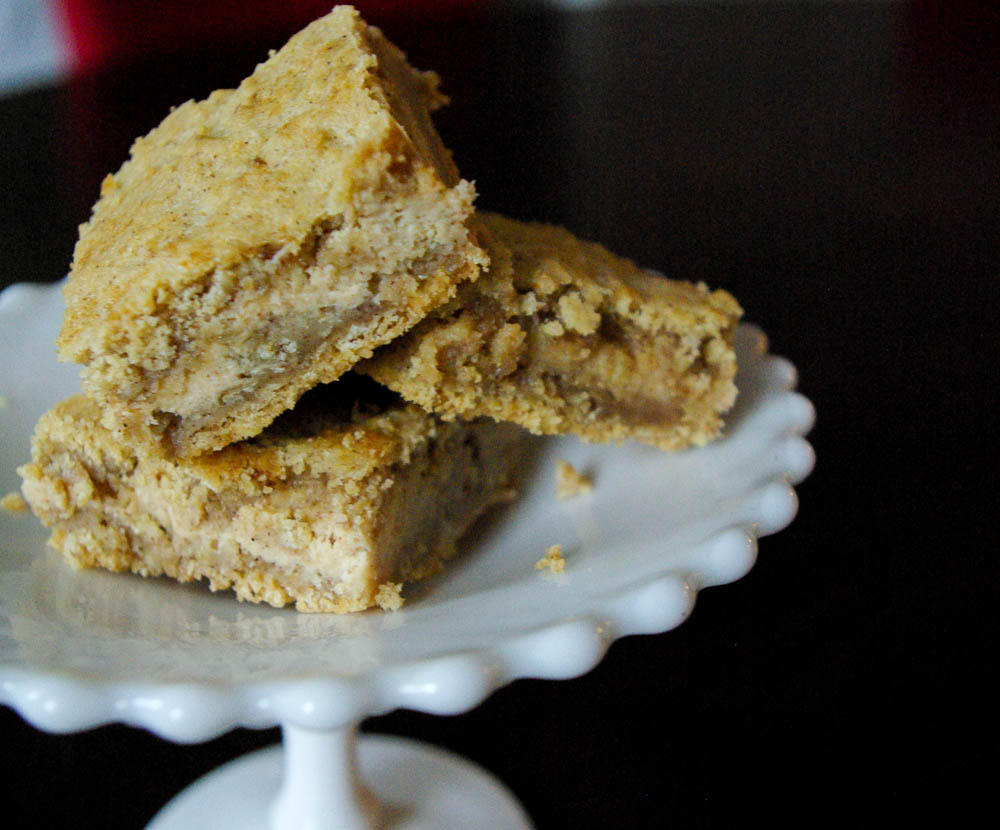 The Apple Butter Cheesecake Bars are creamy from the cheesecake and the cookie part is perfectly puffy and moist (not dry like snickerdoodles are often wont to be) and the apple butter gives them a distinctive flavor that just would not come from normal apples or be there without the apple butter.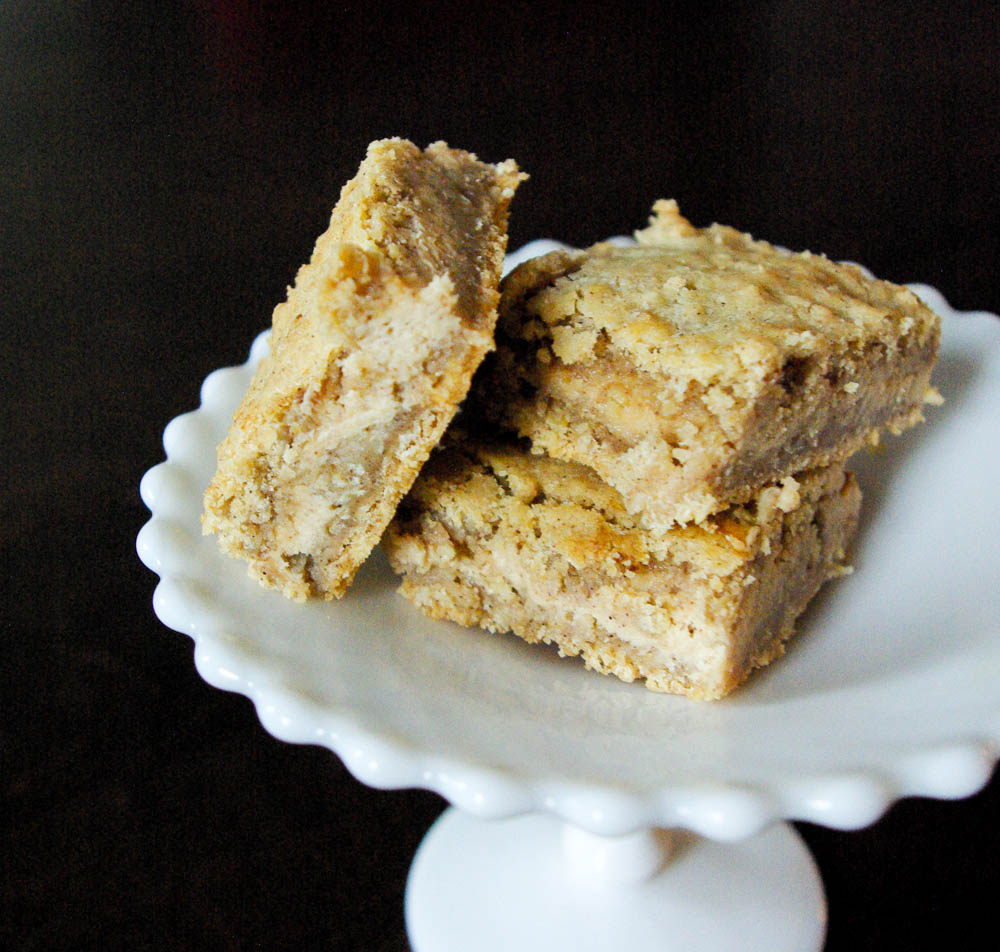 It is the perfect vehicle to appreciate your apple butter on. If apple butter were a religion, I would feed you these Apple Butter Cheesecake Bars to make you convert to apple butter-ism. However I don't think religions can be seasonal affairs, so maybe don't convert. Just eat them.
-Audrey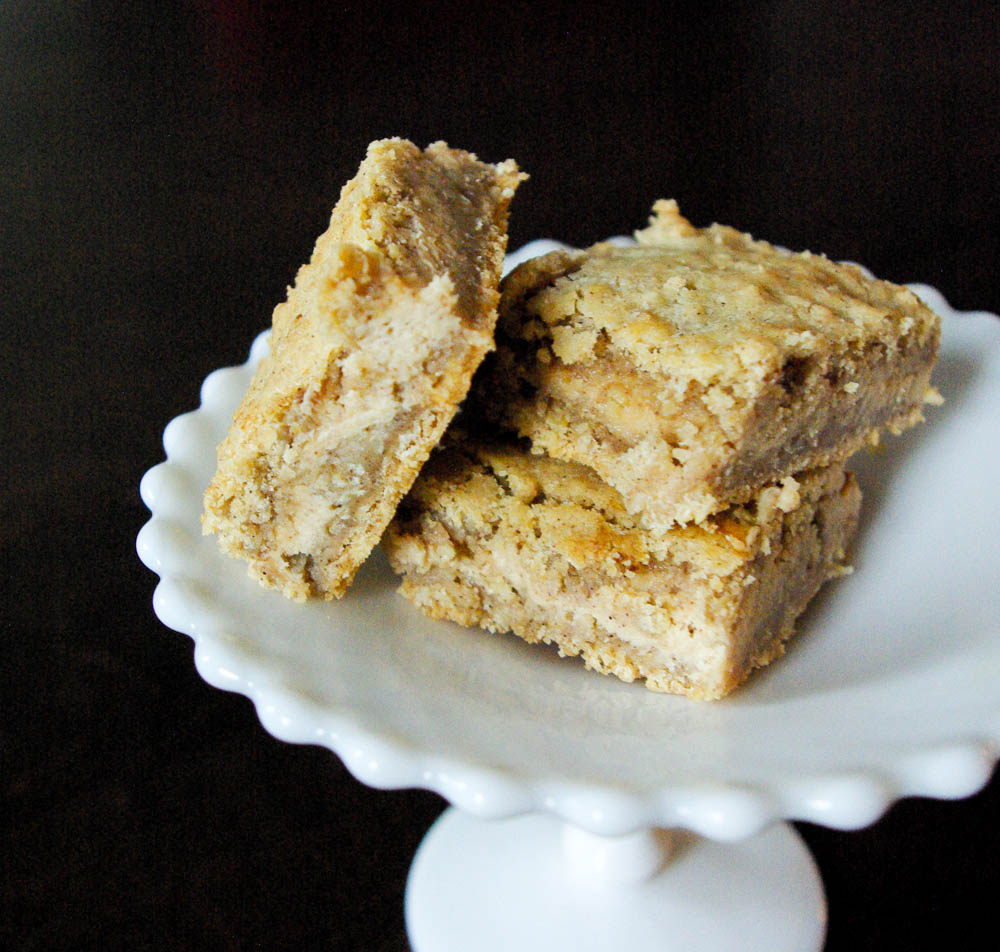 Apple Butter Cheesecake Bars
2017-10-08 19:05:20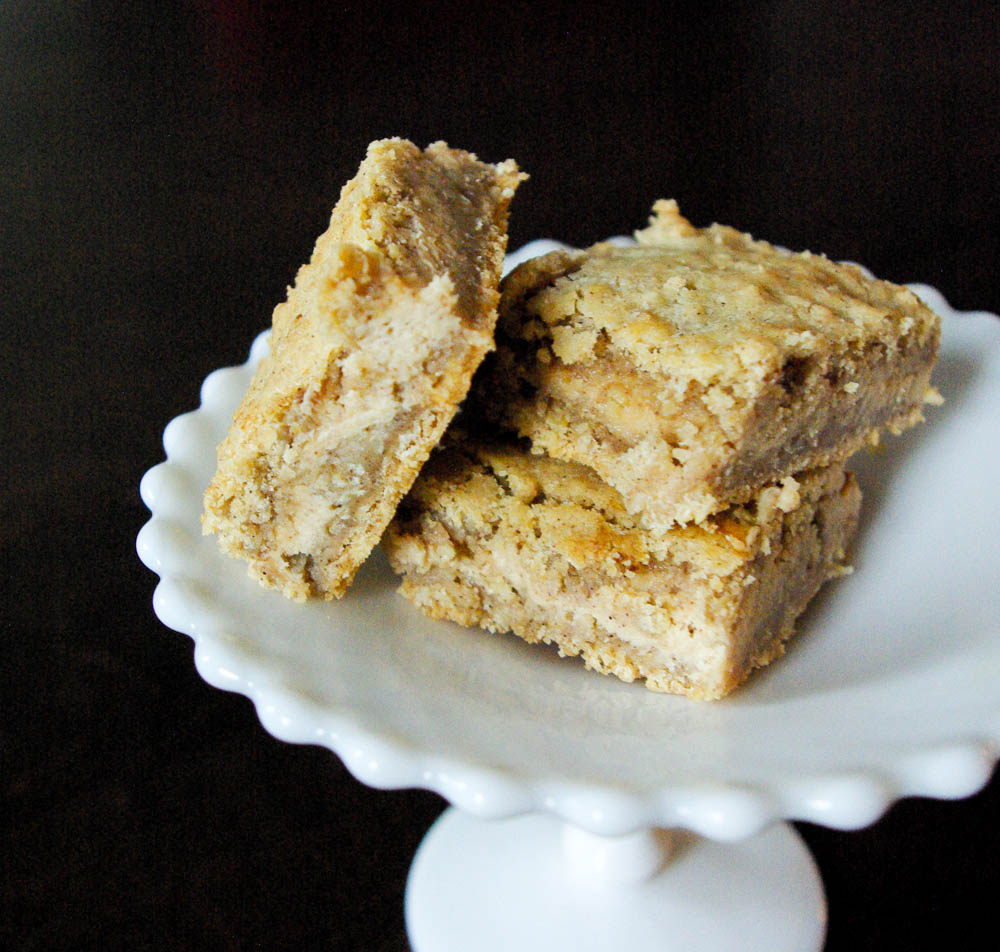 For the cookie layer
2 sticks unsalted butter, softened
1 and 1/3 cup granulated sugar
1 large egg
2 teaspoons vanilla extract
3 cups all-purpose flour
2 teaspoons cream of tartar
1 teaspoon baking soda
2 and 1/2 teaspoons ground cinnamon
1/2 teaspoon salt
For the cheesecake layer
1 (8oz) package cream cheese
1/4 cup sugar
3 tbsp apple butter
1/2 tsp vanilla
For the cookie layer
Preheat the oven to 350 degrees.
In a large bowl using a hand-held mixer or stand mixer with paddle attachment, cream the softened butter for about 1 minute on medium speed. Get it nice and smooth, then add the sugar on medium speed until fluffy and light in color. Mix in egg and vanilla. Scrape down the sides as needed. Set aside.
In a medium size bowl, whisk together the flour, cream of tartar, baking soda, cinnamon, and salt. With the mixer running on low speed, slowly add the dry ingredients to the wet ingredients in 3 different parts. The dough is quite thick and you may have to stir the rest by hand.
For the cheesecake layer
Combine the cream cheese and sugar. Beat until light and fluffy.
Add the vanilla and apple butter and mix until combined.
To assemble
Press half the cookie batter in an 8 inch baking dish.
Pour the cheesecake batter evenly over top.
Spread any additional apple butter that you want on top, depending on how strong you want the apple butter flavor to be.
Gather the remaining cookie batter and roll or pat out small pieces and place gently on top of the cheesecake layer.
Bake for 35-40 minutes.
Cool and store in the refrigerator until ready to serve.
The Batter Thickens http://www.thebatterthickens.com/