I was going to title this, "Vanilla Cake with Lemon Cheesecake Filling, Milk Crumb, and Blueberry Frosting" but that seems like a lot. Even "Blueberry Lemon and Vanilla Layer Cake" is a lot. There's just a lot of layers in this cake. But it's definitely worth it.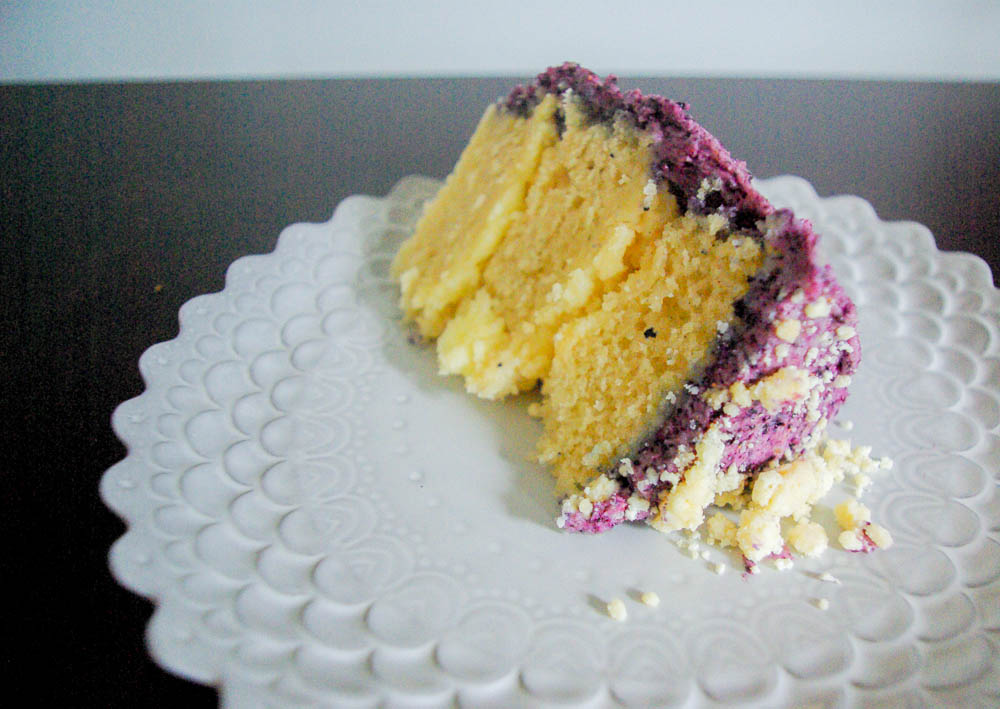 School started last Monday and it's hit me that summer is ending soon. It was my last pre-high school summer and this is going to be my last fall of high school and I want time to start slowing down a little bit. In many ways, I feel way more prepared than I ever thought I would. But I also want to smell the roses a bit.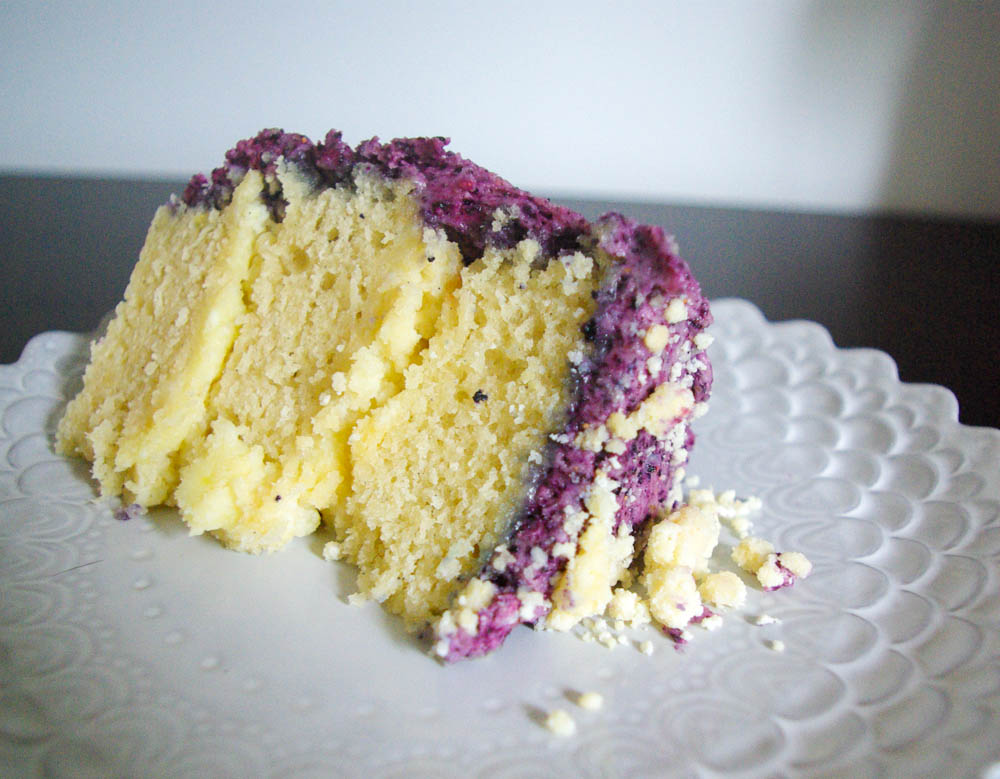 Soooo, make this cake to feel like summer is still here. The lightness and fruityness of the lemon and blueberry can almost trick you into thinking summer is still here.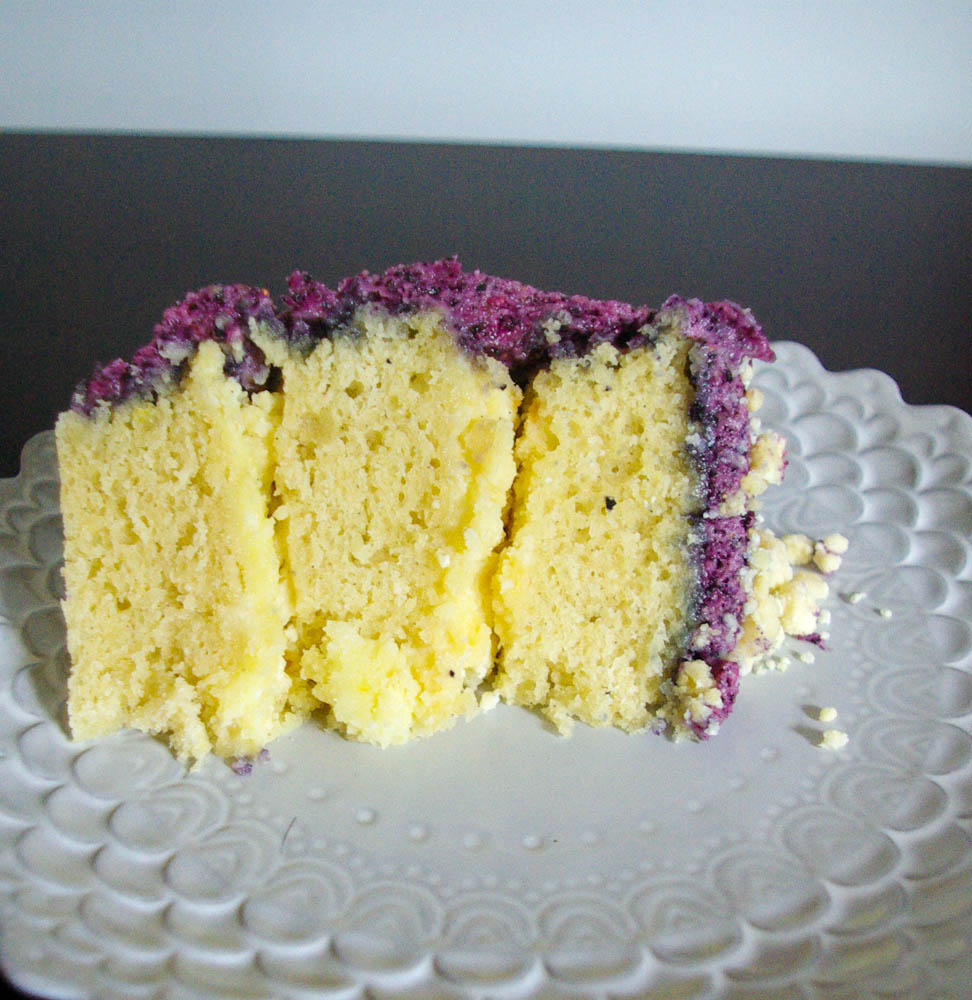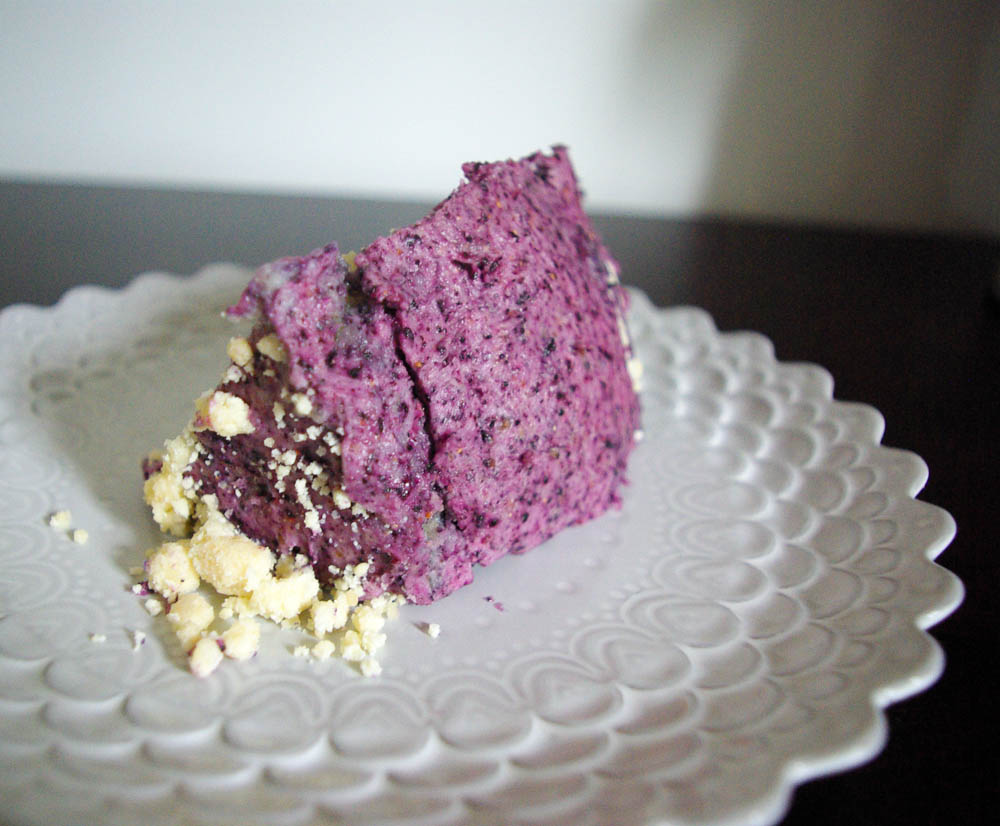 Summer officially ends tomorrow, so make this as a little fall equinox treat. To pretend like time is not moving so fast and the earth can slow down its orbit a bit.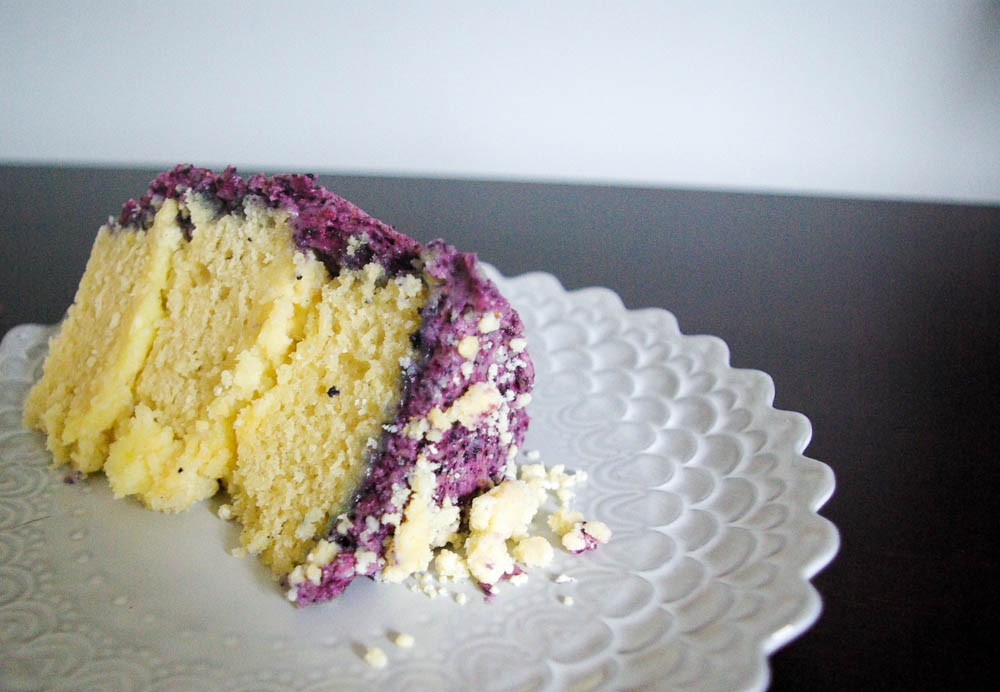 And I'm 95% sure that baked goods can have magical properties, so I'd give this a try. It can transport you back to that peak of summer, that one day where it wasn't too hot and humid and you actually enjoyed being outside, and you were stress free and drinking a nice cold drink. All with a piece of cake. Magic.
-Audrey
Print Blueberry Lemon Vanilla Layer Cake
---
Ingredients
Vanilla Cake
1 (18.25 oz) package plain white cake mix
1 cup sour cream
1⁄2 cup vegetable oil
3 large eggs
1 teaspoon vanilla extract
Lemon Liquid Cheesecake
One 8-ounce package cream cheese
zest from one lemon
¾ cup granulated sugar
1 tablespoon cornstarch
1 teaspoon kosher salt
2 tablespoons whole milk
1 large egg
Milk Crumb
1/4 cup plus 1 tablespoon nonfat milk powder
2 tablespoons all-purpose flour
1 tablespoon cornstarch
1 1/2 teaspoons sugar
1/8 teaspoon salt
1 1/2 tablespoons unsalted butter, melted
1/4 cup white chocolate, melted
Blueberry Frosting
1 bag freeze dried blueberries
2 sticks butter, softened
3-5 cups powdered sugar
1/2 tsp salt
---
Instructions
For cake
Preheat oven to 350. Generously grease and flour a 3 six-inch circular baking pans.
Place cake mix, sour cream, oil, eggs, and vanilla in mixing bowl. Blend with mixer on low speed for 1 minute. Stop machine, scrape down sides of bowl. The batter should look well combined and thickened.
Pour the batter into prepared pans. Place in oven.
Bake the cake until it is light brown and springs back when lightly pressed with your finger, 35-40 minutes. Remove pan from oven and place on wire rack to cool for 20 minutes. Run a dinner knife around edge of cake and invert it onto wire rack.
For Cheesecake
1. Preheat the oven to 300°. In the bowl of a standing mixer, paddle the cream cheese on low until smooth, about 2 minutes. Take the zest from one lemon and rub it into the sugar, until you can smell it and the sugar has absorbed the moisture. Add the sugar and mix until it is completely incorporated, 1 to 2 minutes.
2. In a small bowl, gently whisk together the cornstarch and salt. Add the milk in a slow, steady stream, then whisk in the egg.
3. With the mixer on medium-low speed, add the egg mixture to the cream cheese, beating until the mixture is smooth, about 3 to 4 minutes. Scrape down the sides of the bowl.
4. Pour the cheesecake batter into an 8-inch-square baking pan lined with plastic wrap. Place the pan in the oven. Bake for 15 minutes. After 15 minutes, gently shake the pan: The outside edges should be firm and the center loosely set. If the cheesecake has not reached that consistency, allow it to cook for an additional 5 minutes.
5. Remove the cheesecake from the oven, set aside to cool completely.
For crumb
Preheat oven to 225 degrees. Line a baking sheet with parchment paper; set aside.
In a medium bowl, whisk together 2 tablespoons plus 1 1/2 teaspoons milk powder, flour, cornstarch, sugar, and salt. Stir in melted butter until well combined. Spread mixture on prepared baking sheet and transfer to oven. Bake until dried and crumbly, 8 to 10 minutes. Remove milk crumble from oven and let cool completely.
Transfer milk crumble to a large bowl and fold in remaining 2 tablespoons plus 1 1/2 teaspoons milk powder and white chocolate. Use immediately or transfer to an airtight container and keep refrigerated until ready to use.
For Blueberry Frosting
In a food processor, grind dried blueberries into a powder. In a separate bowl, beat butter until fluffy. Add salt and 1.5 cups sugar and blend. Add blueberry powder and blend. Continue adding powdered sugar until desired thickness is reached. Taste, and add more salt if necessary.
For Assembly
Layer the cake. Vanilla cake, spread liquid cheesecake, sprinkle with crumb, repeat. On the last layer, just put cake on and cover generously in blueberry frosting.
---
Notes
Crumb and Cheesecake from Momofuku Milk Bar https://www.amazon.com/Momofuku-Milk-Bar-Christina-Tosi/dp/0307720497
Cake from The Cake Mix Doctor https://www.amazon.com/Cake-Mix-Doctor-Anne-Byrn/dp/0761117199/ref=sr_1_1?s=books&ie=UTF8&qid=1471143985&sr=1-1&keywords=cake+mix+doctor
Frosting is an original recipe