Merry Christmas! I just got back from college earlier this week, and as soon as I was over the jet-lag it was Christmas, Christmas, Christmas. Christmas is the name of the game. And what is more Christmasy than decorating cookies? Specifically, Brown Butter Sugar Cookies?
I like to think I've gotten a little better at decorating cookies than I was when I was younger. Although, the process is not nearly as adorable. (See pictured below: me rolling out my first batch of cookies to be decorated, a Christmas tradition since the very beginning of my memories!)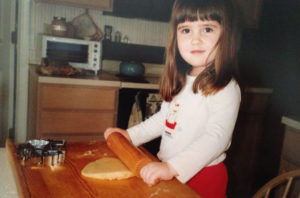 I'm sure the cookies I decorated were adorable as well.
But I'm pretty sure they were just normal sugar cookies. These cookies are ~upgraded~ to be a little more exciting. They're Brown Butter Sugar Cookies, which honestly just on their own are incredible. (A significant amount of dough was eaten plain.)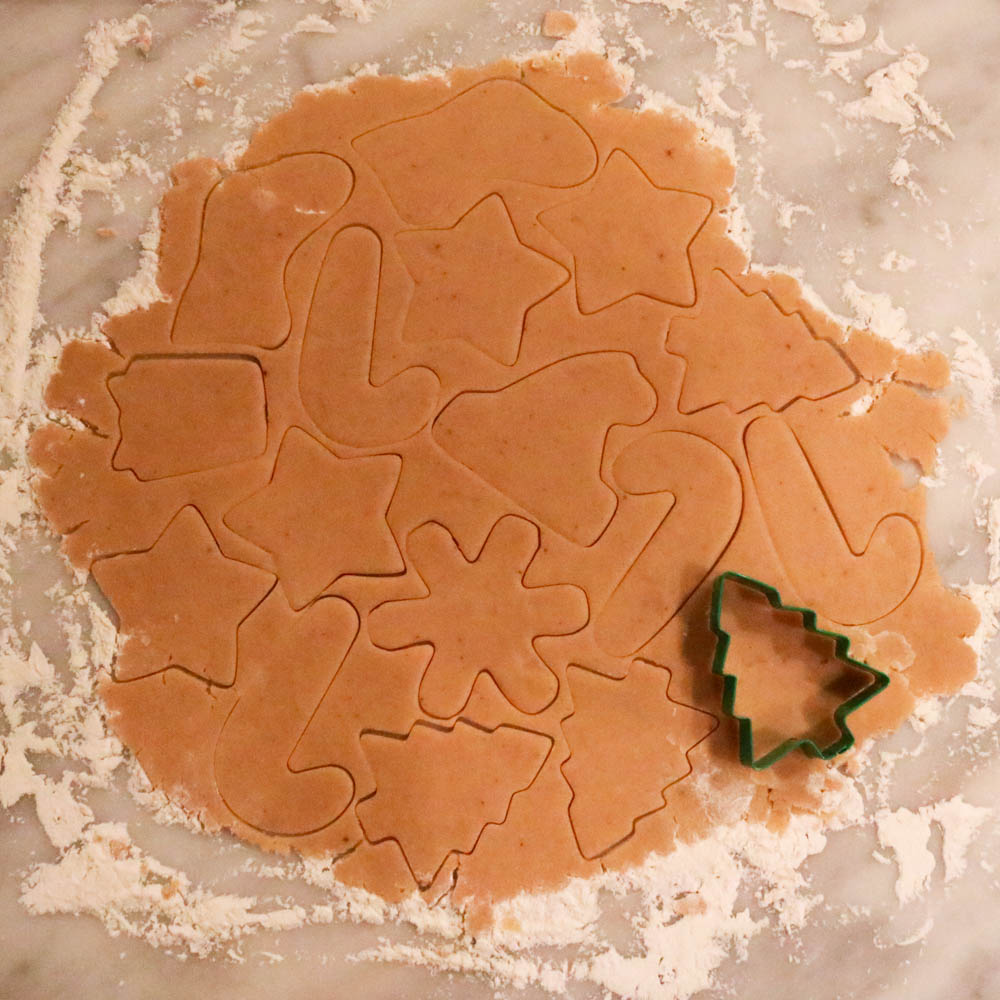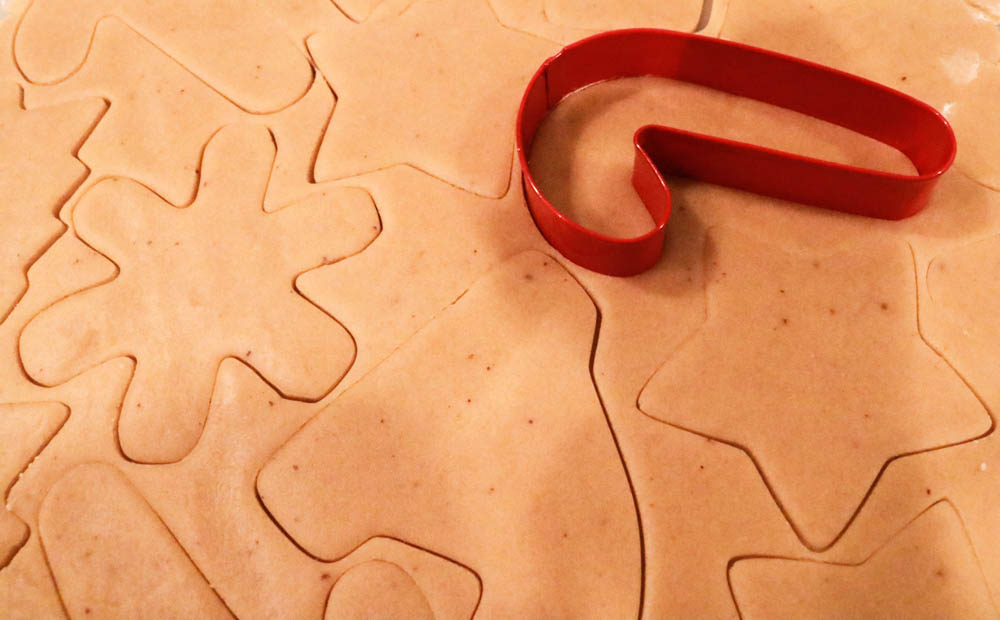 Notice how you can see the actual brown butter flecks in the dough? Incredible.
And then the eggnog frosting makes the frosting something you want just on its own. The eggnog frosting takes it up a notch, from just a decoration to an exciting element of the Brown Butter Sugar Cookies. And it's an often forgotten holiday flavor.
Now I'm wondering if brown butter eggnog could be like a regular thing? Like a drink? Is there a brown butter alcohol you could put in it?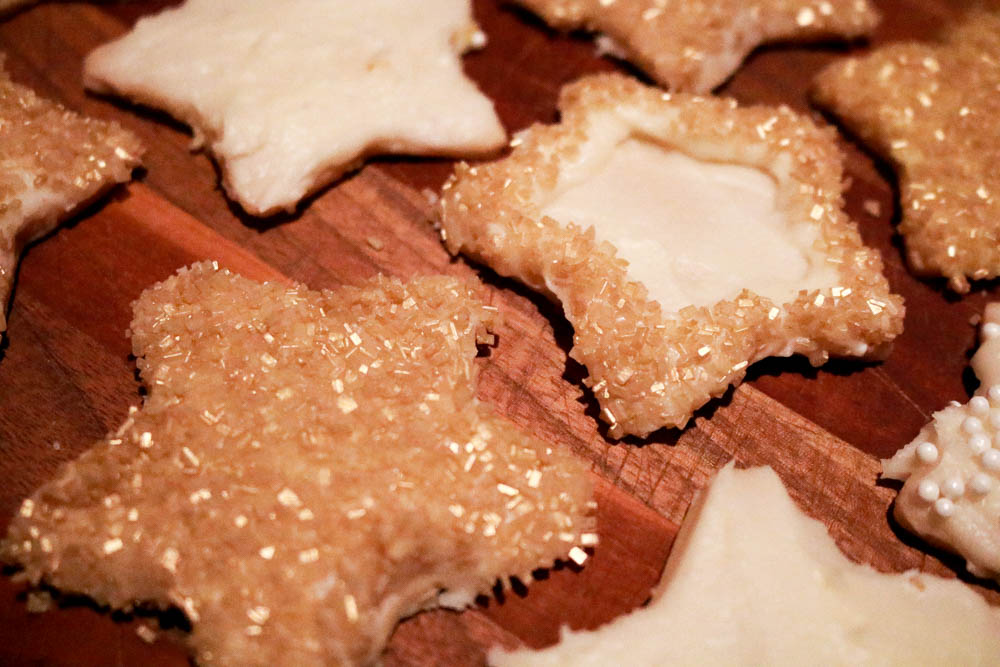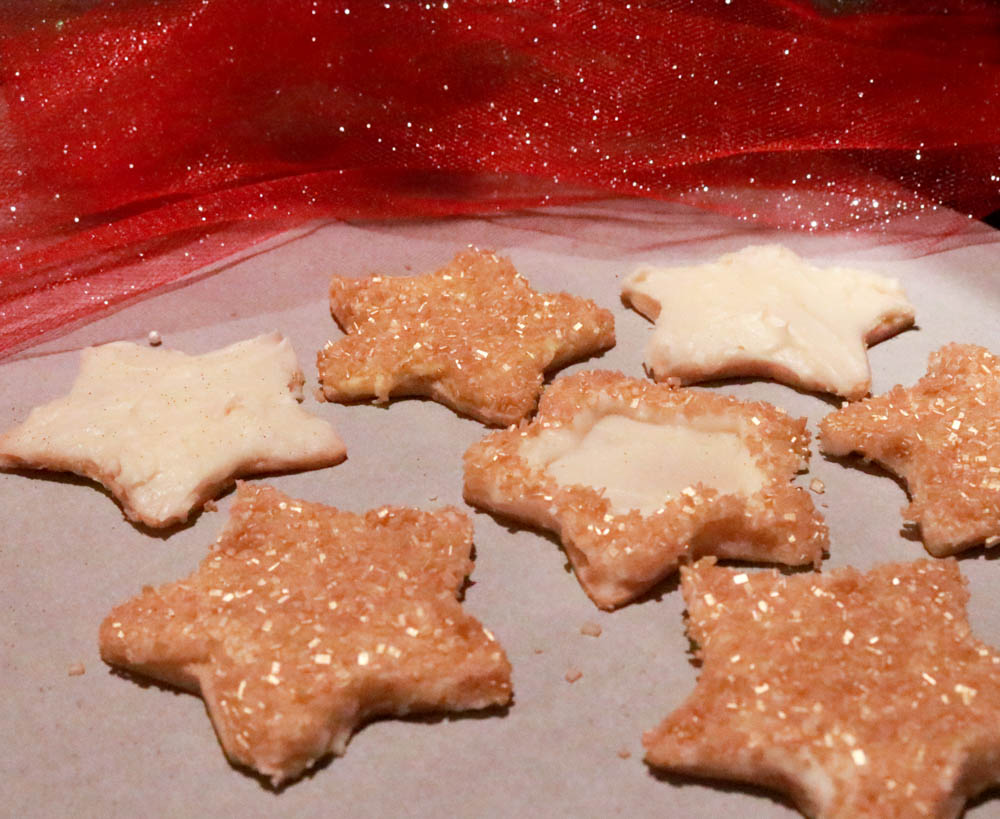 I digress.
Get cracking with these Brown Butter Sugar Cookies! Get Christmas going! T-1 week here people! Christmas Christmas Christmas! And while you're baking, I recommend listening to
Sia's new Christmas album
. It's all nonstop holiday jams.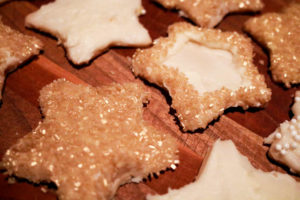 Brown Butter Sugar Cookies with Eggnog Frosting
2017-12-17 20:22:45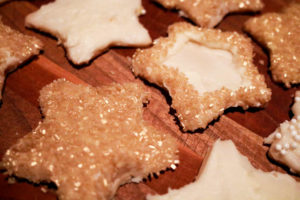 For Cookies
1 1/2 sticks (3/4 cup) unsalted butter, cut into pieces
2 cups all-purpose flour
1/4 cup cornstarch
3/4 cup packed light brown sugar
1 large egg
3/4 teaspoon fine sea salt
1 teaspoon vanilla
For Frosting
1 cup (2 sticks) unsalted butter, at room temperature
1/2 cup eggnog
pinch salt
1/2 teaspoon vanilla extract
1/2 teaspoon freshly grated nutmeg
5-6 cups confectioners sugar
For Cookies
1. Melt butter in a 1- to 2-quart heavy saucepan over medium-low heat, then cook over low heat, swirling pan occasionally, until butter has a nutty aroma and is a rich brown color, and bottom of pan is speckled with browned bits of the milk solids, 8 to 10 minutes. Transfer to a bowl, including browned milk solids on bottom, and chill until firm, about 45 minutes.
2. Whisk together flour and cornstarch in a bowl. Beat together butter and sugar in a large bowl with an electric mixer at medium-high speed until pale and fluffy, then beat in egg, salt, and vanilla. Add flour mixture and mix on low speed until just combined well.
3. Form dough into 2 balls and flatten each into a 6-inch disk. Chill disks, wrapped in plastic wrap, until firmer, but not hard, 15 to 30 minutes.
4. Heat oven to 350°F with rack in middle position. Line a large baking sheet with parchment paper.
5. Roll out 1 disk of dough (keep remaining dough chilled) between 2 large sheets of wax paper 1/8 inch thick (this is when the rolling pin rings are really helpful). Freeze or chill dough on a baking sheet or tray until firm, 5 to 15 minutes, then cut out as many cookies as possible from dough. Transfer cookies to lined baking sheet, arranging cookies about 1 inch apart. If the cookies become too warm to transfer, freeze or chill until firm.
6. Bake cookies, 1 sheet at a time, until edges are golden, 8 to 10 minutes, then transfer to racks to cool completely.
7. Meanwhile, gather scraps of dough and repeat cookie process above. Parchment can be reused, but make sure baking sheet cools between batches. Make more cookies with remaining dough.
For Eggnog Frosting
In the bowl of your stand mixer, cream butter until smooth.
Add eggnog, salt, vanilla, nutmeg, and one cup of powdered sugar. Blend until combined. Scrape down sides. Keep adding one cup of sugar at a time, until desired consistency is achieved. Do a taste test, and if it gets too sweet, add a pinch of salt and try it again.
Store in refrigerator until ready to use.
Dye whatever colors you chose.
Notes
Cookies from Epicurious
Frosting from Self Proclaimed Foodie
Adapted from Self Proclaimed Foodie
The Batter Thickens http://www.thebatterthickens.com/