Buckeye Thumbprint Cookies are a dense chocolate cookie base topped with a sweet peanut butter ball and drizzled with bittersweet chocolate.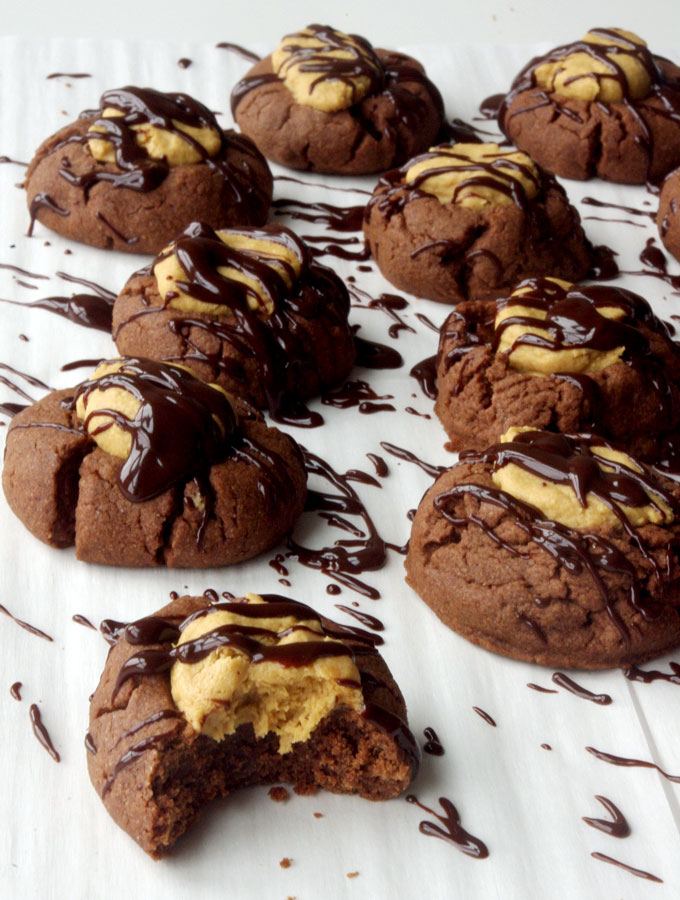 Today, we're talking about peanut butter and chocolate. An easy peasy peanut butter and chocolate cookie recipe for Buckeye Thumbprint Cookies that you can whip up in less than 30 minutes. It probably goes without saying that a recipe that easy is both highly dangerous and the best thing ever.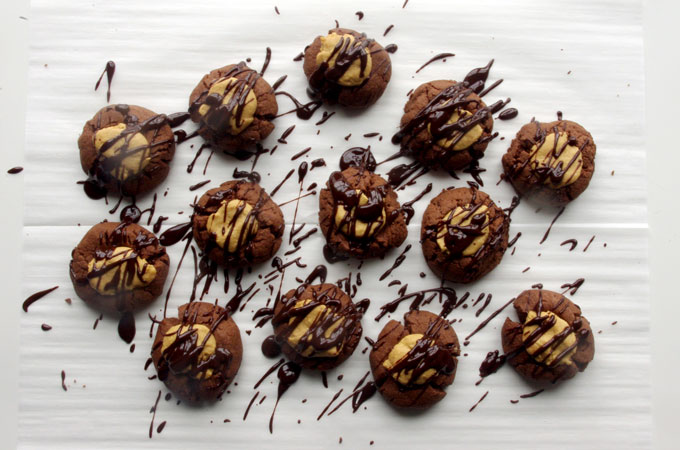 Based on buckeye balls – a ball of sweet peanut butter dipped in chocolate aka heaven – these cookies have a dense base of bittersweet chocolate, topped with a sweet peanut butter filling and a generous chocolate drizzle for good measure.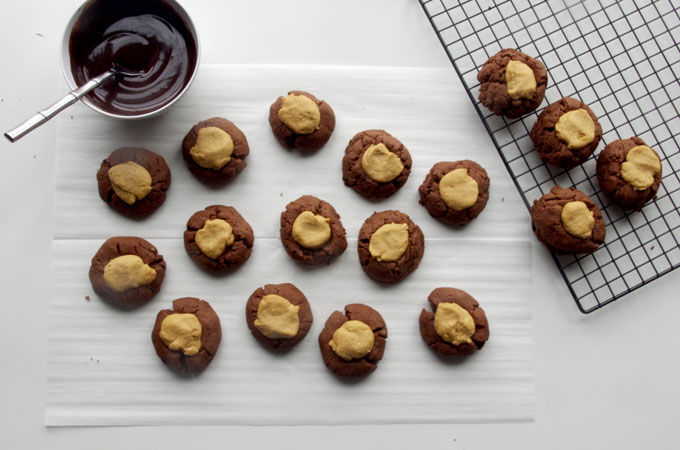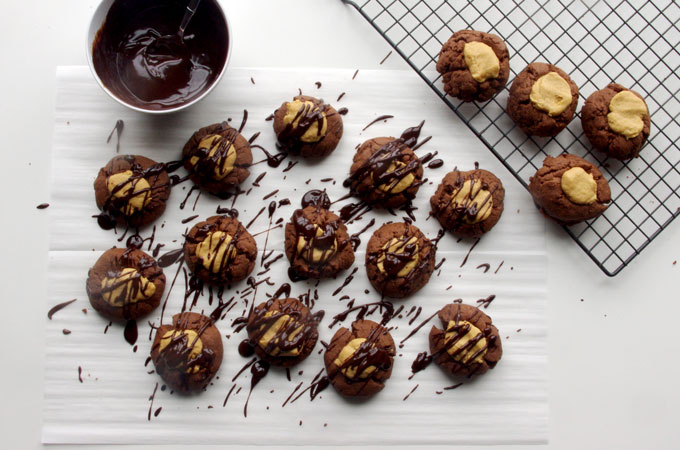 This recipe for Buckeye Thumbprint Cookies comes from The Easy Homemade Cookie Cookbook by Miranda of Cookie Dough and Oven Mitt. Miranda's cookbook came out earlier this fall, and she was kind enough to send us a copy! Of course the first recipe that jumped out at me involved chocolate and peanut butter. The minute I saw the recipe for these Buckeye Thumbprint Cookies, I knew I wanted to make them.
Peanut butter + chocolate. It's my kryptonite.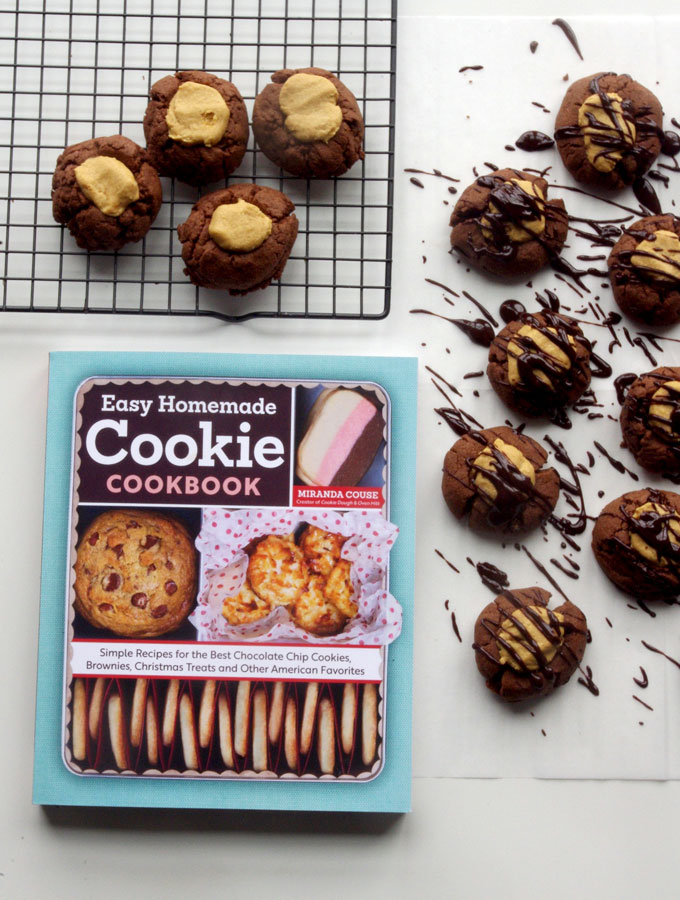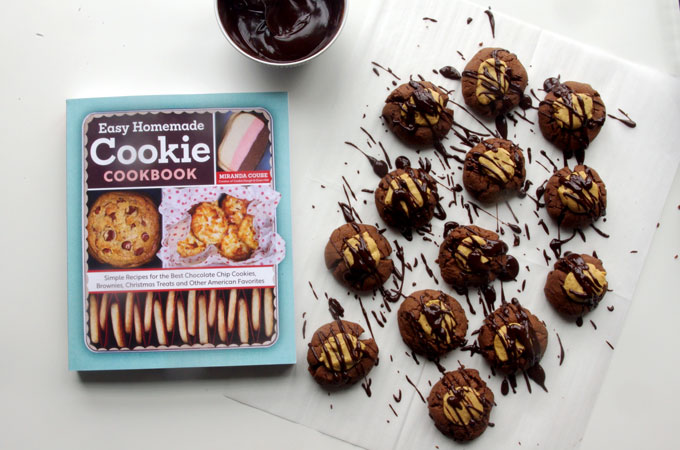 Buckeye Thumbprint Cookies would make a great addition to any holiday cookie tray, and because they're so easy and involve so many fun hands-on steps like rolling balls of dough and drizzling chocolate, they'd be a great Christmas cookie to bake with little kids!
Get The Easy Homemade Cookie Cookbook here: http://bit.ly/TheEasyHomemadeCookieCookbook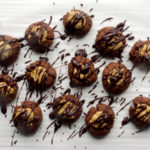 Buckeye Thumbprint Cookies
Yield:

28
---
Ingredients
Peanut Butter Filling
1/2 cup creamy peanut butter
1/2 cup powdered sugar
1 teaspoon vanilla
Chocolate Cookies
1 cups all-purpose flour
1/2 cup cocoa powder
1/2 teaspoon salt
2 sticks butter, at room temperature
1 cup granulated sugar
1 large egg yolk
1 teaspoon vanilla
4 ounces semisweet baking chocolate, chopped
---
Instructions
To make the peanut butter filling
In a small bowl, beat the peanut butter, powdered sugar, and vanilla until smooth.
To make the cookies
Preheat the oven to 350 degrees Fahrenheit and line a cookie sheet with parchment paper.
In a medium mixing bowl, whisk together the flour, cocoa, and salt. Set aside.
In a large mixing bowl, beat together the butter and sugar until light and creamy. Add the egg yolk and vanilla, and beat to combine. Add the dry ingredients and beat on low until the dough just comes together, about one minute.
Use a medium cookie scoop to scoop the dough into balls and drop them two inches apart on the cookie sheet. Flatten the tops of the dough balls.
Use the back of a 1/2 teaspoon to made an indentation in the center of each dough ball.
Scoop one teaspoon of the peanut butter mixture, roll it into a ball, and press into the indentation. Repeat with all cookies.
Bake cookies for 15 minutes, until the edges are firm to the touch.
Let cookies rest for 5 minutes before transferring to wire racks to cool completely.
Put the chocolate in a small microwave-safe bowl. Melt by heating in 30-second increments, stirring in between each interval until the chocolate is perfectly smooth.
When the cookies are cool, use a spoon to drizzle the chocolate over the tops of the cookies.