Hello all! This is Audrey, and this is my first time posting in a while. Before I get to these cinnamon roll blondies, I promise I have a good reason. It's called I started college three months ago. Things have been exciting and hectic and crazy busy, and unfortunately I haven't gotten time to bake much. I actually made these a while ago and am just getting around to posting them. But baking them was such a relaxing de-stressing thing.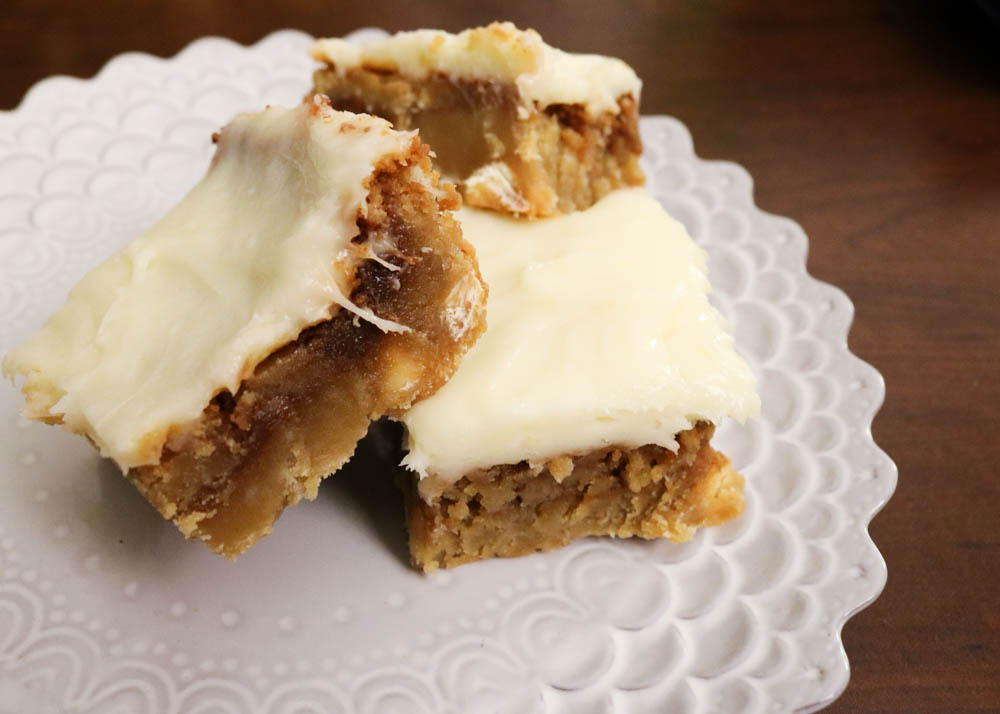 A perk of having your brother down the street is the kitchen and a house full of hungry college kids to eat whatever you bake.
And a perk of having a sister who has already done the whole college thing is that she knows how to build you a perfect baking kit for the unique baking situation that is college baking. I guess there's a lot of perks to having great siblings.
(The picture below is my baking setup for these. It was slightly less glamorous than the kitchen at my house back home, but it still worked perfectly well!)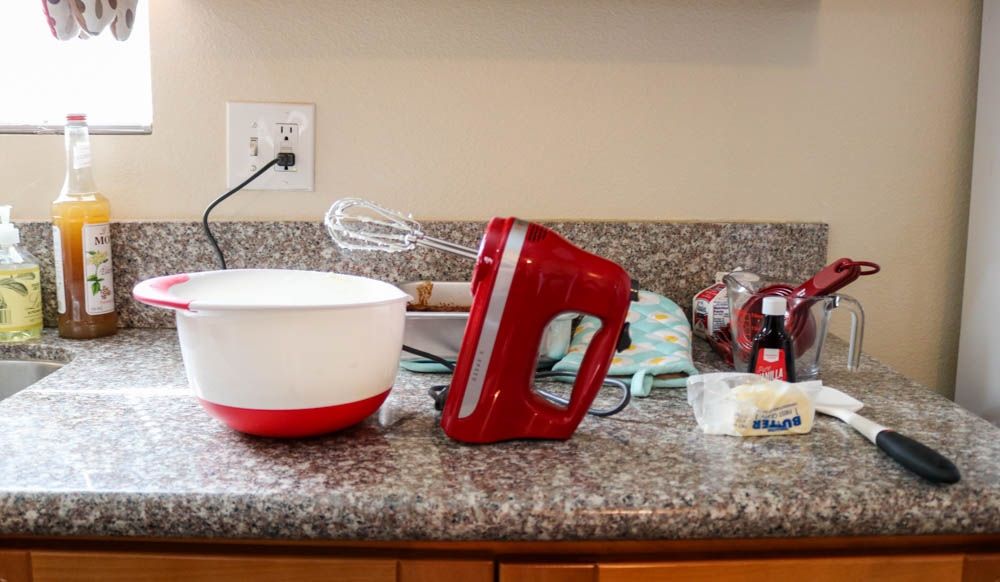 I decided to do something easy and crowd-pleasing to get back in to the groove of baking. And these Cinnamon Roll Blondies were both of those things.
There's very few ingredients, and you can do the blondie batter with just a whisk, and there's not any weird instructions. Also there's lots of sugar. And cinnamon. Boy oh boy was there lots of cinnamon. I knew bringing my own specialty cinnamon to college would be worth it.
(s/o to anyone who thought that was weird. I also brought nearly 5 pounds of peanut butter with me.)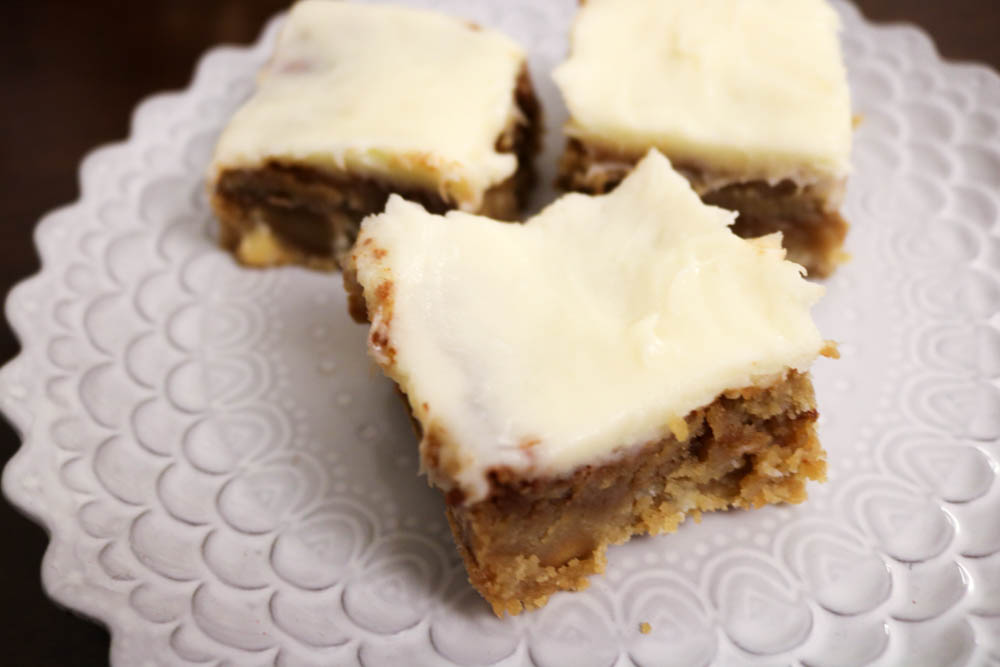 So I served these Cinnamon Roll Blondies to my brother's housemates and it was met with choruses of "wow." and "oh my god this is amazing." That should hopefully tell you something about their quality.
And then I brought the leftovers back to my room and initially my roommate refused my offer of one. I thought "okay, that's fair, she's not hungry." But at the same time worried she would never eat my baked goods. But then the next day she goes, "I hope it's okay, I took a sliver off the side." And on the outside I said, "Of course, that's encouraged!" and on the inside I thought, "Yesss, I can get her to eat all my baking."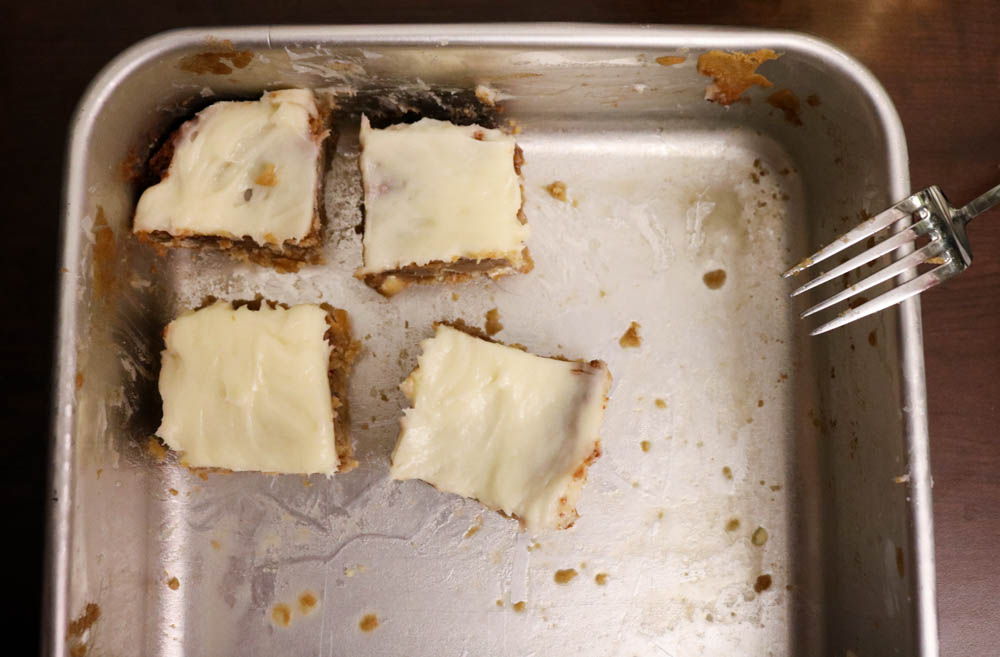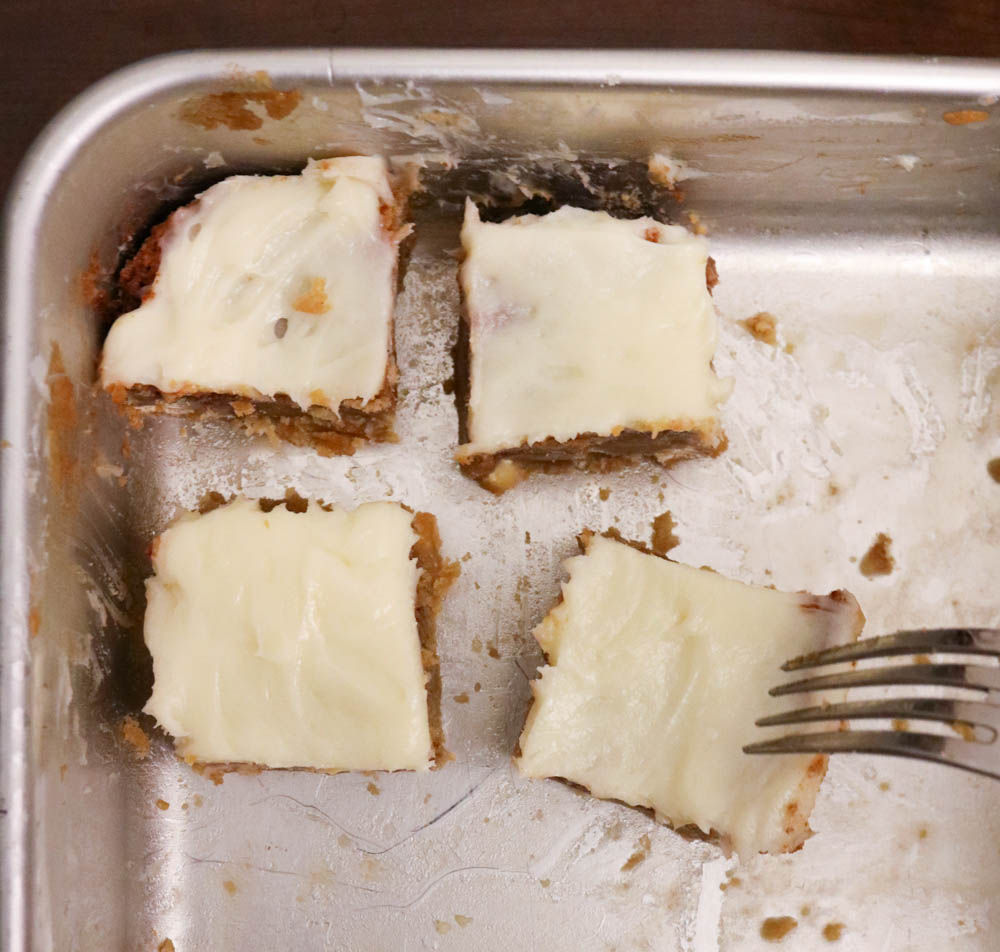 Another thing you can do at college is eat straight from the pan. That would probably be more exciting if I didn't already do that at home as well. I guess that's just more evidence that being an "adult" at college is not much different than being a child.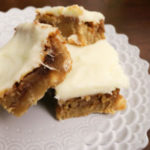 Cinnamon Roll Blondies
---
Ingredients
Blondies
½ cup unsalted butter, melted and cooled
¾ cup natural brown sugar
1 egg, room temperature
2 tsp pure vanilla extract
¼ tsp salt
1 cup unbleached all-purpose flour
Cinnamon Swirl
¼ cup (56g) unsalted butter, softened
4 tbsp raw cane sugar
1½ tbsp ground cinnamon
Cream Cheese Frosting
125g cream cheese, room temperature
2 tbsp heavy cream
1 tsp pure vanilla extract
1 cup confectioner's sugar
---
Instructions
Preheat the oven to 350 F and grease and line an 8-inch square pan with parchment paper.
To make the blondie batter, whisk together the sugar and butter in a medium bowl until combined. Add the egg, vanilla, and salt and whisk again. Scoop in the flour and stir together.
To make the cinnamon swirl, combine the butter, sugar, and cinnamon in a small bowl and whisk together.
Pour half of the blondie batter into the prepared pan and smooth the top. In small portions, drop half of the cinnamon swirl mixture onto the batter and then swirl it in with a knife. Top with the remaining batter and swirl the remaining cinnamon swirl into the top.
Bake the blondies for 35-40 minutes, or until the edges are golden, the cinnamon-sugar on top is crusty, and a toothpick comes out clean. Allow to cool for 15 minutes in the pan and then turn out onto a wire rack to finish cooling.
While the blondies are cooling, make the cream cheese frosting. Using a hand mixer (or a whisk and a strong hand), blend together the cream cheese, cream, and vanilla extract until smooth. Mix in the confectioner's sugar half a cup at a time, blending until smooth. Frost the blondies once they are cool*
---
Notes
*These taste delicious warm, if you are impatient like I am and frosted them before they were totally cool and they were still warm. I recommend doing that, and then refrigerating the leftovers.