This Chocolate Pumpkin Caramel Poke Cake uses boxed chocolate cake so it's super convenient to make, but the pumpkin caramel and pumpkin buttercream guarantee that it tastes completely homemade! Your guests and family will love this cake throughout the holiday season.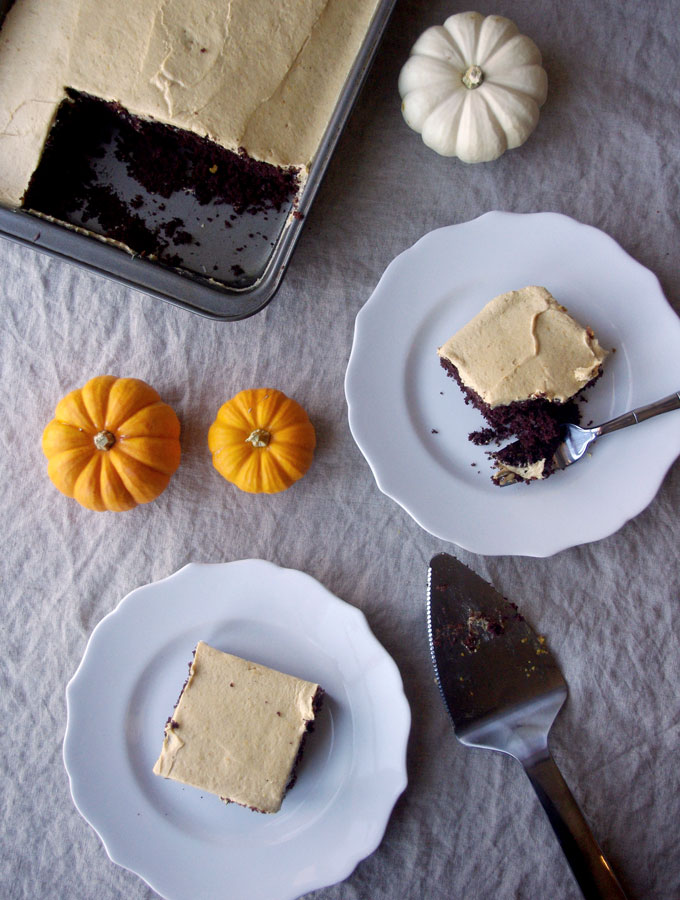 Remember that Pumpkin Spice Overdose Cake I shared a couple weeks ago? Of course you do. How could you forget 3 layers of over-the-top, out-of-control pumpkin?! Anyway, I had some pumpkin caramel and pumpkin buttercream leftover, so rather than letting it go to waste, I decided to make a second cake. Hehe.
Because I had just made a labor intensive cake that made a big mess of my kitchen, I wanted to make something a little more straightforward. So I went as straightforward as you can get and made a box cake. Sometimes, you just don't want to overcomplicate things. Sunday afternoons are those sometimes.
The result was this Chocolate Pumpkin Caramel Poke Cake.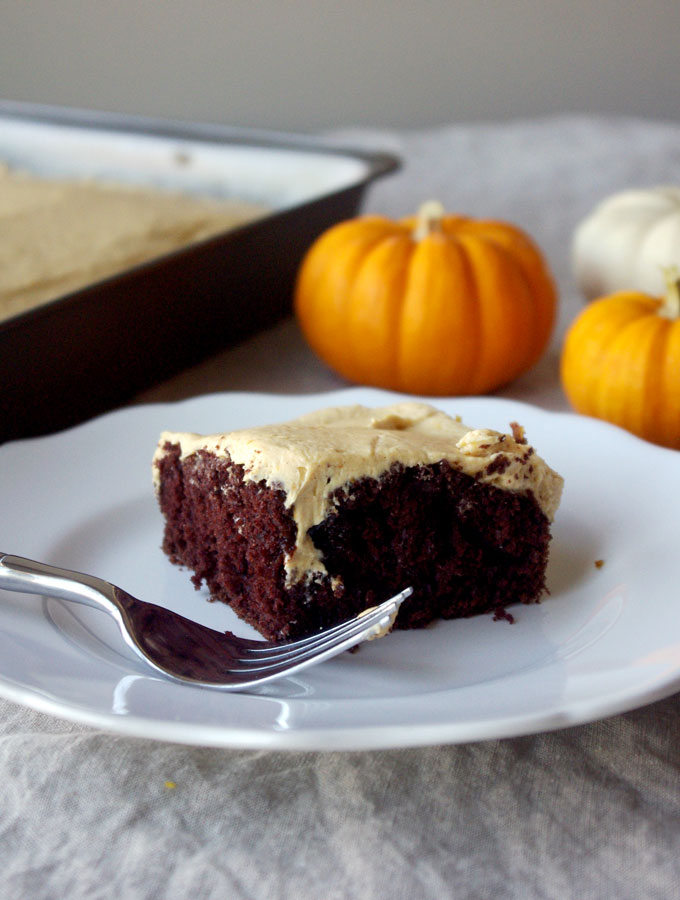 Have you heard of poke cakes? They're just what they sound like: A cake that you poke a bunch of holes into. And then you fill those holes with some kind of rich sauce, like hot fudge or melty peanut butter or, in this case, pumpkin caramel.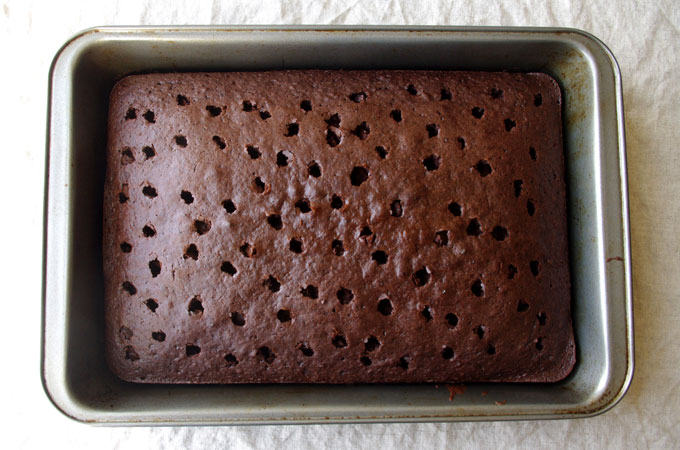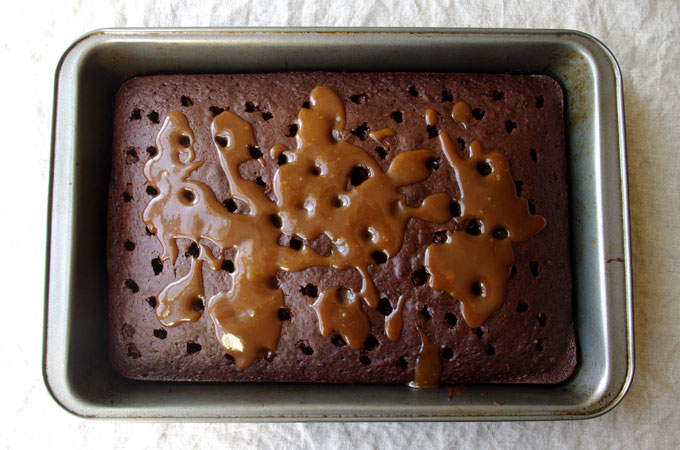 And then you frost it to cover up those ugly holes you just poked in it!!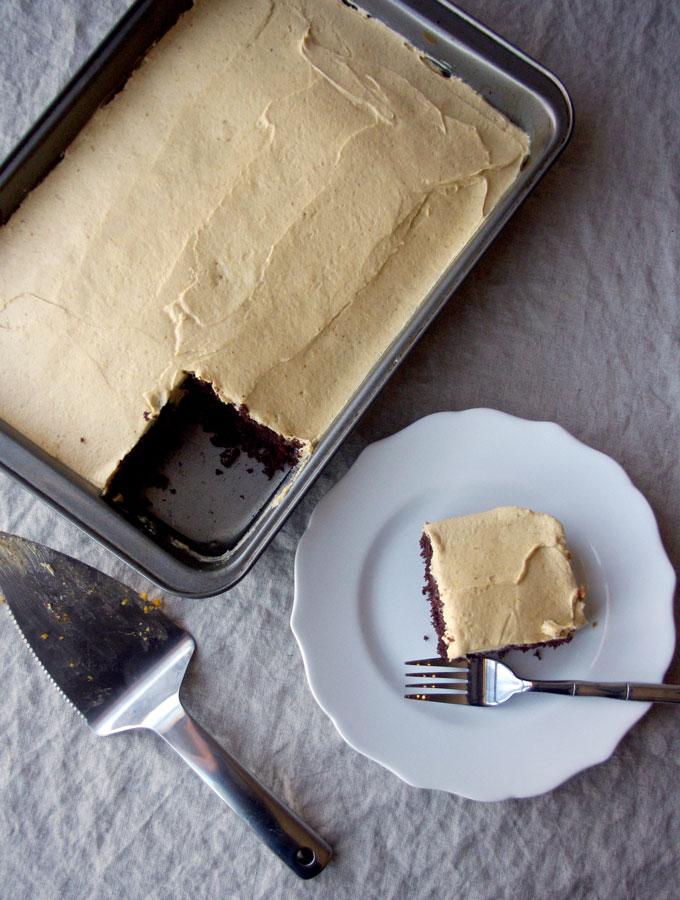 Poking holes in the cake lets the sauce soak deep into the cake and make it super duper moist. Like, you already made a moist cake (because it was a box cake, and they don't let you down in the moistness department), and then you added more moistness to it.
Are you sick of reading the word moist yet? 😂
I've never made a poke cake before, but I thought it would be just the thing for putting my leftover pumpkin caramel to good use in this Chocolate Pumpkin Caramel Poke Cake. All I can say is good call, past self. The salty pumpkin caramel + the rich chocolate cake was all kinds of heavenly.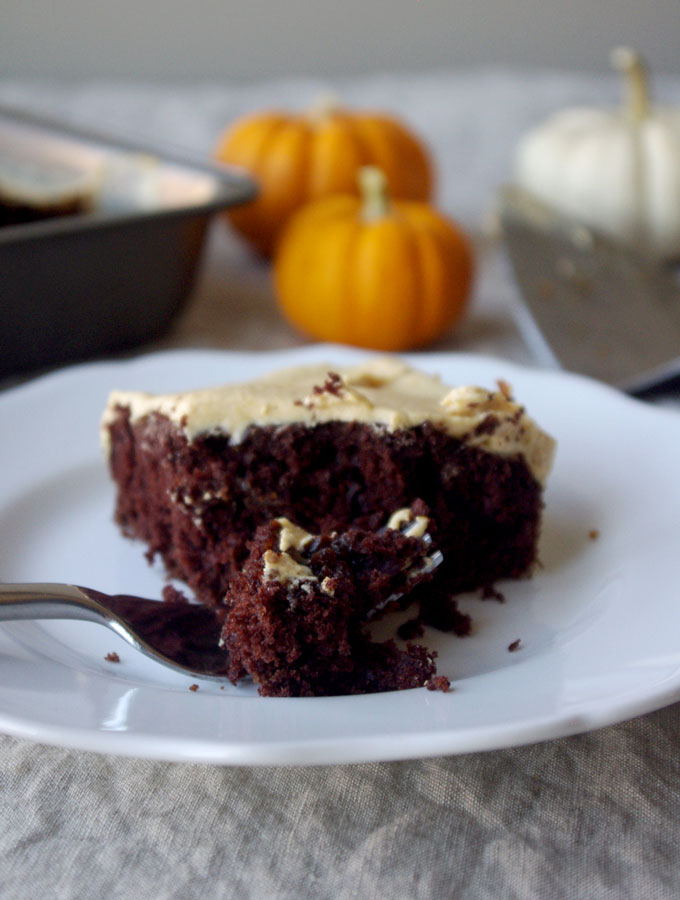 I suggest you cut yourself a slice of this cake and then WALK AWAY and eat it in another room or else you're going to find yourself going back in with your fork faster than you can say "Dee-lish."
Not that that's a bad thing. I'm just trying to look out for your family and friends, all of whom are hoping to get a piece of this Chocolate Pumpkin Caramel Poke Cake action, and if you eat it all before they get a chance, I think they're going to be really disappointed. Just sayin'.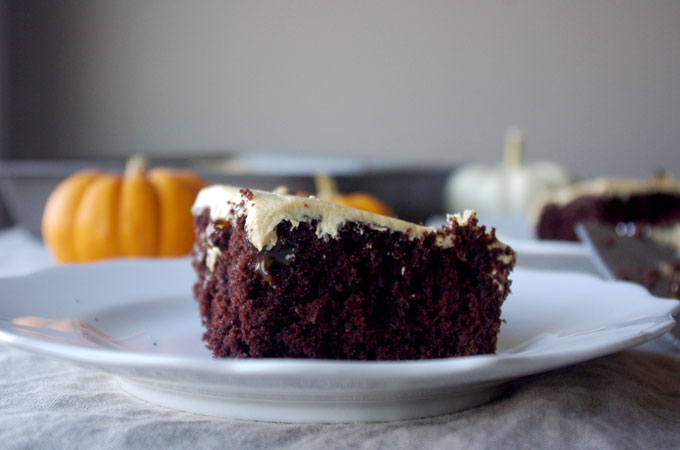 Print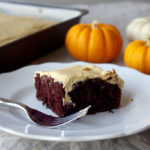 Chocolate Pumpkin Caramel Poke Cake
---
Ingredients
For the cake
1 box chocolate cake mix, baked in a 9×13 pan
1 cup pumpkin caramel
2 cups pumpkin buttercream
For the Pumpkin Caramel
1/2 cup water
1 cup granulated sugar
2/3 cup heavy whipping cream
1/3 cup pumpkin puree
1/2 teaspoon pumpkin pie spice
1 teaspoon vanilla extract
1/2 teaspoon salt
For the Pumpkin Buttercream
2 sticks butter, softened
1/2 cup pumpkin puree
4 cups powdered Sugar
1 teaspoon vanilla
1/2 teaspoon pumpkin pie spice
1 tablespoon milk (if needed)
---
Instructions
Pumpkin Caramel
Add water, sugar, and salt to a medium sauce pot placed over medium heat. Stir gently with a fork and wait for mixture to boil (about 4 minutes).
When mixture reaches a boil, simmer for another six minutes without stirring until the mixture turns honey-colored. Swirl the pot as needed to prevent the caramel from sticking.
Continue cooking the caramel until mixture reaches a medium amber color, about one more minute.
When caramel turns amber, add cream and turn heat down to medium-low.
Stirring constantly, continue cooking mixture until it reaches 225 degrees Fahrenheit, about 3 more minutes. If you don't have a kitchen thermometer (I don't), cook until the caramel appears thick and saucy, like caramel should be! If it looks like caramel, it is caramel. Good job.
Turn off the heat and add the pumpkin puree, pumpkin spice, and vanilla. Stir to combine.
Transfer sauce to a heat-resistant container and allow to cool to room temperature. The pumpkin caramel sauce will thicken as it cools.
Caramel will keep for up to 2 weeks in the refrigerator.
Pumpkin Buttercream
In a stand mixer fitted with the paddle attachment, mix butter and pumpkin puree on medium speed until creamy.
Add powdered sugar and turn mixer to low, mixing in short bursts to prevent powdered sugar from going everywhere. When the powdered sugar is starting to incorporate into the butter mixture, increase mixer to medium speed and continue beating until frosting is fluffy, 3-4 minutes.
Add vanilla, followed by the cinnamon and nutmeg. Mix until combined.
Add milk one tablespoon at a time until frosting reaches your preferred consistency. More milk for thinner frosting, less milk for thicker frosting.
Assembly
Bake chocolate cake in a 9×13 sheet pan according to box instructions. Allow to cool completely.
While cake is baking and cooling, make pumpkin caramel sauce and pumpkin buttercream.
When cake is completely cool, poke holes in the top using the blunt end of a spoon. Pour caramel all over the cake and spread it with a spoon or spatula to make sure the sauce soaks evenly into the holes.
Frost with pumpkin buttercream.
Serve! Pairs well with cinnamon or vanilla ice cream, milk, or a second slice 😉

Have you made a poke cake before? What's your favorite?